My books
No Place for Normal: New York / Stories from the Most Exciting City in the World. A selection of posts from this blog.
Historical fiction set in nineteenth-century New York:
1. The Pleasuring of Men. A young man becomes a male prostitute in the hidden gay world of that time.
2. Bill Hope: His Story. A street kid turned pickpocket pours out his story in a torrent of words.
3. Dark Knowledge. A young man fights to discover the truth about his family's involvement in the slave trade.
For details, see below.
Brownstones
First, the material. What is it?
A soft sandstone quarried in northern New Jersey and Connecticut and shipped by barge to New York City to be used in the construction of row houses. It served chiefly to cover the houses' brick façades; brownstone residences, like the Greek Revival houses before them, were basically built with bricks.
A brownstone on the Upper West Side.


WFinch
When were brownstones built?
In Manhattan, in the 1850s and 1860s, when the Italianate style was in vogue. By the 1880s brownstones were being built on the Upper West Side of Manhattan, where Queen Anne and Renaissance styles replaced the earlier and simpler Italianate. And throughout the rest of the century brownstones were being built in various neighborhoods of Brooklyn, their façades adorned with bay windows and balconies.
Broooklyn brownstones today.


Vaguynny
The growing affluent middle class wanted residences more impressive in appearance than ordinary brick, and more durable than wood. Also brownstone, being soft, could be shaped and sculpted so as to provide decorative detail on the façades. People fell in love with brownstone, which took on a deep chocolate color with time; they thought it was elegant, distinctive, genteel, and "Romantic" (Romanticism and broody moodiness were "in"). The brownstone residence became a symbol of bourgeois comfort and status. (A side thought: If chocolate is Romantic, would vanilla be Classical?)
The popular Italianate style brownstone, first developed in Great Britain, included these features:
·
A steep front stoop, thought to be stately and elegant, though it took energy to negotiate it; ascending, one supposedly left the hurly-burly of street and sidewalk life behind and accessed something nobler and more genteel.
·
An impressive front doorway with double doors topped by a rounded arch and a projecting hood and flanked by pilasters, informing all who managed to get up the stoop – formal callers, ministers, doctors, lawyers, and such -- that this was a residence of wealth and refinement.
·
A basement door under the stoop to accommodate the lower orders: deliverymen, tradesmen, servants, and other social inferiors.
·
A basement (sometimes called a garden floor, since its rear door led out to the garden) and four stories.
·
Tall first-floor windows.
·
Handsome cast-iron railings for stoops and area fences.
·
A flat roof with a boldly protruding cornice (the horizontal projection at the top of the building), providing a sharp limit to the structure's monumental rise.
·
By the 1860s, a steeply sloping mansard roof installed above the cornice, a hot new architectural feature imported from Second Empire France, adding a fifth story with dormer windows.
·
A parlor floor with three parlors, each one with sliding doors opening into the next, the first two often serving as a single deep parlor and the last as a dining room, the food coming up from the kitchen below by that marvelous new invention, the dumbwaiter.
·
Folding wooden shutters to shield the parlor floor from the view of nosy passers-by who, looking up from the sidewalk, could at best see only a patch of ceiling and maybe a chandelier (I know, because I've tried).
·
Ornate decorations sculpted in the brownstone, foliage and cutesy little animals and strange mythological faces and scrolls and curlicues.
What amenities did they have?
·
Heat: A coal-burning furnace in the cellar, generating hot air that was conducted in pipes to the lower floors, and coal-burning fireplaces for the top floors where servants resided. Coal provided a steady heat far superior to what wood-burning fireplaces had once provided.
·
Lighting: Gaslight for the lower floors, kerosene lamps for the upper floors with the servants' rooms. Oil was discovered in Pennsylvania in 1859, making kerosene readily available, since it is obtained by distilling petroleum. The kerosene lamp then replaced the whale-oil lamp.
·
Running water: Since 1842, when the city began getting clean water from upstate reservoirs, anyone who paid the water tax could have running water in their homes. The result: indoor plumbing providing plentiful water for cooking and dishwashing, for shower baths and tub baths whenever you liked, and for that miracle of modern miracles, the flush toilet, replacing primitive improvisations that I don't have the heart to describe. From 1842 on, soap sales presumably went up, while perfume sales declined. All over Manhattan a joyous chorus rose of showering burgers reveling in the miracle of running water. No wonder nineteenth-century Americans believed in Progress. But tenement dwellers still had to rely on the well in the yard and tote their water in.
What was a brownstone parlor like?
Volumes could be written … and have been. The Victorian parlor was the shrine and sanctuary of the affluent middle class, its best stab at propriety, calm, and culture, its chance to put its best foot forward. Plush and velvet abounded, Brussels carpets ran from wall to wall, elegant little spindle chairs dared intruding males to risk their bulk upon them, and antimacassars pinned to the backs of overstuffed sofas and armchairs protected the sacred upholstery from masculine locks reeking of Macassar oil. More ornamental now than essential, white marble fireplaces gave off a lustrous sheen, and over them the mantel featured a large bronze or marble clock backed by a gilt-framed mirror rising five or six feet, or even eight feet all the way to the ceiling.
No pianoforte here, but lots of ancestors.
From the walls ancestors in gilt frames stared dourly down, or perhaps, more benignly but grandly, the master and mistress of the house. Displayed prominently was that inevitable symbol of bourgeois refinement, the pianoforte, its gleaming ivory keys awaiting the deft fingerings, at family gatherings, of the young ladies of the household, nervously anxious to reveal their accomplishments. Cluttered on whatnots were assorted bibelots, framed locks of the dear departed, and stuffed birds under glass. A cool gloom prevailed, and by day shades or drapes were drawn, and shutters closed, lest sunlight smite the damask. Here, in an atmosphere scented with cedar and cinnamon and lavender from pomanders and potpourris, the mistress of the house presided; children were to be seen but not heard; and males of all ages were on their best behavior, never quite at ease, their conversation scrubbed and disciplined. Loud talk was discouraged, arguments banished, smoking forbidden; gentility reigned supreme.
The dining room, the back parlor on the parlor floor, matched the front parlor in elegance and refinement; here, attended by servants, the family could dine in state. On the second floor the front room was often a sitting room or library where the family could gather casually and relax, without the formality required by the parlor; it was the forerunner of today's living room. (The parlor, on the other hand, has no equivalent today; it disappeared with the Victorian mores that created it.) The back room on the second floor was the parents' bedroom, featuring an imposing four-poster and having access to a bathroom that, in some instances, was regal in splendor, with a marble or mahogany washstand with gleaming silver-plated faucets, a commode of polished porcelain, and a polished metal or marble tub; the air was scented with fragrant powders and soaps.
Twdk
The third and fourth floors had bedrooms for the children. At the very top, often including a fifth floor under a mansard roof, there were small rooms for the servants, who usually had to do without running water, gaslight, and central heating, relying instead (as their masters had a generation earlier) on coal in the fireplace, a wash basin with a pitcher, and the indignity of the chamber pot, and for their weekly bath, a tub or sink in the kitchen. (In some brownstones, even so, heat from the coal-burning furnace in the basement reached even the topmost floors.)
With five floors and up to sixteen rooms, a brownstone afforded privacy to parents, children, and servants, but at the cost of endless climbing and descending stairs. Brownstones were not for the weak of limb, though an ailing master or mistress might install themselves, bed and all, on the parlor floor and receive callers there in state.
Are there any old brownstones left on Fifth Avenue?
To my knowledge just one, at 47 Fifth Avenue, between East 11th and 12th Streets
in the West Village. Built in 1853 as a residence for Irad Hawley, the first president of the Pennsylvania Coal Company, and his wife, it showed the world that the Hawleys and their coal business were doing quite well. And how could they not be? Coal was in great demand for heating interiors, and for powering both the many palace steamboats gliding smoothly over the Hudson, and their screechy upstart rivals, the railroads. The building's exterior still has the classic features of the early Italianate brownstone: an imposing stoop rising to an entrance with double doors flanked by pilasters and topped by a rounded arch and a projecting hood; tall parlor-floor windows; and four floors topped by a cornice. The stoop, however, isn't centered, having two parlor-floor windows on the right, and one on the left, with balconies. Inside, some vestiges of the old brownstone remain, notably the two front parlors joined into one, each with a white marble fireplace with foliage and figures in relief, and a chandelier suspended from a ceiling rosette; between the parlors are four Corinthian columns with elaborately carved capitals. One can well imagine the Hawleys receiving guests in front of such fireplaces aglow with coal, under chandeliers ablaze with gaslight. Since 1917 the building has housed the Salmagundi Club, a nonprofit center for artists and collectors that offers art classes and exhibitions.
The Salmagundi Club today.
Elisa.rolle
Who maintained a brownstone?
Not the owners. Yes, they paid bills for the necessary services and labored to keep up appearances, but the real work was done by the servants, sometimes black, more often Irish. In the mid-nineteenth century an affluent New York family had at least 6, probably 7: a cook, a waiter, a parlor maid, an upstairs maid, a laundress, a houseman, and probably a coachman; ordinary middle-class families made do with 3: cook, waiter, and maid. The servants cooked, washed, scrubbed, dusted, polished, stoked the furnace, removed cinders and ash from the fireplaces and resupplied them with coals, trimmed the wicks and cleaned the chimneys of the kerosene lamps, and toted the trash out to the curb for collection. After a hard day's work they would trudge wearily upstairs to their ill-heated rooms on the top floors, perhaps lighting their way with a candle until they lit a kerosene lamp in their room. If there was a garden in back, that needed tending too, unless a gardener was hired. The coachman would be lodged separately, usually upstairs in the coach house, a small two-story structure on a nearby side street where coach and horses were lodged. (Ironically, though certainly not luxury housing at the time, coach houses today are sought after by tenants willing to pay a high rent.)
What became of brownstones?
In Manhattan, taste changed. What looked fashionably dark and "Romantic" in the 1850s came to look like cold chocolate, dingy and depressing. When the Vanderbilts and Astors and other moneyed clans built their mansions on the Upper Fifth Avenue from 1880 on, they preferred brighter limestone residences in the French-chateau style. But brownstones continued to be built on the Upper West Side in Manhattan, and in many neighborhoods in Brooklyn, where they sprouted balconies and porches and bay windows alien to the formal and rather severe earlier Italianate style. By the end of the nineteenth century, however, people were complaining about soft brownstone crumbling and cracking and flaking, which further doomed brownstone construction. Since then, many brownstone façades have been replaced with brown cement-based masonry, a cheaper alternative. Still, brownstones had a certain aura that persisted, and the second half of the twentieth century saw a brownstone renovation movement take hold in older cities throughout the East, often with impressive results.
What happened to the brownstone quarries?
The last New Jersey quarries ceased operation in the 1930s, owing to lack of demand. When the quarries in Portland, Connecticut, were flooded by a 1936 storm and proved impossible to drain, they shut down. In the mid-1990s a geologist named Mike Meehan reopened the ground on the edge of the Connecticut quarries and sold brownstone for historic and restoration projects and lavish private homes. But in 2012 his quarry, the last of its kind in the region, finally shut its doors, to the great regret of preservationists trying to match the brownstone of old residences; it marked the end of an era. But in his retirement Meehan, a true lover of brownstone, planned to use some of the remaining little slabs to make birdbaths and benches, not to sell but for the fun of it.
All books are available online as indicated, or from the author.
1
. No Place for Normal: New York / Stories from the Most Exciting City in the World
(Mill City Press, 2015).
Winner of
the Tenth Annual National Indie Excellence Award for Regional Non-Fiction; first place in the Travel category of the 2015-2016 Reader Views Literary Awards; and Honorable Mention in the Culture category of the Eric Hoffer Book Awards for 2016. All about anything and everything New York: alcoholics, abortionists, greenmarkets, Occupy Wall Street, the Gay Pride Parade, my mugging in Central Park, peyote visions, and an artist who made art of a blackened human toe. In her Reader Views review, Sheri Hoyte called it "a delightful treasure chest full of short stories about New York City."
If you love the city (or hate it), this may be the book for you. An award winner, it sold well at BookCon 2017.
Review
"If you want wonderful inside tales about New York, this is the book for you. Cliff Browder has a way with his writing that makes the city I lived in for 40 plus years come alive in a new and delightful way. A refreshing view on NYC that will not disappoint." Five-star Amazon customer review by Bill L.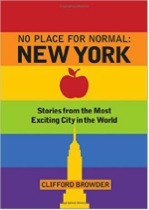 2. Bill Hope: His Story (Anaphora Literary Press, 2017), the second novel in the Metropolis series.
New York City, 1870s: From his cell in the gloomy prison known as the Tombs, young Bill Hope spills out in a torrent of words the story of his career as a pickpocket and shoplifter; his brutal treatment at Sing Sing and escape from another prison in a coffin; his forays into brownstones and polite society; and his sojourn among the "loonies" in a madhouse, from which he emerges to face betrayal and death threats, and possible involvement in a murder.
Driving him throughout is a fierce desire for better, a persistent and undying hope.

For readers who like historical fiction and a fast-moving story.
Reviews
"A real yarn of a story about a lovable pickpocket who gets into trouble and has a great adventure. A must read." Five-star Amazon customer review by nicole w brown.
"This was a fun book. The main character seemed like a cross between Huck Finn and a Charles Dickens character. I would recommend this." Four-star LibraryThing review by stephvin.
Available from Amazon.
3. Dark Knowledge (Anaphora Literary Press, 2018), the third novel in the Metropolis series. Release date January 5, 2018, but copies now available from the author. Adult and young adult. A fast-moving historical novel about New York City and the slave trade, with the sights and sounds and smells of the waterfront. More excerpts to come.
New York City, late 1860s. When young Chris Harmony learns that members of his family may have been involved in the illegal pre-Civil War slave trade, taking slaves from Africa to Cuba, he is appalled. Determined to learn the truth, he begins an investigation that takes him into a dingy waterfront saloon, musty old maritime records that yield startling secrets, and elegant brownstone parlors that may have been furnished by the trade. Since those once involved dread exposure, he meets denials and evasions, then threats, and a key witness is murdered. Chris has vivid fantasies of the suffering slaves on the ships and their savage revolts. How could seemingly respectable people be involved in so abhorrent a trade, and how did they avoid exposure? And what price must Chris pay to learn the painful truth and proclaim it?
Early reviews
"A lively and entertaining tale. The writing styles, plot, pace and character development were excellent." Four-star LibraryThing early review by BridgitDavis.
"At first the plot ... seemed a bit contrived, but I was soon swept up in the tale." Four-star LibraryThing early review by snash.
"I am glad that I have read this book as it goes into great detail and the presentation is amazing. The Author obviously knows his stuff." Four-star LibraryThing early review by Moiser20.
4. The Pleasuring of Men (Gival Press, 2011), the first novel in the Metropolis series, tells the story of a respectably raised young man who chooses to become a male prostitute in late 1860s New York and falls in love with his most difficult client.
What was the gay scene like in nineteenth-century New York? Gay romance, if you like, but no porn (I don't do porn). Women have read it and reviewed it. (The cover illustration doesn't hurt.)
Reviews
"At times amusing, gritty, heartfelt and a little sexy -- this would make a great summer read." Four-star Amazon customer review by BobW.
"Really more of a fantasy of a 19th century gay life than any kind of historical representation of the same." Three-star Goodreads review by Rachel.
"The detail Browder brings to this glimpse into history is only equaled by his writing of credible and interesting characters. Highly recommended." Five-star Goodreads review by Nan Hawthorne.