Dark Knowledge,
the third title in my Metropolis series of novels set in nineteenth-century New York, was released by Anaphora Literary Press on January 5, 2018, making it available from
Amazon
and
Barnes & Noble
. Signed copies are available from the author. For more about this and other works of mine, see below following the post.
SMALL TALK
Before the 2016 election New York City developers and businesses proudly displayed the name TRUMP on the fronts of residential buildings and hotels, but ah, how times have changed! The condominium at 200 Riverside Boulevard bears on its façade, in large brasslike letters, the words TRUMP PLACE, and the residents aren't happy about it. The Tweeter-in-Chief's name has already been removed from three rental buildings on Riverside Boulevard, as well as hotels in SoHo and Toronto, but the case of 200 Riverside Boulevard is a bit more complicated. Trump bought the property in the 1980s, but subsequent business pressures forced him to sell it to some Hong Kong billionaires who, with his help, developed it. A four-page licensing agreement signed in 2000 described him as a "worldwide renowned builder and developer," but for the use of his name stated its value as one dollar in all. At the time, his name was not an issue.
In the inaugural parade.
With the 2016 election this changed. The Donald was elected, but in Manhattan he got only 64,929 votes, compared to 579,013 for the Hillary. An anonymous survey of residents at
no. 200 by the condominium's board's residential committee showed that a majority favored removing the Trump name. This provoked a response from the Trump Organization that this would be a "flagrant and material breach of the license agreement." So of course the matter went to court. The residential committee has asked a New York State Supreme Court judge in Manhattan to declare that the condominium has the right to remove the name without violating the licensing agreement with DJT Holdings, a corporate entity owned by the Donald. Just when the ruling will come isn't clear, but among the condo residents, as well as interested observers, anticipation is keen. Manhattan is stuck with the Trump Tower smack in the middle of midtown, with consequent disruption of traffic; isn't that enough? Which leads us easily into a discussion of symbols of hate.
SYMBOLS OF HATE
It's all the rage now, when not denouncing male sexual predators, to remove statues from public places, if they remind us of an objectionable or embarrassing part of our past.

Especially vulnerable in the South are statues of Robert E. Lee, Stonewall Jackson, Jefferson Davis, and Nathan Bedford

Forrest, Confederate leaders in our Civil War.
Lee in Charlottesville.


Carptrash
For me this is a strain, since I grew up idolizing Lee and Jackson, much more colorful figures than the Union generals Grant and Sherman, who struck me as cold and ruthless – two qualities that helped them win the war.

Needless to say, the issue of slavery rested lightly, if at all, on my juvenile psyche, which simply craved male heroes I could look up to.

Davis, the president of the Confederacy, never much impressed me, least of all in comparison with his opposite, Abraham Lincoln, and Forrest, whose troops slaughtered black Union soldiers trying to surrender at Fort Pillow, appalled me when I learned of him later.
New York City wants to play the game as well, so last summer, in the wake of the Charlottesville riots provoked by the threatened removal of a statue of Robert E. Lee, Mayor Bill de Blasio named a commission to review all possible "symbols of hate" in public places.

Since New York has a dire shortage of statues celebrating the Confederacy, the commission had to go after other suspect sites and now, after due deliberation, it has made its report.

To the surprise and dismay of many, it has targeted just four sites, three of which I have until now been blithely unaware of.
In Central Park at Fifth Avenue and 103rd Street stands a statue of Dr. J. Marion

Sims (1813-1883), a South Carolina slave-owner and physician who did pioneer work in gynecological surgery.

So far, so good.

But he did many experiments on female slaves, often without anesthesia.

The city has decided – wisely, I think – not to destroy objectionable statues, but to banish them, so Dr. Sims will be banished to Green-Wood Cemetery in Brooklyn, which hosts his mortal remains.

No controversy, here: out he goes, and good riddance.
Sims in Central Park.
But now the plot thickens.

Down near Wall Street there is a plaque honoring Marshal Philippe Pétain, who following the French defeat in 1940 headed the collaborationist Vichy government, helping to send thousands of French Jews to German concentration camps and death.

How could such a man merit even a lowly plaque?

Here the history buff in me intervenes.

The plaque dates from 1931 and is one of more than 200 honoring those celebrated in ticker-tape parades in the so-called Canyon of Heroes in Lower Manhattan.

In 1931 Pétain was remembered as the heroic French leader in the 1916 battle of Verdun, when German troops commanded by the German Crown Prince tried to crack the French defenses and failed.

Such considerations must have swayed the mayor, for he has decided that the plaque shall remain, stripped of its Canyon of Heroes title, and perhaps supplemented with additional information to provide context to it.
But now the plot really thickens, and controversy rages.

What about the statue of Christopher Columbus, perched loftily on a pedestal overlooking the traffic-clogged circle that bears his name?

Admittedly when New Yorkers, in vehicles or on foot, negotiate Columbus Circle and its swirling mass of traffic, they have no time or inclination to eye the distant statue or ponder the fact that the circle bears his name.

Yet Columbus, in his first report to Ferdinand and Isabella of Spain, informed their Catholic Majesties that the inhabitants of the New World seemed docile and ripe for slavery; in light of what followed, he can justifiably be accused of the genocide of the native peoples of America.
There he is, way up there above the traffic.
But it ain't that simple, for Columbus has long been hailed as a hero by Italian Americans, who march in celebration on Columbus Day, just as Irish Americans march on St. Patrick's Day.

And, I might add, there are lots of Italian Americans in New York, and yes, they do vote in elections.

Proud of his heritage, Governor Andrew Cuomo has announced that as long as he is governor, the statue will stand "tall and proud in the City of New York."

(Though both are Democrats, the governor and the mayor have tangled repeatedly on many matters.)

So Columbus will not be banished.

The mayor has now said as much, adding that new historical markers will be placed in or around Columbus Circle, explaining the history of Columbus and of the monument itself.

At this gesture Rick Chavolla, a spokesman for Native Americans, scoffs, noting that there are plaques all over the city, and no one pays them any attention.

But Columbus was a hero too, for it took plain old-fashioned guts to sail westward day after day into the unknown, hoping to sight land somewhere in the offing; he risked his life and that of his crew in so doing, but it did in the end pay off.

History is complicated and messy.
Finally, we come to the obstreperous Teddy: a bronze equestrian statue of Theodore Roosevelt, dating from 1939, that looms heroically in front of the Museum of Natural History.

Though I have in the past visited the museum a number of times, I never noticed the towering ten-foot statue, but now I see a photograph of it in the Times: the rough-riding, game-hunting Roosevelt, the very essence of macho, astride a horse, flanked by two stalwart half-nude flunkeys on foot, one "African" and one "American Indian," carrying his rifles.

Never have white dominance and WASP superiority been more flagrantly proclaimed.

And today it's common knowledge that Roosevelt, a fervent trust-buster, the founder of our national park system, and an ardent outdoorsman, was also an imperialist ("Speak softly but carry a big stick") and a racist who dismissed the non-white peoples of the world as inherently inferior to whites.

So what to do?
In effect, nothing.

Roosevelt is a complicated figure, opines the commission, since he was both an environmentalist and a devotee of eugenics.

True enough, but for some observers this amounts to a rank cop-out.

Their criticism has some validity, but the hesitation to judge can also be defended.

How are we to know if today's mood will be that of tomorrow?

Roosevelt was once hailed as a rough-riding hero and progressive, his trust-busting cheered, his imperialist views approved, and his racism either approved or at least tolerated.

Tomorrow our readiness to condemn may look a bit hasty and one-sided; who is to say?

So let the statue stand, but maybe with a plaque explaining why.

Or remove it to the New York Historical Society or some other location, where it can be presented in a historical context, rather than as a glorification of the man and what he stood for.
I say this in a spirit of evenhandedness, since, as chronicled elsewhere in this blog, I grew up hating the fellow, whom my father held up to me as a onetime sissy who, by going out West and roughing it, became a real man, a lover of the outdoors and all it entailed. In other words, Roosevelt was the opposite of me, a near-sighted bookworm who preferred ichthyosaurs and pterodactyls to the wildlife of today, including even a rare cardinal sighted, to my father's delight, in our backyard.

My urge to mount a picture of the man – Roosevelt, not my father -- and then hurl darts into his toothy grin was only too human, but childish, and I have since matured into a more balanced view of the irrepressible Teddy, even while decrying his "splendid little war" with Spain.

So let's put up with him, and with Columbus too, albeit with grave reservations.
Here now are a couple of hate symbols, or at least symbols of utter contempt, that I encountered while growing up.

These were used by boys and young men to insult someone and show them a fine streak of enmity.

I first encountered the gesture of two fingers up, two fingers down, sometimes termed

the horn gesture

, which was a way of saying (I'll use the tamer version) "Frig you!"
I once used it on my brother, more to show how "in" and "with it" I was, and he reacted with fury.

Then, sometime after that, I encountered the gesture with the middle finger upraised and the other fingers down, bearing the same cheery greeting.
Michiel Gebruiker
No question, a lot can be said with the fingers.
BROWDERBOOKS
All books are available online as indicated, or from the author
.
1
. No Place for Normal: New York / Stories from the Most Exciting City in the World
(Mill City Press, 2015).
Winner of
the Tenth Annual National Indie Excellence Award for Regional Non-Fiction; first place in the Travel category of the 2015-2016 Reader Views Literary Awards; and Honorable Mention in the Culture category of the Eric Hoffer Book Awards for 2016. All about anything and everything New York: alcoholics, abortionists, greenmarkets, Occupy Wall Street, the Gay Pride Parade, my mugging in Central Park, peyote visions, and an artist who made art of a blackened human toe. In her Reader Views review, Sheri Hoyte called it "a delightful treasure chest full of short stories about New York City."

If you love the city (or hate it), this may be the book for you. An award winner, it sold well at BookCon 2017.
Review
"If you want wonderful inside tales about New York, this is the book for you. Cliff Browder has a way with his writing that makes the city I lived in for 40 plus years come alive in a new and delightful way. A refreshing view on NYC that will not disappoint." Five-star Amazon customer review by Bill L.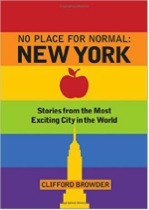 2. Bill Hope: His Story (Anaphora Literary Press, 2017), the second novel in the Metropolis series.
New York City, 1870s: From his cell in the gloomy prison known as the Tombs, young Bill Hope spills out in a torrent of words the story of his career as a pickpocket and shoplifter; his brutal treatment at Sing Sing and escape from another prison in a coffin; his forays into brownstones and polite society; and his sojourn among the "loonies" in a madhouse, from which he emerges to face betrayal and death threats, and possible involvement in a murder.
Driving him throughout is a fierce desire for better, a persistent and undying hope.

For readers who like historical fiction and a fast-moving story.
Reviews
"A real yarn of a story about a lovable pickpocket who gets into trouble and has a great adventure. A must read." Five-star Amazon customer review by nicole w brown.
"This was a fun book. The main character seemed like a cross between Huck Finn and a Charles Dickens character. I would recommend this." Four-star LibraryThing review by stephvin.
Available from Amazon and Barnes & Noble.
3. Dark Knowledge (Anaphora Literary Press, 2018), the third novel in the Metropolis series. Adult and young adult. A fast-moving historical novel about New York City and the slave trade, with the sights and sounds and smells of the waterfront.
New York City, late 1860s. When young Chris Harmony learns that members of his family may have been involved in the illegal pre-Civil War slave trade, taking slaves from Africa to Cuba, he is appalled. Determined to learn the truth, he begins an investigation that takes him into a dingy waterfront saloon, musty old maritime records that yield startling secrets, and elegant brownstone parlors that may have been furnished by the trade. Since those once involved dread exposure, he meets denials and evasions, then threats, and a key witness is murdered. Chris has vivid fantasies of the suffering slaves on the ships and their savage revolts. How could seemingly respectable people be involved in so abhorrent a trade, and how did they avoid exposure? And what price must Chris pay to learn the painful truth and proclaim it?
Early reviews
"A lively and entertaining tale. The writing styles, plot, pace and character development were excellent." Four-star LibraryThing early review by BridgitDavis.
"At first the plot ... seemed a bit contrived, but I was soon swept up in the tale." Four-star LibraryThing early review by snash.
"I am glad that I have read this book as it goes into great detail and the presentation is amazing. The Author obviously knows his stuff." Four-star LibraryThing early review by Moiser20.
Just released; available from
Amazon
and
Barnes & Noble
.
4. The Pleasuring of Men (Gival Press, 2011), the first novel in the Metropolis series, tells the story of a respectably raised young man who chooses to become a male prostitute in late 1860s New York and falls in love with his most difficult client.

What was the gay scene like in nineteenth-century New York? Gay romance, if you like, but no porn (I don't do porn). Women have read it and reviewed it. (The cover illustration doesn't hurt.)

Reviews
"At times amusing, gritty, heartfelt and a little sexy -- this would make a great summer read." Four-star Amazon customer review by BobW.
"Really more of a fantasy of a 19th century gay life than any kind of historical representation of the same." Three-star Goodreads review by Rachel.
"The detail Browder brings to this glimpse into history is only equaled by his writing of credible and interesting characters. Highly recommended." Five-star Goodreads review by Nan Hawthorne.
Coming soon: Goldman Sachs: The Vampire Squid Thrives On.