For my other books, see BROWDERBOOKS below.

A collection of posts from this blog. Short biographical sketches of people, some remembered and some forgotten, who lived or died in New York. All kinds of wild stuff, plus some stuff that isn't quite wild but fascinating. New York is a mecca for hustlers of every kind, some likable and some horrible, but they are never boring.
To be published July 26. You can order it here from the publisher and get a discounted price (plus postage), but it won't be shipped before that date. Also available from Amazon and Barnes & Noble, minus the discount but with the delay. Signed copies are available now from the author (i.e., me) for $20.00 (plus postage, if needed), though in limited numbers.
SMALL TALK
New Yorkers have a feeling about their city that visitors may not understand. Dying in Vancouver, speakeasy hostess Texas Guinan said, "I would rather have a square inch of New York than all the rest of the world." New York is unique. It's where people can be themselves. It's Diamond Jim Brady strutting his 12,000 diamonds on his buttons, watch, belt buckle, scarf pin, eyeglass case, rings, cane, and cuff links ("Them as has 'em wears 'em"). It's the newly arrived cosmetics queen Helena Rubinstein vowing to rescue the women of America from purple noses and gray lips. And socialite/philanthropist Brooke Astor, the aristocrat of the people, zooming about the city in her chauffeur-driven Mercedes Benz to bestow funds on needy tenements and playgrounds and schools. (Yes, they're all in the book.) When I wished a Facebook friend of mine, a New Yorker long exiled in London, a Happy Birthday, she e-mailed me back: "Once a New Yorker, always a New Yorker. I miss New York!" And another friend has told me of seeing, when she first arrived in New York, a big sign at the Staten Island ferry terminal:
New York -- Is there anywhere else?
Is there indeed?
GIMMICKY APPEALS

Nonprofits and less worthy entities will stop at nothing to get you to open the mail they send you. Knowing this, I am ruthless in discarding envelopes that come without any return address or other identification except the telltale postmark "Non Profit." But a new twist came recently in an envelope lacking a return address but marked thus:
DELIVER TO ADDRESSEE ONLY
In addition, it was marked DO NOT FOLD / DO NOT BEND, and bore a WARNING that anyone interfering with this letter could be fined or imprisoned.
So did I open it? Of course not. The more tempting the offer, the more suspicious I become. So into the waste basket it went.

Later I retrieved it, not out of curiosity but simply to make a note about something else on the back of it.

Then the idea of this post caused me to finally, and skeptically, open it. And there it was: a real check for all of two dollars payable "to the bearer or Cliff Browder." And then the spiel: a letter from the CEO of the American Parkinson Disease Association explaining that she was sending me this check -- even though she couldn't afford to -- so as to get my attention and persuade me to donate to APDA.
I have no reason to doubt the authenticity and worthiness of APDA, which gets a three-star rating from Charity Navigator, and I know what it is to live with someone afflicted with Parkinson's. The Internet informed me that APDA's former CEO once got 15 months in prison and an order to pay $877,442 in restitution for diverting into his own greedy pockets more than $1 million worth of contribution checks.

And whym did he do it?

Because his $109,000-a-year salary was half what other heads of nonprofits got and he wanted to live the high life.

Ominous, but that was back in 1996 and has no bearing on the charity's operations now.

Still, I can only do so much and am amply committed elsewhere.

Also, my partner Bob gives substantial sums regularly to the Parkinson Research Foundation, another toiler in the vineyard, so I feel that our household is doing its share in this regard. But will I cash that check? I have already filled out a deposit slip but now am hesitating. The appeal was just a bit duplicitous, yet the cause is seemingly legitimate. To cash or not to cash? In the past I have been petty enough to pocket even dimes and quarters in gimmicky solicitations – why toss coin in the trash?

But maybe this is different.

Maybe.

Stay tuned.
Recently another suspect letter came to Bob.

Through a window in the envelope you could see
VEHICLE DOCUMENT / ALERT NO
Otherwise, no markings on the envelope.

With this potential post in mind, I opened it for Bob anyway and found a very official-looking notice requiring IMMEDIATE REPONSE TO THIS NOTICE.

And what followed?

"Our records indicate that your auto warranty is expired or may expire soon.

Please call [a phone number in bold print] today to confirm ongoing vehicle service coverage.

Se Habla Español."

They even did the tilde – that wiggly mark over the n -- correctly, though only the first word (Se) needed to be capitalized.

And for a hint of a threat, the notice states: "Program Term Deadline: 04/18/18."
So what's the problem?

Bob has never owned or driven a car and has never had a driver's license.

A city boy from birth, he never needed to drive.

Is this a scam, a fraud?

Maybe not.

Maybe only a clever pitch to the unwary.

Maybe they provide authentic coverage, but their way of presenting it is deceitful; they want to strike fear into recipients and get them to sign up.

Caveat emptor.
And now another gimmick that is constantly used, even by the

worthiest of causes, to manipulate our feelings and nudge us toward transferring our hard-earned (or not-so-hard-earned) moola into their gaping coffers: music.

Yes, music.

Often when I get a spiel on the radio urging me to contribute to a worthy cause, there is background music meant to trigger appropriate emotions and thus motivate me to give.

I'm sure that this gimmick results from lengthy consultations by the charity or worthy cause in question, seasoned with costly studies from well-paid experts in the field.

Here are the kinds of music I have noticed:
1.
Tension or crisis music: something is terribly amiss.
2.
Pathos music: terrible suffering results, worthy of our commiseration.
3.
Challenge music: a call to arms, urging us to do something.
4.
Martial music: fight the good fight, right this wrong.
5.
Music of calm and resolution: do this and all will be well.
No. 5 is optional and certainly optimistic.

Often the pitch ends with no. 4, the resonant call to arms.
I resent this musical pitch, for it seeks to manipulate my feelings.

I want only the verbal appeal, if brief.

But recently, several times when I encountered one of these approaches on the radio, the music was so loud that I couldn't hear the words at all.

This is rare, but I derived great satisfaction from the botched performance, since the music completely nullified the spiel.

What worthy cause was being promoted, I have no idea, but they had better rethink the spiel.
Of course one can get too skeptical.

On WBAI (where else?) I heard a talk by a mother who was warning us against vaccines for young children, a subject regarding which I remain open-minded.

She spoke with great fervor, but some kind of ominous background sound that wasn't quite music grew louder and then softer at intervals, making me think the whole production was packaged and gimmicked.

And she spoke too well, without a single um, suggesting a professional performance.

As a result, I remained totally unconvinced.
The desire to manipulate our fellow beings is age-old and universal, practiced by charities, retailers, candidates, demagogues, and evangelists the world over.

They want us to give, to buy, to vote, to follow, to be saved.

And in such operations this country is second to none.

Think of the dazzling neon signs of Times Square, which at least are entertaining, and the billboards along our highways.

And of course all those slick TV commercials and the maddening pop-up ads on the Internet.

We are a nation of hucksters.
Long ago in my distant childhood my family's excursions by car were gladdened at intervals by a series of small roadside Burma-Shave signs that rhymed:
They even advocated safe driving:
Did my father use Burma-Shave?

Of course not.

But the signs were fun; all the passengers except the driver would read them aloud in chorus.

Alas, they disappeared after 1963.
Spiels of another kind, and very American, were … and are … the exhortations of evangelists (usually Protestant) out to win souls to salvation.

Traditionally, they triggered fear by presenting a vivid a picture of fiendish demons tormenting the damned in a fire-and-brimstone hell.

Scared to shivers, how could you not repent and embrace salvation?

I once heard Billy Graham, a modern and sophisticated practitioner, addressing a multitude in Madison Square Garden.

He went light on fire and brimstone and demons, but his appeal to the hesitant was smooth and forceful: "Thou fool!

This very day shall thy God demand of thee thy soul!"

And at the end, quite a bunch of the converted – or maybe re-converted – were led off for further guidance and instruction.

I, however, remained among the Great Unwashed.
Perhaps the most memorable and effective U.S. political spiel was the Cross of Gold speech by William Jennings Bryan of Nebraska at the Democratic National Convention in Chicago on July 9, 1896.

I grew up near Chicago before air-conditioning, so I know how the conventioneers must have sweltered and drowsed in the summer heat.

But Bryan, a superb orator, fired up their minds and set their souls ablaze.

The issue of free silver – whether or not to endorse the free coinage of silver – means little to us today, but back then it pitted the silver-advocating agricultural midlands against the gold-endorsing railroad tycoons and Wall Street money barons of the East.

Bryan spoke at length, and eloquently, on behalf of free silver and the "toiling masses."

Having skillfully worked his audience up, he concluded passionately, "You shall not press down upon the brow of labor this crown of thorns.

You shall not crucify mankind upon a cross of gold!"
Dead silence throughout the hall, then an explosion of cheers.

People waved their hats and canes and flung their coats and hats in the air in a frenzy that lasted one full hour.

The next day the convention nominated Bryan for president.

He ran against William McKinley, the darling of the Eastern moneyed interests, and lost, but came back twice again as the Democratic candidate and champion of the common man (and woman), and twice again lost.

But his 1896 speech is probably the most famous speech in American political history, and it made him famous.

Who today could speak like that?
The master manipulator of the American public was the showman Phineas T.

Barnum, who allegedly said, "There's a sucker born every minute" – true enough, though he probably never said it.

Be that as it may, Barnum is too colorful and too complex a figure to be discussed briefly here. He merits – and will get – a whole post of his own.
Now about that check for two dollars: after due consideration, I destroyed it.

Tempting as it was to deposit it, I decided that the duplicity didn't quite reach that level, so I'm not donating but I'm wishing them well.

Still, be wary of letters with no return address but postmarked "Non Profit," and still more, e-mails from strangers offering friendship or something else too good to be true.

Because it probably is.

And if you're a grandparent, beware above all of e-mails from a grandchild begging for an emergency loan, or a phone call from a stranger on behalf of same.

It's a notorious scam, but it still seems to fool the unwary; grandparents have a tender heart and can be milked accordingly.

Given the world we live in, there are times when one has to be, or at least feel like, a Scrooge.
A final note:

While planning this post I got a phone call.

A recorded voice announced in fearsome tones:

"This is to inform you that you have just been indicted for …"

"Bullshit!" I yelled and hung up.

I sleep easy, having no fear of an indictment.

But some poor soul somewhere may panic and do whatever the recorded voice wants.

Yes, there's one born every minute, and a fraudster as well.

Alas.
Coming soon: West 11th and Hudson: Romance, Mystery, Spuntino, and the Commies
All books are available online as indicated, or from the author.
1
. No Place for Normal: New York / Stories from the Most Exciting City in the World
(Mill City Press, 2015).
Winner of
the Tenth Annual National Indie Excellence Award for Regional Non-Fiction; first place in the Travel category of the 2015-2016 Reader Views Literary Awards; and Honorable Mention in the Culture category of the Eric Hoffer Book Awards for 2016. All about anything and everything New York: alcoholics, abortionists, greenmarkets, Occupy Wall Street, the Gay Pride Parade, my mugging in Central Park, peyote visions, and an artist who made art of a blackened human toe. In her Reader Views review, Sheri Hoyte called it "a delightful treasure chest full of short stories about New York City."

If you love the city (or hate it), this may be the book for you. An award winner, it sold well at BookCon 2017.
Review
"If you want wonderful inside tales about New York, this is the book for you. Cliff Browder has a way with his writing that makes the city I lived in for 40 plus years come alive in a new and delightful way. A refreshing view on NYC that will not disappoint." Five-star Amazon customer review by Bill L.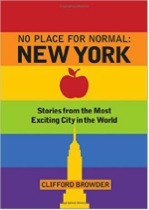 2. Bill Hope: His Story (Anaphora Literary Press, 2017), the second novel in the Metropolis series. New York City, 1870s: From his cell in the gloomy prison known as the Tombs, young Bill Hope spills out in a torrent of words the story of his career as a pickpocket and shoplifter; his brutal treatment at Sing Sing and escape from another prison in a coffin; his forays into brownstones and polite society; and his sojourn among the "loonies" in a madhouse, from which he emerges to face betrayal and death threats, and possible involvement in a murder. Driving him throughout is a fierce desire for better, a persistent and undying hope.

For readers who like historical fiction and a fast-moving story.
"A real yarn of a story about a lovable pickpocket who gets into trouble and has a great adventure. A must read." Five-star Amazon customer review by nicole w brown.
"This was a fun book. The main character seemed like a cross between Huck Finn and a Charles Dickens character. I would recommend this." Four-star LibraryThing review by stephvin.
3. Dark Knowledge (Anaphora Literary Press, 2018), the third novel in the Metropolis series. Adult and young adult. A fast-moving historical novel about New York City and the slave trade, with the sights and sounds and smells of the waterfront.
New York City, late 1860s. When young Chris Harmony learns that members of his family may have been involved in the illegal pre-Civil War slave trade, taking slaves from Africa to Cuba, he is appalled. Determined to learn the truth, he begins an investigation that takes him into a dingy waterfront saloon, musty old maritime records that yield startling secrets, and elegant brownstone parlors that may have been furnished by the trade. Since those once involved dread exposure, he meets denials and evasions, then threats, and a key witness is murdered. Chris has vivid fantasies of the suffering slaves on the ships and their savage revolts. How could seemingly respectable people be involved in so abhorrent a trade, and how did they avoid exposure? And what price must Chris pay to learn the painful truth and proclaim it?
Early reviews
"A lively and entertaining tale. The writing styles, plot, pace and character development were excellent." Four-star LibraryThing early review by BridgitDavis.
"At first the plot ... seemed a bit contrived, but I was soon swept up in the tale." Four-star LibraryThing early review by snash.
"I am glad that I have read this book as it goes into great detail and the presentation is amazing. The Author obviously knows his stuff." Four-star LibraryThing early review by Moiser20.
New release; available from
Amazon
and
Barnes & Noble
.
4. The Pleasuring of Men (Gival Press, 2011), the first novel in the Metropolis series, tells the story of a respectably raised young man who chooses to become a male prostitute in late 1860s New York and falls in love with his most difficult client.

What was the gay scene like in nineteenth-century New York? Gay romance, if you like, but no porn (I don't do porn). Women have read it and reviewed it. (The cover illustration doesn't hurt.)

Reviews
"At times amusing, gritty, heartfelt and a little sexy -- this would make a great summer read." Four-star Amazon customer review by BobW.
"Really more of a fantasy of a 19th century gay life than any kind of historical representation of the same." Three-star Goodreads review by Rachel.
"The detail Browder brings to this glimpse into history is only equaled by his writing of credible and interesting characters. Highly recommended." Five-star Goodreads review by Nan Hawthorne.