This is a brief follow-up to an earlier post on Martin Shkreli, #214, "Fraudster, or The Immigrant's Dream Come True?"

This post will make no sense unless you read, or reread, that earlier post.
There are many views of the young and sexy Mr. Shkreli, as for example:
·
A financial boy wonder, being many times a millionaire at age 32.
·
An exemplar of the American dream, rising from humble origins in an immigrant family in a crowded apartment in Brooklyn to make it big on Wall Street.
·
An alleged criminal indicted for securities fraud and wire fraud.

(The government's view.)
·
An unscrupulous pharmaceutical CEO and "morally bankrupt sociopath" who overnight raised the price of a drug from $13.50 to $750, provoking a storm of protest that he seemed to enjoy.
·
A narcissist who, when not instigating financial mayhem on Wall Street, does an hours-long live stream on You Tube talking about himself.
·
The world's most eligible bachelor (his own words) and God's gift to women.
Out on bail, Mr. Shkreli had fallen out of sight, eclipsed by the electoral antics of a clutch of raucous candidates.

But on Thursday, March 17, he resurfaced in testimony before the U.S. Senate's Special Committee on Aging, which is investigating, not his misdeeds on Wall Street, but his nefarious pharmaceutical practices.

Not that he was himself present – he disdains Congressional committees to the point of testifying, when he has to, only by video – but his name and actions were vividly discussed.
The witness who was present and testifying was Howard Dorfman, the former general counsel of Turing Pharmaceuticals, the outfit that Mr. Shkreli headed when he raised the price of the drug to astronomical levels.

A 30-year veteran of the pharmaceutical industry, he had protested the price hike.
"Mr. Shkreli told me that he was the most knowledgeable person with regard to this business model, that I was seriously misinformed."

The Turing CEO

"basically said that no one cares about prices" – an assertion proven quickly false, when the price hike set off a national furor that sent drug prices plummeting and made them an issue in the presidential campaign.

Mr. Dorfman was fired a few weeks after his disagreement with Shkreli, and Shkreli himself resigned as CEO in December, after his 6 a.m. arrest by the FBI on fraud charges.

Two Turing execs were also called to testify, but they said that they had not been involved in raising the drug's price, which remains at its elevated level.

And how did the Senators characterize Turing and its practices?

"Scam!"

"Sick game!"

"The incarnation of evil!"
But the price hike, while denounced universally, is not illegal in this country, as it would be in some others.

Mr. Shkreli's legal imbroglio involves Wall Street shenanigans whereby he allegedly took cash from one of his entrepreneurial undertakings in order to satisfy claims arising from his liquidation of another – a slick variation of a Ponzi scheme.

Mr. Shkreli is nothing if not innovative.

But it's his sheer chutzpah that fascinates me and motivates me to do this sequel.

How his problems are going to be resolved is a matter well worth pondering.

I'll keep you posted as his adventures continue to unfold.
And once again, the book:

Forgive me, if I can't resist tooting my own horn.

No Place for Normal: New York just got a stellar online review from Reader Views – the kind authors dream of but rarely receive – which I will reproduce here in its entirety:
No Place for Normal: New York
Mill City Press, Inc. (2015)

Reviewed by Sheri Hoyte for Reader Views (03/16)
"No Place for Normal: New York" by Clifford Browder is a delightful treasure chest full of short stories about New York City. Readers are regaled with tales about city icons - from street characters to celebrities, famous restaurants, and tourist locations such as Greenwich Village, Union Square, and Central Park, rounded out with tales of inspiration, adventure, drama, and nightlife. New York City has no room for anything normal - the more eccentric, different, weird, and astonishing, the better. It is undeniably the most unique city in America, as demonstrated in these great stories.
Although a transplanted Texan of many years, my hometown is Saratoga Springs, New York. That noted, I must say that one of my favorite stories in the book is "Upstate vs. Downstate: The Great Dichotomy." Even as a child, I remember when people asked me where I was from I would always respond "Upstate New York" as opposed to just "New York," clearly wanting to establish the difference in the inquirer's mind. I don't recall how that was ever ingrained so deeply in my mind; even so, I can't imagine what would have happened if NYC had succeeded in seceding from the state!
I believe one of the most interesting stories in the book is on the back cover. I found the author's short bio to be an interesting story in and of itself. Browder, a writer and retired freelance editor, resides above the Magnolia Bakery – you know, the
Sex and the City
Magnolia Bakery! He has never owned a car or a television, and in his own words, "shuns the cell phone and tolerates the computer!" Living in New York City – unplugged? Now that's a story!
I thoroughly enjoyed "No Place for Normal: New York" by Clifford Browder and highly recommend it to all fans of entertaining short stories and lovers of New York City. It would also make an interesting travel guide for people who just want to learn more about the city that never sleeps!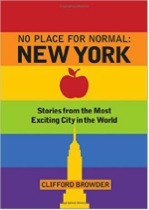 Coming soon:

Good-bye to a Real New Yorker, My Friend John Anderson.

Beyond that, maybe a minipost on European traditionalism vs. American modernism and our cult of the New, via Edith Wharton.

Yes, ideas for squibs keep coming, resurrecting the blog that I thought I had buried.

Short posts, however – quick reads, nothing more.