My books
No Place for Normal: New York / Stories from the Most Exciting City in the World. A selection of posts from this blog.
Historical fiction set in nineteenth-century New York:
1. The Pleasuring of Men. A young man becomes a male prostitute in the hidden gay world of that time.
2. Bill Hope: His Story. A street kid turned pickpocket pours out his story in a torrent of words.
3. Dark Knowledge. A young man fights to discover the truth about his family's involvement in the slave trade.
For details, see below.
Libraries
Libraries have always been an important part of my life.

It started back in my childhood, when I was a bookworm far more interested in books than football, for which I paid a price.

I remember climbing the steps of the local library in Evanston, a Carnegie library in the usual Greek temple style

on Orrington Avenue, where I and a knowing classmate asked the librarian in charge for a slang dictionary.

"Why do you want it?" she asked, with a stern look.

"Because," my savvy companion

explained, "we've been arguing in class about whether or not certain words are slang."

This satisfied the guardian of the treasure, and she handed a bulky slang dictionary over, so we could feast our eyes on four-letter words that had soiled our ears but never confronted our tender psyches in print.

Later, to be sure, I matured enough to be admitted to the stacks, where I could find more constructive reading, albeit a bit less titillating.
If libraries have come to mind now, it's because my local branch here in New York, the Jefferson Market Library on Sixth Avenue at West 10th Street, is celebrating its fiftieth anniversary.

An abandoned courthouse given over to pigeons and rats, its Victorian Gothic splendor (or horror, if you dislike Victorian Gothic) had been in danger of demolition, but preservationists rallied to save it and have it renovated, so it could become the West Village's branch library.

The preservationists won, and in 1967 the library opened and has been functioning ever since.

I was a patron right from the start, and on my last visit found a local artist installing a ground-floor exhibition of placards made by patrons of the library celebrating the anniversary.

My favorite:
A

BOOK

IS

A

DREAM

YOU

HOLD

IN YOUR

HAND
This message I intend to use, when exhibiting my books in next year's New York City book fairs.
Other libraries that come to mind:
·
The Chicago Public Library, a handsome neoclassical edifice on Michigan Boulevard that in my early teens I often went to on Saturdays in winter, fighting against the blasts of cold wind off the lake as I approached it from the L on Randolph Street.

In its spacious confines I perused regimental histories of the Civil War or, in a newspaper room where old men half-snoozed over newspapers in foreign languages, newspapers reporting the German conquest of Yugoslavia and Greece in 1941, soon followed by the invasion of the Soviet Union.

Doing this, I scribbled notes and absorbed wartime misinformation for an ambitious and quite futile personal history of World War II, ill-typed, that I in time had the wisdom to abandon.

(The library building is now the Chicago Cultural Center.)
·
The public library in Besançon, France, where aging provincial scholars snored softly over dusty tomes open on a table, or muttered softly to themselves while guarding vigilantly their piles of notes on tiny scraps of paper, lest some sudden breeze scatter the gleanings of research destined for some ambitious project already years in the making, but probably destined to remain unfinished.

I, on the other hand, was after some gem of French literature that always seemed to be out.
·
The public library in San Francisco, where I was allowed to roam the stacks and explore their collection of books on the West, and so for the first time learned of the Mountain Meadow Massacre in Utah, and Custer's murderous cavalry attack on a Northern Cheyenne tribe that considered itself at peace with the U.S. government.
·
The public library in Anchorage, Alaska, where I worked one summer in a kitchen feeding workers on an army base.

Local residents glowed with pride as a second street was being paved, and boasted of their one palatial movie theater, as splendid as any in the then forty-eight states, that graced the other paved street in the city.

But my goal, when I went into town, was the library, a measly little quonset hut with a single librarian.

There I discovered the names of the wildflowers I was seeing in a wet meadow on the edge of town (forget-me-not, lupine, fireweed), and quickly ran through the scant offerings of English novels.
·
The Annex of the New York Public Library, a building off by itself on West 43rd Street between Tenth and Eleventh Avenues and known only to the knowing few.

There I examined old New York newspapers of the 1830s rarely consulted by anyone, and squinted for hours at the faint or fading print on microfilm of old newspapers and documents yielding information that I needed as background research for a biography I was writing.

(Microfilms of old newspapers are now available at the main building on Fifth Avenue at 42nd Street.)
·
The Jersey City Public Library, where my partner, Bob, the reference librarian, got me access to the stacks, where I examined dusty old books (now probably discarded) about the Canadian wilderness of the early 1900s.

Taking notes on these accounts helped me recreate the semi-mythical Great North Woods of my father's stories, told to me and my brother when we were little, stories seasoned with stalking grizzlies, streams full of surging salmon massacred by eagles, and shadowy, ominous plains described by my father as the Wolf Country.
·
The new Evanston Public Library, built on the site of the old Carnegie building on Orrington Avenue, which I visited when home with my family for Christmas, usually getting a book for my book-starved mother.

No Greek temple now, and no stairs mounting to the entrance.

In the front hall just inside, was a huge fireplace with a roaring fire and chairs where, sheltered from the raw Midwestern winter, one could enjoy a quiet read in cozy warmth.
·
The New York Genealogical and Biographical Society library in Midtown, where I once went to search in vain for relevant information about the forgotten Wall Street financier Daniel Drew.

I and the elderly librarian were the only ones on the premises, until an ancient, fragile couple arrived to trace their ancestry in a lethal quiet worthy of a tomb.

(Today the Society offers vast amounts of information online.)
·
The main building of the New York Public Library, now called (since donors must be honored) the Stephen A. Schwarzman Building, at Fifth Avenue and 42nd Street, its superb Beaux-Arts façade guarded by two monumental lions facing the avenue.

Inside I did hours of research for any number of projects in the magnificent Rose Main Reading Room, where a number flashing at intervals on a screen signaled the arrival of more books requested by me, their bindings often tattered and crumbling, brought up by conveyor from the mysterious hidden stacks far below.
Not to mention the Schwarzman's Local History and Genealogy Room, and the Rare Books Division, where the librarian who admitted me asked me to clean my shoes on a doormat before entering, even though I had no intention of walking on the books.

And the Library of Congress in Washington, and the small libraries of Carmel and Brewster in Putnam County, New York, all of them useful to me when in the throes of some project of years gone by.

But I never got to the Bibliothèque Nationale in Paris, or the Vatican Library, or numerous other illustrious repositories of the printed word; there are, after all, limits to what one can do.
We take the free public library for granted, but libraries were not always free.

In centuries past there were royal and imperial libraries, private libraries, and monastic libraries, but none of these was open to the public and free.

Fee-based circulating libraries and subscription libraries were common in Europe and America in the eighteenth century.

Prior to that, libraries in England and the American colonies were often parochial, or parish-based, in nature, sponsored by the Anglican church with a missionary purpose, and with their books often chained to the desks.

Having private libraries of their own, the ruling classes looked down on libraries that were open, with or without a fee, to the public.
Only in the latter half of the nineteenth century did the modern public library appear, funded by taxes and open and free to the public.

In the U.S. the middle class wanted libraries to promote middle-class values and the presumed upward march of civilization.

In 1893, when a public library opened in Butte, Montana, a rowdy mining camp of a town, it was meant to counteract the miners' love of liquor, whoring, and gambling; hopefully, it did.

Today the public library is a vehicle for learning and open debate, and as such it is deemed necessary to democracy.
But the traditional main library, huge and imposing as in Chicago and New York, intimidated blue-collar and immigrant populations, for whom such buildings resembled bureaucratic labyrinths and halls of justice, or even prisons; to reach those people, small, easily accessible storefront branch libraries were necessary, as the role of the public library continued to evolve.

And over the last few decades the library has changed radically, with the coming of the Internet.

To quickly check or learn facts, why go to a library, when one can do it in minutes on the Internet?

The library will survive this, too, just as it has survived the political, military, and technological disruptions of the past, but to do so it must endlessly adapt.
All books are available online as indicated, or from the author.
1
. No Place for Normal: New York / Stories from the Most Exciting City in the World
(Mill City Press, 2015).
Winner of
the Tenth Annual National Indie Excellence Award for Regional Non-Fiction; first place in the Travel category of the 2015-2016 Reader Views Literary Awards; and Honorable Mention in the Culture category of the Eric Hoffer Book Awards for 2016. All about anything and everything New York: alcoholics, abortionists, greenmarkets, Occupy Wall Street, the Gay Pride Parade, my mugging in Central Park, peyote visions, and an artist who made art of a blackened human toe. In her Reader Views review, Sheri Hoyte called it "a delightful treasure chest full of short stories about New York City."
If you love the city (or hate it), this may be the book for you. An award winner, it sold well at BookCon 2017.
Review
"If you want wonderful inside tales about New York, this is the book for you. Cliff Browder has a way with his writing that makes the city I lived in for 40 plus years come alive in a new and delightful way. A refreshing view on NYC that will not disappoint." Five-star Amazon customer review by Bill L.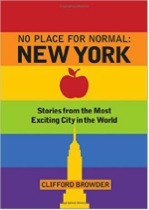 2. Bill Hope: His Story (Anaphora Literary Press, 2017), the second novel in the Metropolis series.
New York City, 1870s: From his cell in the gloomy prison known as the Tombs, young Bill Hope spills out in a torrent of words the story of his career as a pickpocket and shoplifter; his brutal treatment at Sing Sing and escape from another prison in a coffin; his forays into brownstones and polite society; and his sojourn among the "loonies" in a madhouse, from which he emerges to face betrayal and death threats, and possible involvement in a murder.
Driving him throughout is a fierce desire for better, a persistent and undying hope.

For readers who like historical fiction and a fast-moving story.
Reviews
"A real yarn of a story about a lovable pickpocket who gets into trouble and has a great adventure. A must read." Five-star Amazon customer review by nicole w brown.
"This was a fun book. The main character seemed like a cross between Huck Finn and a Charles Dickens character. I would recommend this." Four-star LibraryThing review by stephvin.
Available from Amazon.
3. Dark Knowledge (Anaphora Literary Press, 2018), the third novel in the Metropolis series. Release date January 5, 2018, but copies now available from the author. Adult and young adult. A fast-moving historical novel about New York City and the slave trade, with the sights and sounds and smells of the waterfront. More excerpts to come.
New York City, late 1860s. When young Chris Harmony learns that members of his family may have been involved in the illegal pre-Civil War slave trade, taking slaves from Africa to Cuba, he is appalled. Determined to learn the truth, he begins an investigation that takes him into a dingy waterfront saloon, musty old maritime records that yield startling secrets, and elegant brownstone parlors that may have been furnished by the trade. Since those once involved dread exposure, he meets denials and evasions, then threats, and a key witness is murdered. Chris has vivid fantasies of the suffering slaves on the ships and their savage revolts. How could seemingly respectable people be involved in so abhorrent a trade, and how did they avoid exposure? And what price must Chris pay to learn the painful truth and proclaim it?
Early reviews
"A lively and entertaining tale. The writing styles, plot, pace and character development were excellent." Four-star LibraryThing early review by BridgitDavis.
"At first the plot ... seemed a bit contrived, but I was soon swept up in the tale." Four-star LibraryThing early review by snash.
"I am glad that I have read this book as it goes into great detail and the presentation is amazing. The Author obviously knows his stuff." Four-star LibraryThing early review by Moiser20.
4. The Pleasuring of Men (Gival Press, 2011), the first novel in the Metropolis series, tells the story of a respectably raised young man who chooses to become a male prostitute in late 1860s New York and falls in love with his most difficult client.
What was the gay scene like in nineteenth-century New York? Gay romance, if you like, but no porn (I don't do porn). Women have read it and reviewed it. (The cover illustration doesn't hurt.)
Reviews
"At times amusing, gritty, heartfelt and a little sexy -- this would make a great summer read." Four-star Amazon customer review by BobW.
"Really more of a fantasy of a 19th century gay life than any kind of historical representation of the same." Three-star Goodreads review by Rachel.
"The detail Browder brings to this glimpse into history is only equaled by his writing of credible and interesting characters. Highly recommended." Five-star Goodreads review by Nan Hawthorne.