For my other books, see BROWDERBOOKS below.
Okay, here it is:

A collection of posts from this blog. Short biographical sketches of people, some remembered and some forgotten, who lived or died in New York. You'll learn some fascinating scraps of information:
Who was getting more sex? Andy Warhol or the cardinal archbishop of New York?

Why was the most famous architect in the country shot to death in front of scores of witnesses in the rooftop theater of Madison Square Garden, and what became of his murderer?

Who was the Queen of Tarts, and why did celebrities flock to her establishment?

What happened when the queen of West Coast evangelists, out to reform the wicked city of New York, confronted the queen of East Coast speakeasies in her speakeasy?

What movie star said of a famous colleague, "She slept with every male star at MGM except Lassie"? And was it true?
Too tabloid for you? Too gossipy? All right, there's serious stuff, too: enough liberated women to warm a feminist's heart, a self-styled "Mr. Monster" who terrorized the city, and the most powerful woman in the world, so sexy that the president of the U.S. kept a card table between them when he met her, so he wouldn't be "vamped." And lots more.
To be published July 26. You can order it here from Black Rose Writing, the publisher, and get a discounted price (plus postage), but it won't be shipped before that date. Also available from Amazon and Barnes & Noble, minus the discount but with the delay. Signed copies are available now from the author (meaning me) for $20.00 (plus postage, if needed), though in limited numbers. But remember: don't buy the book just to oblige the author; buy it only if you really want to read it. It's a good read and will find its audience in time.
SMALL TALK
It's been a long winter in New York, stretching even into spring. There were four snowstorms in March, and another in early April, and since then we've had one chilly, windy day after another. But last Sunday there was sun without wind, and by afternoon it was in the 60s. I went out prepared for at least a slight chill, but soon doffed my jacket and wished I hadn't worn a sweater. I had a light lunch at Philip Marie, on the corner of Hudson and West 11th. The place was jammed, so once again I watched New Yorkers babbling joyously, socializing and relaxing. Looking at my fellow diners, I was struck by how expressive the women were, with facial expressions and gestures -- much more so than the men. Discreetly eyeing a table to my left with two couples, I could see the two men clearly: one was a nice young man, polite, genteel, and the other was a charmer. Of course the charmer dominated.
Leaving the restaurant, I went down West 11th toward the river and looked in at the Robin Rice Gallery, a new photography gallery whose opening reception on March 21 I had hoped to attend, but gave it up because of a heavy snowfall making the sidewalks slick. I was the only visitor, and the young man on duty assured me that the snowfall hadn't canceled the opening. I looked again at the current exhibit, photographs by Leonard Pucci entitled "episodes (without a real order)." Predominating were scenes of buildings, each with a male torso or two visible in a single window, somewhat reminiscent of Edward Hopper's urban scenes with often a single small human visible. Asked for my reaction, I said, "Erotic, homoerotic, but subtly so." There were other photographs as well, one with a window displaying a distinctly feminine leg with a high heel, and others that verged on the abstract. The young attendant then showed me a small back room crowded with other art work, and behind that, a bathroom with still more: enough art for two or three shows.
The same block, between Greenwich Street and Washington, harbors other attractions, including my laundry and Turks and Frogs, a wine bar I have yet to investigate. But my goal was the river, so I went on to the end of the street, crossed busy West Street, and sat on a low wall facing the Hudson. Hordes of New Yorkers went by: joggers, strollers, families with toddlers, people of all ages shedding their jackets to soak up the sun. And beyond, looking into the light on the river, I saw dancing dots of silver, as a gentle breeze rippled the surface of the water -- a sight that only I was noticing. It made my day. Whenever I walk in a park or rural area on a sunny day, if there is water -- a puddle, a pond, a river, or an ocean -- I know to look into the light and see these dancing dots, or streaks of silver, or a broad shining sheet of it, depending on the strength of the wind. For me, it is the face of God.
Such was my first spring walk in 2018: people, art, nature -- a bit of all three. Nothing could top it.
Fighting New York City: Five Tips
When my partner Bob got his new hospital bed recently, we had to store the dismantled old bed in our apartment for several days, because it could be taken down to the street only on a Monday afternoon, for collection the following morning. To have put it out before that risked getting a summons from a city inspector imposing a hefty fine on the building's owner, with whom we have no quarrel. The building used to get frequent summonses when the trash cans were out in front, where Magnolia Bakery customers felt free to deposit their trash in or on them until they overflowed -- a problem that was solved only when the cans were removed to a trash area inside the building. And a friend of mine once got a summons for dropping a letter addressed to him in a trash can on the street. The inspector imposing the fine was courteous, but explained that trash cans on the street are not meant for household trash. You can drop a Magnolia cupcake carton or crumpled napkin there, but not anything delivered to your apartment. All of which shows how finicky the city is -- to the tune of $100 -- and how vulnerable its residents are to being fined.
No household trash, please.


RockyJennifer
Obviously, if you get a summons for some kind of offense, you are not alone. Being over-regulated, New York City has a vast bureaucracy -- second only to the federal government's -- to see that citizens conform. Aside from parking and red-light tickets, in 2017 the city handed out more than 877,000 summonses for noncriminal offenses. Here are some of the offenses that residents have been charged with:
Entering a park after the closing hour.

Installing a toilet without a permit.

Urinating in public.

Spitting on the sidewalk.

Trash on your front walk thrown there by passersby.

Forty-six fruit flies (count 'em) found by an inspector in your deli.

Parking a food cart less than 20 feet from the door of a store.

Letting your pet dog's rabies vaccine expire.

Mixing recyclables with trash.

Drinking a beer on the sidewalk.
So what are the commonest offenses? In 2017 18,000 naughty New Yorkers got summonses for public urination (no pissoirs here), and a whopping 90,000 for drinking alcohol in public. (Maybe there's a connection?) Fortunately, these two offenses have been downgraded from crimes to mere offenses subject to a fine; they won't get you a criminal record.
Recyclables only; anything else could get you a fine.


Sterilgutassistentin
If you get a fine, what should you do? Most people shrug, mutter, curse, and pay. But a valiant few, insisting on their innocence, choose to fight. If you're one of them, here are five tips.
Tip #1. Go to your borough's OATH office.
"OATH?" you say. "What's that?" OATH is the Office of Administrative Trials and Hearings, and there is one in each borough. No matter which city agency is fining you, your borough's OATH office is where you go to appeal a fine. OATH hears thousands of these cases a year.
T
he judges hearing them are called hearing officers and don't wear robes or use gavels. They are per-diem city lawyers in business clothes and hear the cases not in an awe-imposing courtroom but in a small private room with a desk and chairs, a computer and printer. Here the defendants, who are called respondents, get their day in court -- a few minutes in an unpretentious non-court. The hearing officer turns on a recorder, reads the summons into the record, and asks the defendant -- you -- to tell your story. Some win, some lose. For those who lose, there are windows nearby where they can pay their fine. Here are examples of the cases heard:
A contractor got a summons because the subcontractors brought their dump trucks to the site more than an hour early and blocked the lane.

A food cart vendor got a summons because the rice on his cart's steam table was heated at less than 140 degrees.

A woman selling pastries on a folding table on Brighton Beach Avenue in Coney Island was fined for not having a permit.
In 2017, 44 percent of the contested 223,000 summonses were dismissed -- not a bad percentage, causing many city bureaus to think OATH much too lenient.
So what can you do to avoid the fine?
Tip #2. Be reasonable and brief. For instance:
A 68-year-old lady in the Bronx got a $100 summons for not shoveling snow in a timely fashion. She explained that her 76-year-old husband had done his best. Case dismissed.

A Staten Island man went to bed in his home at 10 p.m., at which time the garbage he had put out for collection had not been collected. At 1:45 a.m. he got a $100 summons for putting trash out on a non-collection day. "Am I supposed to set my alarm for after midnight?" he asked. Case dismissed.

A locksmith waiting between two parked cars in the Bronx for a coworker to pick him up got a ticket from an officer for urinating on a public sidewalk, which he denied. His explanation was clear and convincing; case dismissed.

A cab driver being fined for blocking a bike lane with his cab at 6:30 p.m. showed his Uber log, which proved that at 6:34 p.m. he was seven blocks away. Case dismissed.
Tip #3. Know the law. Here's what happens if you don't:
A grocer in Queens sold some cigarettes to a bearded young man who looked to be 24, and was immediately arrested by a woman who turned out to be a city inspector and gave him a $1000 summons for selling tobacco to a minor. The buyer, only 17, was a plant. The grocer protested the city's using a kid to entrap people, but the inspector explained that he was supposed to ask for an ID if they look under 30. The grocer hopes for leniency.

A woman who got a summons for having a rat infestation on her property said that she had many cats to control the rat population. She showed photos of the cats, but two of them were raccoons. Case upheld. Even minus the raccoons, her appeal would have been denied. Having cats on the premises isn't enough; an infestation is an infestation.
Tip #4. Tell your story and stick to it. Don't keep changing your appeal. An example:
A man got a summons for possessing an open 24-ounce can of beer in a park. Explanation no. 1: It was a friend's beer that happened to be by his feet. But he then went on to Explanation no. 2: He wasn't drinking beer because he was with his wife. And Explanation
no. 3: He only briefly held the beer in his hand as a favor to a friend, because he saw the police coming. Case upheld; he was fined.
Tip #5. Know the difference between
being at fault and being responsible. If someone leaves trash on your property, they are at fault. But if you own the property, you are responsible for policing it and can be fined for not removing the trash. Thus:
A property owner got a summons because patrons of the bodega next door throw empty bottles over the fence onto his vacant lot. He protests his innocence, but as the owner of the lot, he is responsible for keeping it clean. Case upheld.
In spite of all these regulations and all these possible fines, and the city taxes that go to pay for their implementation, we New Yorkers love our city and wouldn't live anywhere else. We love to complain, and this gives us lots to complain about. We're never bored.
A trash-filled lot. Who's responsible? Someone is, and what a fine they'll get!
Trash, properly bagged, awaiting collection. This super knows his job; no fine forthcoming.


Jess Hawsor
Source note: This Small Talk is indebted to an article by Andy Newman, entitled "Step Right Up and Say What Happened," in the Metropolitan Section of the New York Times of Sunday, March 18, 2018.
Coming soon:
The Oculus: Boondoggle or Architectural Wonder, and the 9/11 Memorial.
All books are available online as indicated, or from the author.
1
. No Place for Normal: New York / Stories from the Most Exciting City in the World
(Mill City Press, 2015).
Winner of
the Tenth Annual National Indie Excellence Award for Regional Non-Fiction; first place in the Travel category of the 2015-2016 Reader Views Literary Awards; and Honorable Mention in the Culture category of the Eric Hoffer Book Awards for 2016. All about anything and everything New York: alcoholics, abortionists, greenmarkets, Occupy Wall Street, the Gay Pride Parade, my mugging in Central Park, peyote visions, and an artist who made art of a blackened human toe. In her Reader Views review, Sheri Hoyte called it "a delightful treasure chest full of short stories about New York City."

If you love the city (or hate it), this may be the book for you. An award winner, it sold well at BookCon 2017.
Review
"If you want wonderful inside tales about New York, this is the book for you. Cliff Browder has a way with his writing that makes the city I lived in for 40 plus years come alive in a new and delightful way. A refreshing view on NYC that will not disappoint." Five-star Amazon customer review by Bill L.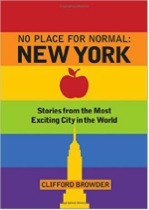 2. Bill Hope: His Story (Anaphora Literary Press, 2017), the second novel in the Metropolis series. New York City, 1870s: From his cell in the gloomy prison known as the Tombs, young Bill Hope spills out in a torrent of words the story of his career as a pickpocket and shoplifter; his brutal treatment at Sing Sing and escape from another prison in a coffin; his forays into brownstones and polite society; and his sojourn among the "loonies" in a madhouse, from which he emerges to face betrayal and death threats, and possible involvement in a murder. Driving him throughout is a fierce desire for better, a persistent and undying hope.

For readers who like historical fiction and a fast-moving story.
"A real yarn of a story about a lovable pickpocket who gets into trouble and has a great adventure. A must read." Five-star Amazon customer review by nicole w brown.
"This was a fun book. The main character seemed like a cross between Huck Finn and a Charles Dickens character. I would recommend this." Four-star LibraryThing review by stephvin.
3. Dark Knowledge (Anaphora Literary Press, 2018), the third novel in the Metropolis series. Adult and young adult. A fast-moving historical novel about New York City and the slave trade, with the sights and sounds and smells of the waterfront.
New York City, late 1860s. When young Chris Harmony learns that members of his family may have been involved in the illegal pre-Civil War slave trade, taking slaves from Africa to Cuba, he is appalled. Determined to learn the truth, he begins an investigation that takes him into a dingy waterfront saloon, musty old maritime records that yield startling secrets, and elegant brownstone parlors that may have been furnished by the trade. Since those once involved dread exposure, he meets denials and evasions, then threats, and a key witness is murdered. Chris has vivid fantasies of the suffering slaves on the ships and their savage revolts. How could seemingly respectable people be involved in so abhorrent a trade, and how did they avoid exposure? And what price must Chris pay to learn the painful truth and proclaim it?
Early reviews
"A lively and entertaining tale. The writing styles, plot, pace and character development were excellent." Four-star LibraryThing early review by BridgitDavis.
"At first the plot ... seemed a bit contrived, but I was soon swept up in the tale." Four-star LibraryThing early review by snash.
"I am glad that I have read this book as it goes into great detail and the presentation is amazing. The Author obviously knows his stuff." Four-star LibraryThing early review by Moiser20.
New release; available from
Amazon
and
Barnes & Noble
.
4. The Pleasuring of Men (Gival Press, 2011), the first novel in the Metropolis series, tells the story of a respectably raised young man who chooses to become a male prostitute in late 1860s New York and falls in love with his most difficult client.

What was the gay scene like in nineteenth-century New York? Gay romance, if you like, but no porn (I don't do porn). Women have read it and reviewed it. (The cover illustration doesn't hurt.)

Reviews
"At times amusing, gritty, heartfelt and a little sexy -- this would make a great summer read." Four-star Amazon customer review by BobW.
"Really more of a fantasy of a 19th century gay life than any kind of historical representation of the same." Three-star Goodreads review by Rachel.
"The detail Browder brings to this glimpse into history is only equaled by his writing of credible and interesting characters. Highly recommended." Five-star Goodreads review by Nan Hawthorne.