This post is a reblog of post #136, published on July 20,
2014. Of all the posts in this blog, it has the most views, surpassing even Man/Boy Love.
He was born to an Irish American family in Massachusetts in 1889, as a child
served as an altar boy, graduated from Fordham in 1911, decided to study for the priesthood, and was sent to pursue those studies in Rome.
Ordained in 1916, he returned to the U.S. and did pastoral work in Massachusetts, but was unable to become a military chaplain during World War I because he failed to meet the height requirement.
Other posts followed, including U.S. attaché of the Vatican Secretariat of State in 1925.
He was in Rome from 1925 to1931, where he made useful contacts in the Curia, and in 1927, during a trip to Germany, he began a lifelong friendship with Eugenio Pacelli, then the papal nuncio to Germany.
Named Auxiliary Bishop of Boston in 1932, he had strained relations with his superior, Archbishop O'Connell of Boston, but did further pastoral work in Massachusetts, and in 1936 helped arrange a visit by Pacelli, now the Vatican's Cardinal Secretary of State, to these shores, where he countered the influence of the Detroit-based Father Coughlin, whose popular nightly radio broadcasts were harshly critical of President Roosevelt.
But the real reason for the visit was to meet secretly with the President and discuss establishing diplomatic relations between the U.S. and the Holy See; Spellman was present at the meeting, though no formal diplomatic ties resulted at this time.
It should be clear by now that Francis J. Spellman had a genius for making the right connections almost from the start of his career.
In 1939 Pope Pius XI died, to be succeeded by Pacelli as Pius XII. One of the new Pope's first actions was to make Spellman Archbishop of New York and vicar of the U.S. armed forces, just in time for World War II. The new Archbishop moved into the archiepiscopal residence, a handsome neo-Gothic structure at 452 Madison Avenue, at the corner of 51st Street, adjacent to Saint Patrick's Cathedral, where he would reside for the rest of his life amid oak paneling, thick red carpets, ornate furniture, priceless antiques, and a quiet almost unheard of in busy midtown Manhattan.
Spellman was soon exerting great influence in religious and political matters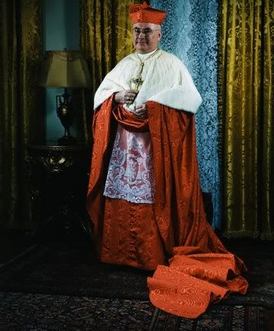 and h
osting prominent figures of the day like Joseph P. Kennedy, the Wall Street speculator turned Securities and Exchange Commission chairman turned Ambassador to Great Britain (and, incidentally, another Massachusetts-based Irish Catholic), and financier and presidential adviser Bernard Baruch.
Clearly, he had a genius for relating to the rich and powerful.
Once the U.S. entered the war, His Eminence supported the war effort vigorously.
In 1943 President Roosevelt sent him as his agent to Europe, Africa, and the Middle East, where the peripatetic Archbishop covered 16 countries in 4 months, rivaling the whirlwind tours of American tourists of the postwar era; he met with Franco in Spain, the Pope in Rome, and Churchill in London, and on his return to the U.S. helped arrange to have Rome declared an open city and thus spared further bombing.
Roosevelt's death in 1945 diminished his influence in higher circles, but after the war Pius XII made him a cardinal in 1946, just in time for the Cold War.
As always, Spellman's timing – or was it just dumb luck? – was flawless.
And he was impressive to behold in his scarlet cardinal's robes.
In the years that followed – the years when I first became aware of him – Cardinal Spellman showed that, much as he loved the red of the cardinal's robe, he loved the red, white, and blue just as much. "A true American can neither be a Communist nor a Communist condoner," he declared. "The first loyalty of every American is vigilantly to weed out and counteract Communism and convert American Communists to Americanism." Needless to say, he was a fervent supporter of Senator Joseph McCarthy, who without offering hard evidence had the public believing that there were Communists in every nook and cranny of the government, and that -- as I heard the Wisconsin senator say once on television, ever so convincingly – the world was going up in flames. The politics of fear, always effective.
In 1949, when the gravediggers of Calvary Cemetery, a Catholic cemetery in Queens, went on strike for a pay raise, he called them Communists, labeled their action an immoral strike against the innocent dead, recruited seminarians as strikebreakers to dig graves, and set them a vigorous example in that worthy activity. In that same year he locked horns with former First Lady Eleanor Roosevelt, when in her newspaper column "My Day" she opposed federal funding to parochial schools. He accused her of anti-Catholicism and "discrimination unworthy of an American mother," though in time he met with her and made peace. But peace was not his prime concern; he was too busy denouncing immoral Hollywood films and, in time, comedian Lenny Bruce, who had often satirized the Cardinal.
Arrested in 1961, one of his many arrests.
The irreverent comedian, who was no stranger to obscenity, sometimes imagined
Christ and Moses returning to earth to observe people in East Harlem crammed 25 to a room, and then notice the Cardinal's ring, worth ten thousand dollars. Or the two visitors would enter Saint Patrick's Cathedral, followed by lepers whose flesh was falling on the polished floors, causing His Eminence to phone Rome in a panic and tell the Pope to put the holy duo up, since he was up to his ass here in crutches and wheelchairs. Admittedly, Bruce was breaching the limits allowed to comedy in America; jibes at religion were risky, and out-and-out obscenity taboo. No wonder the Archbishop encouraged the D.A., another Irish Catholic, to charge Bruce with obscenity. Bruce was convicted after a controversial and widely publicized six-month trial in 1964 and sentenced to four months in a workhouse, but was set free on bail pending an appeal. He died of an overdose in 1966 before the appeal had been decided, and in 2003 received a posthumous pardon, the first in New York State, from Governor George Pataki.
The Cardinal that I knew from photos at the time showed a portly, spectacled, jowly prelate whom some thought cherubic and humble (I would have said a cuddly, well-fed little porker), a man with a ready smile but perhaps not too bright. But behind this façade was a shrewd, almost ruthless player on the world stage who had no qualms about fighting, and fighting hard, to get what he wanted. A longtime Jesuit friend and his official biographer described him as "fearless, tireless, and shrewd, but at the same time humble, whimsical, sentimental, incredibly thoughtful, supremely loyal, and, above all, a real priest." A complex individual, then, a seeker and wielder of power whom others playing the same game had to take into account and respect. But also a tireless worker, a skillful administrator, a shrewd negotiator of real estate deals, and an excellent fund-raiser – in short, a first-rate businessman. And a poet and novelist, his novel The Foundling coming out in 1951. But not one to admit error or to give up an opinion, no matter now outdated or unpopular; prudence was unknown to him.
A participant in the 1958 papal conclave that elected Pope John XXIII, Spellman, though a conservative, was in some ways progressive, insisting on a declaration on religious liberty, yet in the long run he was critical of the new Pope's liberal and reformist leanings. "He's no Pope," he reportedly said. "He should be selling bananas." In the following year, during a visit to Central America, he disobeyed the Pope's instructions by appearing in public with Anastasio Somoza Garcia, the right-wing dictator of Nicaragua, of whom President Roosevelt had once allegedly remarked, "He may be a son of a bitch, but he's our son of a bitch." (There is some doubt as to which Latin American dictator he was referring to.)
In the 1960s the escalation of the Vietnam War, and the eruption of antiwar protests on college campuses across the country, brought new opportunities for the zealously patriotic Cardinal and his critics. So outspoken was His Eminence's support of the war that protesters labeled it "Spelly's War." He spent the Christmas of 1965 with the troops in South Vietnam, said Mass in Saigon, sprinkled holy water on B-52 bombers and blessed them just before they departed on a mission, and described the war as "Christ's war" and a "war for civilization." This did not go over too well with the Vatican, since Pope Paul VI had urged negotiations and an end to the war; sources made it clear that the Archbishop spoke only for himself, not for the Pope or the Church. Back home, where humorous buttons were now all the rage, one saying DRAFT CARDINAL SPELLMAN was popular, and in January 1967 war protesters disrupted a Mass in Saint Patrick's Cathedral.
University of Wisconsin, Madison, 1965.
uwdigitalcollections
In 1966, when Pope Paul initiated a policy whereby bishops would retire at age 75, Spellman, then 77, offered to resign, but the Pope asked him to remain at his post. He died in December 1967, of what has not been disclosed. His funeral was attended by President Lyndon Johnson, Vice President Hubert Humphrey, New York State Senators Robert Kennedy and Jacob Javits, Governor Nelson Rockefeller, Mayor John Lindsay, and others, and he was buried in the crypt under the main altar of Saint Patrick's Cathedral, alongside other deceased archbishops and cardinals. No question, he went out in style. His 28-year tenure as Archbishop is the longest to date in the history of the Archdiocese of New York. A New York City high school bears his name.
Cardinal Spellman's coat of arms.
Sequere deum = Follow God.
SajoR
And now we come to the crucial question: Was Cardinal Spellman gay? Rumors then and now have abounded. A friend informs me that in the standees line at the Metropolitan Opera in the 1950s gay jokes about "Franny" Spellman were rampant, especially among standees with a Catholic upbringing, though all the ones he remembered are too bawdy to bear repeating here. I'm always skeptical about such stories, until conclusive evidence appears. Some elements of the gay community commonly assert with conviction that this or that world leader or celebrity is or was screamingly gay, without offering any such evidence. Long ago a dapper Brooks Brothers-clad East Sider who had been in the military in the Pacific during World War II assured me that reports of General Douglas MacArthur's homosexual escapades had constantly surfaced and of course had been vigorously suppressed. I didn't believe him then and I don't believe him now, since I know of no reliable confirmation of his story. But the case of Cardinal Spellman isn't that simple.
One of Spellman's biographers, John Cooney, whose workThe American Pope: The Life and Times of Francis Cardinal Spellman appeared in 1984, mentioned four interviewees who stated that Spellman was indeed homosexual; Cooney offered no direct proof but was convinced that the allegations were true. "I talked to many priests who worked for Spellman and they were incensed, dismayed, and angered by his conduct." Not surprisingly, Monsignor Eugene V. Clark, Spellman's personal secretary for fifteen years, promptly labeled Cooney's accusations "utterly ridiculous and preposterous," adding that "if you had any idea of [Spellman's] New England background and his Catholicism, you would know it was a foolish charge." (Interestingly enough, Clark, an arch-conservative who was notoriously anti-gay in his pronouncements, had to resign as rector of Saint Patrick's Cathedral in 2005 when, at age 79, he was named as the "other man" in a divorce case.)
Signorile
David Shankbone
Reinforcing Cooney's claim is gay author and journalist Michelangelo Signorile's online article "Cardinal Spellman's Dark Legacy" (2002), which labels Spellman "one of the most notorious, powerful, and sexually voracious homosexuals in the American Catholic Church's history." According to him, the closeted Cardinal was known as "Franny" to assorted Broadway chorus boys and others, but the Church pressured Cooney's publisher, Times Books, to reduce the four pages on the Cardinal's sexuality to a single paragraph that only mentioned "rumors." Signorile also asserts that Spellman was involved in a relationship with a dancer in the Broadway revue One Touch of Venus, whose original production ran from 1943 to 1945; Spellman would have his limousine pick up the dancer several nights a week and bring him to the archiepiscopal residence. And if a portly prelate might seem lacking in sex appeal to a frisky chorus boy, his status as the Cardinal Archbishop of New York probably enhanced his image considerably. All of which prompts a titillating nocturnal fantasy: the young man exiting the limousine discreetly and slipping into the neo-Gothic mansion, with its ornate furnishings and uniformed servants, for a most clandestine tryst. When he asked Spellman how he could get away with it, His Eminence allegedly answered, "Who would believe that?" It should be noted that Signorile has made a name for himself by "outing" public figures whom he claims are closeted homosexuals, a practice that is highly controversial and will be discussed in the next post.
Further complicating the picture is Curt Gentry's biography J. Edgar Hoover: The Man and the Secrets (1991), which alleges that Hoover's files had "numerous allegations that Spellman was a very active homosexual"
(p. 347). Still, these are only allegations.
Surprisingly, thanks to a Freedom of Information Act request, the FBI's declassified file on Spellman is available online and I have looked at it. Unsurprisingly, what are probably the most informative and juicy parts are blacked out. So what do we learn? Here is a sample from the 1940s:
·
A letter of June 16, 1942 to Hoover (signature deleted) giving him the names of all those attending a luncheon at the Archbishop's residence on June 11, 1942, with all those names blacked out.
·
A letter of June 21, 1942, to Hoover from Spellman's office (signature deleted) saying that the sender is glad he enjoyed the luncheon, and that the Archbishop has confirmed his standing invitation to Hoover to lunch at the Archbishop's residence whenever he is in New York.
·
A letter of November 30, 1942, from Spellman to Hoover congratulating him on "your twenty-five years of devoted, patriotic, successful service to the country in the Federal Bureau of Investigation," and Hoover's appreciative reply on December 10, 1942.
·
A letter to Hoover from Rome (signature deleted) of February 7, 1946, noting that Spellman will arrive in Rome on February 14 to be consecrated a cardinal by Pope Pius XII. The writer believes it will be of interest to the Bureau to know that there is speculation in Vatican circles and the Roman public at large regarding Spellman's perhaps being appointed Papal Secretary of State, a position giving the recipient a better than average chance of being elected Pope. Feeding the speculation is the fact that Pius XII is said to be tubercular and in poor health generally. [Spellman was indeed offered the position but turned it down.]
So what have we learned? About homosexuality, nothing; if there are any files mentioning it, they must still be classified. The letters show Spellman and Hoover exchanging cordialities, and His Eminence and others keeping the Director well informed about Spellman's activities and a possible significant appointment. Spellman was careful to maintain friendly ties with Hoover, and Hoover was keeping track of Spellman's career. Which shows how powerful people deal with one another, and that in itself is hardly surprising or shocking.
But does this exchange of cordialities mask another game? If Hoover reportedly had a file on President Kennedy's sexual escapades and was quite willing to use it as blackmail to get what he wanted from the Kennedys, he would surely have had a similar file on His Eminence's escapades, if such there were. If so, this unclassified file shows the Archbishop making nice with J. Edgar for the best of reasons: to flatter him and lessen the chance of any embarrassing revelations from that quarter. In 1972, when Hoover at last relinquished his position and power through death, many a public figure must have clandestinely sighed with relief.
Certainly it is in the Church's interest to squelch, whenever possible, even rumors or allegations about His Eminence's sexual proclivities. After all, what would happen if the charges turned out to be true? Would the Cardinal Spellman High School have to be rechristened? Would His Eminence's remains have to be disinterred from under the main altar of Saint Patrick's Cathedral, and if so, where should they go? Messy, messy, messy. But if he made a full confession on his deathbed, probably it wouldn't be necessary. Who among us has not sinned? Still, messy in the extreme.
So what do I conclude? Was Cardinal Spellman gay? Possibly. Monsignor Clark's argument citing Spellman's New England background and Catholicism doesn't impress me, since I have known, and known of, gay men raised in a very traditional Catholic environment who, but for their sexuality, would have been classic conservatives in life style, politics, and religion, and who sometimes, with great anguish but without success, tried to be so anyway.
Is Spellman's homosexuality absolutely certain? No. Is it probable? I haven't quite decided. What would nudge me toward "probable"? If one or several ninety-year-old ex-chorus boys surfaced and announced, "Yes, I had sex with His Eminence back in the 1940s," that might do the trick. In the meantime I'll only say, Where there's smoke, there's fire. But given the specificity of the charges, the more I ponder, the more I edge toward "probable." Yes, he probably was. [Today, upon further reflection, I would say almost certainly.]
So what is one to make of all this? I don't share the opinion of Michelangelo Signorile, who labels Spellman "the epitome of the self-loathing, closeted, evil queen," for no known facts substantiate the statement. We have no glimpse into the inner workings of the archbishop's mind. Perhaps his sex life was high drama or even tragedy, perhaps it was comedy laced with farce, perhaps it was something in between; we will probably never know.
Contact with the rich and famous, luncheons with J. Edgar, a confident of three presidents, a strike-breaking gravedigger, a white-hot patriot who went against papal pacifism to bless departing bombers, and posthumously the subject of a passionate controversy – what a career! They don't come like that very often.
A Spellman quote: "There are three ages of man – youth, age, and 'you're looking wonderful.' " So he did have a sense of humor.
Coming soon: As announced, a celebrated bank robber who often brandished a submachine gun but wouldn't hurt a flea.