For my other books, see BROWDERBOOKS below.

A collection of posts from this blog. Short biographical sketches of people, some remembered and some forgotten, who lived or died in New York. All kinds of wild stuff, plus some stuff that isn't quite wild but fascinating. New York is a mecca for hustlers of every kind, some likable and some horrible, but they are never boring.
To be published July 26. You can order it here from the publisher and get a discounted price (plus postage), but it won't be shipped before that date. Also available from Amazon and Barnes & Noble, minus the discount but with the delay. Signed copies are available now from the author (i.e., me) for $20.00 (plus postage, if needed), though in limited numbers.
THE MET GALA: HIGH FASHION ON STEROIDS
What links Schwarzman (Stephen

A .), the Metropolitan Museum of Art, Lehman Brothers, bejeweled papal tiaras, the Blackstone Group, Anna Wintour, the Sistine Chapel Sacristy, Donatella Versace, $30,000 tickets, and President Trump?
Wait a minute, Browder, who and what are all these items and where did you find them?

Fair enough; here are some thumbnail explanations:
Schwarzman, Stephen A.

A money baron and philanthropist whose name now graces the main building of the New York Public Library, that imposing Beaux Arts structure, fronted by two beloved and much-photographed stone lions, on Fifth Avenue at 42

nd

Street.

More of him anon.

The Metropolitan Museum of Art.

No identification needed; it's world-famous.

Lehman Brothers.

The huge U.S. investment bank whose collapse in 2008 unhinged the stock market and helped bring on the Great Recession.

Papal tiaras.

Crowns worn by popes of the Catholic Church.

The Blackstone Group.

A huge private equity firm founded by Stephen A. Schwarzman.

(Aha – a link!)

Anna Wintour.

Editor-in-chief of the U.S. fashion magazine

Vogue.

The Sistine Chapel Sacristy.

The sacristy of the Sistine Chapel in the Vatican in Rome, a hidden chamber closed to the public, where church vestments are stored and, behind secret doors, elderly nuns iron the pope's white outfits.

Donatella Versace.

A world-famous Italian fashion designer.

$30,000 tickets.

To be explained below.

Hints of the moneyed elite.

President Trump.

Alas, no explanation needed.
So what brings all these items together?

The black-tie gala and benefit in May that marks the opening of the annual show of the Metropolitan Museum of Art's Costume Institute, the only Met department that has to fund itself.

A gala, be it known, that is the undisputed highlight of the New York social calendar, much anticipated, much publicized, and much photographed.

Which explains items #2 and #9, but how about all the others?
Stephen A. Schwarzman is a generous donor, but his gifts have strings attached.

A New York Times article about him is entitled, "Nice City You Got.

I'll buy it."

Ascending the red carpet up the Met's front steps to the gala, he and his wife Christine entered inconspicuously, he in a simple black tux, she in a shimmering gray Versace gown.

Her gown was inconspicuous?

Yes, compared to other women in flashy designer outfits and flanked by the high priests of high fashion.

But he got plenty of media attention, for his $12.3 billion fortune let him help underwrite – to the tune of a rumored $5 million -- the Costume Institute's exhibition, "Heavenly Bodies: Fashion and the Catholic Imagination."
"Catholic Imagination"?

Aha, here must be a link to papal tiaras (#4) and the Sistine Chapel Sacristy (#7).

The idea first hatched in the fertile brain of Andrew Bolton, curator of the Costume Institute and himself a Catholic, who thought of involving many religions, but soon found that enticing just one to cooperate was quite enough.

His exhibit would show how, over the centuries, the Catholic Church had inspired many fashion designers.

Bolton paid over forty visits to the Vatican, talked with various officials there, and gradually won them over to this most secular of projects, the biggest exhibit the Costume Institute has ever launched.

In the end the Sistine Chapel Sacristy, whose secret chambers he was finally allowed to penetrate, loaned forty items for the exhibit, including a tiara with 18,000 diamonds that was flown to New York with a bodyguard.
Would this exhibit prompt any blowback, given Pope Francis's orientation toward a less ostentatious church?

Yes, Catholic officials have admitted, but they don't think it would be significant.

Beauty, they insist, is part of the Catholic imagination.

And if some see this use of papal vestments as blasphemy, one cardinal has pointed out, it shows that these items still touch a nerve.
Okay, but how about items #3, #5, and #10: Lehman Bothers, the Blackstone Group, and the Donald?

How do they fit in?

Early in his career the generous Mr. Schwarzman worked at Lehman Brothers, and with a colleague from there he later started the Blackstone Group, a private equity firm that grew and grew and grew, enabling Mr. Schwarzman to finance such cultural events as the Costume Institute's "Heavenly Bodies."

And the Donald?

Well, the Blackstone Group has loaned more than $400 million to the President's son-in-law, Jared Kushner, and once the Donald was elected

President, Mr. Schwarzman became a financial adviser of his and began raising money for his re-election.

So there it is: Big Money, High Fashion, and politics, all tied up together.

Where but in New York?

Elsewhere too, some might insist.

Agreed, but not on this scale and at this level; as always, New York is BIG BIG BIG.
Mr. Schwarzman, by the way, has been described as a 5-foot-6-inch bundle of testosterone who describes his business philosophy as "war – not a series of skirmishes."

In 2000 he bought a 17,000-square-foot three-floor penthouse apartment at 740 Park Avenue, which he altered so as to show off his Monets and Cy Twomblys.

His neighbors there theorize that the billionaire on the fourth floor, David H. Koch (yes, one of the Koch brothers so beloved of liberals), was trying to one-up the billionaire on the fifteenth floor.

Only a few months after Mr. Schwarzman spent $100 million to have his name plastered across the façade of the New York Public Library, Mr. Koch spent a like amount to have his name plastered across the façade of Lincoln Center.
The final to-do of all these machinations is the Costume Institute's gala with its "Catholic Imagination" theme, prompting celebrities from far and wide to flock there and mount the carpeted front steps of the Met,

watched from behind barriers by throngs of onlookers and photographers.

Celebrities, yes, but it's the female of the species whose togs, inspired by the exhibit's theme, garnered the most attention.

As for instance:
the singer Katy Perry with white angel's wings stretching from head to toe ("Just a little understated thing," she explained), and a glittery outfit that can only be described as slinky

the pop singer Ariana Grande in a dress the color of the Sistine Chapel's back wall

the Barbadian singer Rihanna dressed in a gem-studded creation like a female Pope, with a towering miter on her head to match

the model Bella Hadid with a veil sewn into her hair ("The things we do, darling")

the designer Ariana Rockefeller (yes, one of

that

clan) in a dress inspired by a tapestry at the Cloisters museum

actress Olivia Munn sewn into a dress inspired by Crusades-era chain mail, and bleeding slightly

the fashion editor Eva Chen in a dress inspired by Joan of Arc

the rap singer Cardi B with her abundant dark hair crowned by a spiky jeweled headdress, her pregnancy hidden under a voluminous 30-pound cream-colored, pearl-encrusted dress.
Weighted with fabrics and jewels, the ladies needed ample room for their flaring skirts and floor-sweeping trains, so inside the Met the hoi polloi present were kept at a respectful distance.

How these costumed extravaganzas maneuvered during the cocktails and dinner that followed is hard to imagine, but if the hoopskirted matrons of the 1860s managed, these less than heavenly bodies must have managed, too.

And some of them may even have glanced at the display.
In vivid contrast were the gentlemen present, among them Mick Romney, a good Mormon who confessed to having bought his Brioni tux at deep discount on Amazon.

And why was he even here? Invited by his friend, Mr. Schwarzman.

Also present, and giving rapt attention to some of the displays, was Cardinal Timothy Dolan of New York, another sober note to balance out – just a little – the heights and depths of high fashion disporting all around him.
To get back to the ladies: with all this youthful glamour, so blatantly full of itself, on the prowl at the gala, Mesdames Donatella Versace (#8) and Anna Wintour (#6) might look to some like a pair of weathered harpies.

But they had much to do with putting the gala together, and it was under the dour scrutiny of Ms. Wintour that Andrew Bolton negotiated successfully with the Church Militant.

Make no mistake: if the glittery youngsters strut their youth, the weathered harpies strut their power.
Now about the items on display: if the Times's Fashion section went gaga over the gala, the Weekend Arts section made up for it by featuring the exhibit under the headline "When Fabric Meets Faith."

Delivered from the presence of celebrities, many items now on display have never before left the Vatican, including three jewel-encrusted tiaras and a cloak of Pius IX (who was a bit of a clothes hound, it seems), a miter of Leo XIII, and shoes and other items of John Paul II.

The Church insisted on its vestments being displayed separately from the secular fashion exhibit, and it is just as well, since the designer clothing inspired by ecclesiastical vestments is described as ranging from tastefully fashionable to gaudy.

What Luther would have thought of all this opulence needn't be emphasized here, but if the Church survived him, it will certainly survive this juxtaposition of the sacred and secular, heralded though it was by a pageant of fashion on steroids.
Coming soon: Gimmicky Appeals: How Even Good Guys Rip Us Off
All books are available online as indicated, or from the author.
1
. No Place for Normal: New York / Stories from the Most Exciting City in the World
(Mill City Press, 2015).
Winner of
the Tenth Annual National Indie Excellence Award for Regional Non-Fiction; first place in the Travel category of the 2015-2016 Reader Views Literary Awards; and Honorable Mention in the Culture category of the Eric Hoffer Book Awards for 2016. All about anything and everything New York: alcoholics, abortionists, greenmarkets, Occupy Wall Street, the Gay Pride Parade, my mugging in Central Park, peyote visions, and an artist who made art of a blackened human toe. In her Reader Views review, Sheri Hoyte called it "a delightful treasure chest full of short stories about New York City."

If you love the city (or hate it), this may be the book for you. An award winner, it sold well at BookCon 2017.
Review
"If you want wonderful inside tales about New York, this is the book for you. Cliff Browder has a way with his writing that makes the city I lived in for 40 plus years come alive in a new and delightful way. A refreshing view on NYC that will not disappoint." Five-star Amazon customer review by Bill L.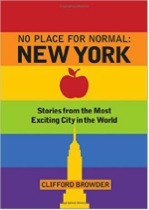 2. Bill Hope: His Story (Anaphora Literary Press, 2017), the second novel in the Metropolis series. New York City, 1870s: From his cell in the gloomy prison known as the Tombs, young Bill Hope spills out in a torrent of words the story of his career as a pickpocket and shoplifter; his brutal treatment at Sing Sing and escape from another prison in a coffin; his forays into brownstones and polite society; and his sojourn among the "loonies" in a madhouse, from which he emerges to face betrayal and death threats, and possible involvement in a murder. Driving him throughout is a fierce desire for better, a persistent and undying hope.

For readers who like historical fiction and a fast-moving story.
"A real yarn of a story about a lovable pickpocket who gets into trouble and has a great adventure. A must read." Five-star Amazon customer review by nicole w brown.
"This was a fun book. The main character seemed like a cross between Huck Finn and a Charles Dickens character. I would recommend this." Four-star LibraryThing review by stephvin.
3. Dark Knowledge (Anaphora Literary Press, 2018), the third novel in the Metropolis series. Adult and young adult. A fast-moving historical novel about New York City and the slave trade, with the sights and sounds and smells of the waterfront.
New York City, late 1860s. When young Chris Harmony learns that members of his family may have been involved in the illegal pre-Civil War slave trade, taking slaves from Africa to Cuba, he is appalled. Determined to learn the truth, he begins an investigation that takes him into a dingy waterfront saloon, musty old maritime records that yield startling secrets, and elegant brownstone parlors that may have been furnished by the trade. Since those once involved dread exposure, he meets denials and evasions, then threats, and a key witness is murdered. Chris has vivid fantasies of the suffering slaves on the ships and their savage revolts. How could seemingly respectable people be involved in so abhorrent a trade, and how did they avoid exposure? And what price must Chris pay to learn the painful truth and proclaim it?
Early reviews
"A lively and entertaining tale. The writing styles, plot, pace and character development were excellent." Four-star LibraryThing early review by BridgitDavis.
"At first the plot ... seemed a bit contrived, but I was soon swept up in the tale." Four-star LibraryThing early review by snash.
"I am glad that I have read this book as it goes into great detail and the presentation is amazing. The Author obviously knows his stuff." Four-star LibraryThing early review by Moiser20.
New release; available from
Amazon
and
Barnes & Noble
.
4. The Pleasuring of Men (Gival Press, 2011), the first novel in the Metropolis series, tells the story of a respectably raised young man who chooses to become a male prostitute in late 1860s New York and falls in love with his most difficult client.

What was the gay scene like in nineteenth-century New York? Gay romance, if you like, but no porn (I don't do porn). Women have read it and reviewed it. (The cover illustration doesn't hurt.)

Reviews
"At times amusing, gritty, heartfelt and a little sexy -- this would make a great summer read." Four-star Amazon customer review by BobW.
"Really more of a fantasy of a 19th century gay life than any kind of historical representation of the same." Three-star Goodreads review by Rachel.
"The detail Browder brings to this glimpse into history is only equaled by his writing of credible and interesting characters. Highly recommended." Five-star Goodreads review by Nan Hawthorne.