Featured this week:
No Place for Normal: New York / Stories from the Most Exciting City in the World. An award-winning collection of stories about anything and everything New York.
"Wonderful inside tales about New York. A refreshing view on NYC that will not disappoint." Five-star Amazon customer review by Bill L.
Available from Amazon
and
Barnes & Noble
.
SMALL TALK
Funeral Wells: gray-bearded with sunken eyes, he'd weep bitter tears at a funeral, while helping himself to your wallet.
Banjo Pete Ellis, who gave up minstrel shows to rob banks. Minstrelsy's loss was crime's gain ... for a while.
Annie Reilly, nicely scarfed with an earnest look: a diligent servant who would fuss over the children and then elope with all the jewelry in the house.
Lord Courtney, a.k.a. Sir Harry Vane of Her Majesty's Lights, a tall and gentlemanly smooth-talking British impostor who dazzled wealthy belles to the point that they snipped buttons from his fake uniform to cherish as mementoes of the Empire, unaware that he was swindling them out of a fortune.
John Larney, a.k.a. Mollie Matches, who in his younger days did drag as a little girl selling matches and picked the pockets of people in large gatherings, before graduating into adult-style burglary.
These are some of the crooks whose mug shots, showing them nicely dressed but with a somewhat miffed expression, appear in the New York City Rogues Gallery of Inspector Thomas F. Byrnes, chief of New York City's Detective Bureau. Accompanying each photo was a brief description to help in identification. This information appears in Byrnes's Professional Criminals of America, published in 1886 and now in the public domain. Though credited with reforming the Detective Bureau, Byrnes was not above beating a thief into a confession, while at the same time accumulating a small fortune with the help of tips and advice from Wall Street friends like Jay Gould. But thanks to Byrnes, we can savor the appearance and activities of the most diligent and colorful rogues of his time, without having to worry about their fingers sneaking into our pockets, or their smooth talk swindling us out of our hard-earned cash.
(For info about the Rogues Gallery and Byrnes I am indebted to Dan Barry's article "Cheats, Swindlers and Ne'er-Do-Wells" in the Metropolitan section of the New York Times of Sunday, February 11, 2018.)
NEW YORK ARCHITECTURE, ITS GLORIES AND HORRORS
Construction in Manhattan is rampant.

My own dear bank, that generous dispenser of free candy and tissues, is going to demolish its midtown headquarters in 2019 and build a new world headquarters on the site, the site being Park Avenue between 47th and 48th Streets.

The existing building, an oldie built in 1961, has a mere 52 stories; the new one will soar to 70 stories and contain an additional 1 million square feet of office space to accommodate 15,000 employees, compared to the 6,000 now crammed into a building meant for 3,500.

This move, says CEO Jamie Dimon, will ensure that the bank operates "in a highly efficient and world-class environment for the 21st century."

That's good to hear, given the awkward fact of the bank's losing $6 billion (yes, billion, though some say more) in a single bad trade in 2012.

This is the first sky-scratcher to go up under new zoning rules for Midtown East that encourage the development of taller, more modern structures.

Mayor Bill de Blasio is happy about the news, almost cackling with approval.

Some architects and preservationists lament the loss of the present building, which has no landmark status, but photos show a big box of a thing with lots of gray glass and black steel panels, impressive in its way but, to my mind, disposable.

What the new building will look like, I have no inkling.

More than just another big box, I hope.
Current construction in Midtown isn't just BIG BIG BIG; it's also TALL TALL TALL.

432 Park Avenue, a 96-story residential tower between 56th and 57th Streets completed in 2015, tops out at 1396 feet, making it the third tallest building in the U.S., and the tallest residential building in the world.

Its design, they say, was inspired by a 1905 trash can, which gives one pause for thought.

Photos show a squarish skinny tower standing out like a proverbial sore thumb and overtopping everything around it.

Its condos are now going for up to $17 million, some of them with 10 by 10 foot windows offering spectacular views of Central Park, across whose sacred green spaces the building's shadow must at times fall like a sacrilege.

"This building is about seeing forever," said a real estate broker in 2016, stating that the current real estate demand was for high in the sky, for "see everywhere."

Certainly it's visible from everywhere, which makes some people call it an eyesore.

Worse than that, "a giant matchstick," "a toothpick," "a dried piece of spaghetti."

Yes, critics at first derided the Eiffel Tower, but the Eiffel had ample grounds around it and wasn't residential, least of all with condos at sky-high prices.

Have I seen it?

432, that is.

No, not from ground level, in the flesh (or should I say concrete?).

Who wants a pain in the neck?
It does stand out ... and up.


Fashawkss8
Another example of TALL TALL TALL is New York by Gehry, a 76-story residential tower at 8 Spruce Street in Lower Manhattan, named modestly for its architect, Frank Gehry, which opened in 2011.

Helping to justify its soaring existence are the first five floors devoted to a school hosting 600 students ranging from pre-kindergarten through eighth grade, plus a fourth floor with play space for the kids.

Above this noble enterprise rise the luxury apartments, now renting from about $3,000 a month for a studio up to almost $30,000 for a four-bedroom apartment.

Rarely available, the 76th floor penthouse goes for $45,000 a month and offers incredible views (on sunny days) in every direction; wherever you look, there is New York.

The building's rippled stainless steel façade is said to glitter in the sun, and reviews have been mostly favorable, some even calling it the first Lower Manhattan high-rise to match in grandeur that nearby neo-Gothic wonder that I so love, the Woolworth Building.

Certainly it is striking to behold -- much more so than 432 Park -- with wiggly lines creeping up its sides like skinny worms, though the top is cut off bluntly, without any crowning spire or glass pinnacle to shimmeringly dissolve in light.

This is world-renowned architect Frank Gehry's only New York achievement.

Canadian born and now a resident of California, he is especially acclaimed for designing the Guggenheim Museum in Bilbao, Spain, which to my eye looks like a rather clunky Cubist warship, though I'm sure it houses marvels inside.
It ain't the Woolworth, but striking it is.


giggel
Not all the new buildings scratch the heavens.

The Queens Library at Hunters Point, a Long Island City waterfront construction on the East River, hugs the ground against a backdrop of recently built boxlike high-rise condos.

Designed by architect Steven Holl, it has been called "quirky" and "zany," and it is certainly creatively weird.

Still unfinished after many delays, its aluminum-painted concrete cube of an exterior is said to have a subtle spark, but what catches the eye is a bunch of big cutouts that look like some angry giant repeatedly punched through the walls with his fist.

The cutouts let one peek into the interior, and let patrons inside enjoy panoramic views of Manhattan as they climb or descend a series of bookshelf-flanked stairs.

(Sounds great, but I hope there are elevators, too.)

The location is spectacular, and unlike the residential towers now cluttering up the Manhattan skyline, this structure will truly serve the public.

At night its glowing presence is flanked by a giant Pepsi bottle and the letters LONG ISLAND, both of them in bright, brash light.

Hopefully (and a lot of hope has already been expended), the library will be completed in August 2018 and opened to the public in 2019.

Why the delays?

For one thing, the special glass needed for the windows had to be manufactured in Germany and glazed in Spain, where a dockworkers' strike held it up for six weeks

before it was exported to Connecticut, and then shipped to Long Island City.
Yes, it's a library, and yes, it's finished. Just takes a little getting used to.


Jim.henderson
Another weird structure that bulkily hugs the ground is the Spring Street Salt Shed at the corner of Spring and West Streets, across busy multilane West Street from the Hudson River.

Completed in 2015, it has been called a "functional piece of architectural eye candy," but to me looks like a half-crumpled windowless box.

(During one meeting of the Public Design Commission, Commissioner James Polshek crumpled up a piece of paper and said, "Do this.")

Supposedly designed to look like a 69-foot-high salt crystal, it can hold up to 5,000 tons of salt imported from Chile and Argentina.

And why all that mountain of salt?

For the Department of Sanitation (DSNY) to spread on the city's streets when snowstorms hit, of which we've recently had three within ten days.

Huge doors measuring 35 feet high and 24 feet wide let DSNY trucks go in to deliver a load of imported salt, and salt spreaders go out to spread the salt when a snowstorm hits.

The waterfront site exposes the building to the fury of the elements, and the constant truck traffic could damage the walls, so the walls are six feet thick and reinforced with steel plating.

The walls now have a blue tint resulting from slag, but in time sunlight will hopefully turn them the color of salt.

For a structure that is basically functional, the salt shed is a marvel of engineering and architectural daring.

No other salt shed in the city can compare with it.
But does it look like salt?


Beyond My Ken
All these creations, towerlike or squat, come alive at night, when their lights help create the spectacular nighttime panorama that is the city of New York.

My favorite of the new buildings is 1 World Trade Center, aka the Freedom Tower, a 104-floor high-rise dating from 2014 that is 1792 feet high, making it the tallest building in the Western hemisphere and the sixth tallest in the world.

(Unless you discount the antenna, which reduces the height to 1776 feet.

The exact height depends on how and what you count, and has been controversial.)

It has been hailed as a symbol of the city's renascence after the devastation of 9/11.

Since I can see it from my south-facing bedroom and kitchen windows, it is the last thing I see at night and the first in the morning.

At night its windows are ablaze with light, and the antenna is topped by a red light blinking on and off.

I call it my Tower of Light.
It's the tall one in the center. On the right is 7 World Trade Center.


Antony-22
Who lives in these soaring residential towers?

What's it like up there?

Are we in another real estate bubble, and if so, when will it burst?

These and similar questions will be considered in another post.

But now I want to sign off calmly with my thoughts on my Tower of Light.
All books are available online as indicated, or from the author.
1
. No Place for Normal: New York / Stories from the Most Exciting City in the World
(Mill City Press, 2015).
Winner of
the Tenth Annual National Indie Excellence Award for Regional Non-Fiction; first place in the Travel category of the 2015-2016 Reader Views Literary Awards; and Honorable Mention in the Culture category of the Eric Hoffer Book Awards for 2016. All about anything and everything New York: alcoholics, abortionists, greenmarkets, Occupy Wall Street, the Gay Pride Parade, my mugging in Central Park, peyote visions, and an artist who made art of a blackened human toe. In her Reader Views review, Sheri Hoyte called it "a delightful treasure chest full of short stories about New York City."

If you love the city (or hate it), this may be the book for you. An award winner, it sold well at BookCon 2017.
Review
"If you want wonderful inside tales about New York, this is the book for you. Cliff Browder has a way with his writing that makes the city I lived in for 40 plus years come alive in a new and delightful way. A refreshing view on NYC that will not disappoint." Five-star Amazon customer review by Bill L.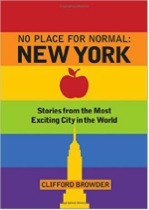 2. Bill Hope: His Story (Anaphora Literary Press, 2017), the second novel in the Metropolis series. New York City, 1870s: From his cell in the gloomy prison known as the Tombs, young Bill Hope spills out in a torrent of words the story of his career as a pickpocket and shoplifter; his brutal treatment at Sing Sing and escape from another prison in a coffin; his forays into brownstones and polite society; and his sojourn among the "loonies" in a madhouse, from which he emerges to face betrayal and death threats, and possible involvement in a murder. Driving him throughout is a fierce desire for better, a persistent and undying hope.

For readers who like historical fiction and a fast-moving story.
"A real yarn of a story about a lovable pickpocket who gets into trouble and has a great adventure. A must read." Five-star Amazon customer review by nicole w brown.
"This was a fun book. The main character seemed like a cross between Huck Finn and a Charles Dickens character. I would recommend this." Four-star LibraryThing review by stephvin.
3. Dark Knowledge (Anaphora Literary Press, 2018), the third novel in the Metropolis series. Adult and young adult. A fast-moving historical novel about New York City and the slave trade, with the sights and sounds and smells of the waterfront.
New York City, late 1860s. When young Chris Harmony learns that members of his family may have been involved in the illegal pre-Civil War slave trade, taking slaves from Africa to Cuba, he is appalled. Determined to learn the truth, he begins an investigation that takes him into a dingy waterfront saloon, musty old maritime records that yield startling secrets, and elegant brownstone parlors that may have been furnished by the trade. Since those once involved dread exposure, he meets denials and evasions, then threats, and a key witness is murdered. Chris has vivid fantasies of the suffering slaves on the ships and their savage revolts. How could seemingly respectable people be involved in so abhorrent a trade, and how did they avoid exposure? And what price must Chris pay to learn the painful truth and proclaim it?
Early reviews
"A lively and entertaining tale. The writing styles, plot, pace and character development were excellent." Four-star LibraryThing early review by BridgitDavis.
"At first the plot ... seemed a bit contrived, but I was soon swept up in the tale." Four-star LibraryThing early review by snash.
"I am glad that I have read this book as it goes into great detail and the presentation is amazing. The Author obviously knows his stuff." Four-star LibraryThing early review by Moiser20.
New release; available from
Amazon
and
Barnes & Noble
.
4. The Pleasuring of Men (Gival Press, 2011), the first novel in the Metropolis series, tells the story of a respectably raised young man who chooses to become a male prostitute in late 1860s New York and falls in love with his most difficult client.

What was the gay scene like in nineteenth-century New York? Gay romance, if you like, but no porn (I don't do porn). Women have read it and reviewed it. (The cover illustration doesn't hurt.)

Reviews
"At times amusing, gritty, heartfelt and a little sexy -- this would make a great summer read." Four-star Amazon customer review by BobW.
"Really more of a fantasy of a 19th century gay life than any kind of historical representation of the same." Three-star Goodreads review by Rachel.
"The detail Browder brings to this glimpse into history is only equaled by his writing of credible and interesting characters. Highly recommended." Five-star Goodreads review by Nan Hawthorne.
Coming soon: Wonder: Can we find it in New York?