JOYS AND HORRORS OF THE WEST VILLAGE
AND OTHER NEW YORK STORIES
Reading at Jefferson Market Library, 425 Avenue of the Americas (near West 10th Street), on Sunday, October 8,
2-4 p.m. I will read excerpts from my novels and New York stories, sign books, and take questions. Books will be available for purchase. I'll be glad to see a friendly face or two there.
Dark Knowledge: Release date January 5, 2018, but copies now available from the author. Adult and young adult. A fast-moving historical novel about New York City and the slave trade, with the sights and sounds and smells of the waterfront. More excerpts to come.
The back cover summary:
New York City, late 1860s. When young Chris Harmony learns that members of his family may have been involved in the illegal pre-Civil War slave trade, taking slaves from Africa to Cuba, he is appalled. Determined to learn the truth, he begins an investigation that takes him into a dingy waterfront saloon, musty old maritime records that yield startling secrets, and elegant brownstone parlors that may have been furnished by the trade. Since those once involved dread exposure, he meets denials and evasions, then threats, and a key witness is murdered. Chris has vivid fantasies of the suffering slaves on the ships and their savage revolts. How could seemingly respectable people be involved in so abhorrent a trade, and how did they avoid exposure? And what price must Chris pay to learn the painful truth and proclaim it?
____________________________________________________________________________
There are so many ways to die in the city – death by fire, death by hit-and-run, death by old age and loneliness – but death by water would seem to be a rare one, especially in Central Park.

The park is one of the glories of New York City: right in the middle of noisy, congested Manhattan, a big, long strip of green where New Yorkers go to relax, have a picnic lunch, jog, watch migrating birds and nocturnal raccoons, walk their dogs, or introduce urban school kids to the wonders of nature.

But also, it seems, to die.

This year, four deaths within three months, which is highly unusual, and three of them by water.
Spring always means a melting of winter ice and snow, and possibly the surfacing of the drowned.

In nineteenth-century New York, when the Hudson froze solid for three months in the winter, warming spring rains initiated a grinding and cracking of ice, then a rush of broken ice down the river that snatched up anything loose in its way and finally swept past New York City into the inner harbor, the outer harbor, and at last the ocean, where shattered pier ends and crumpled small craft were deposited, and sometimes the thawing bodies of the long-frozen drowned.

But in our warmer climate of today this annual loosening of the ice, making the Hudson navigable again, is mostly a thing of the past, and seemingly unrelated to our beloved Central Park.

Until this year, that is.
Around noon on Tuesday, May 9, a park worker spotted a man's body, face down and naked, in the Jacqueline Kennedy Reservoir near East 86th Street in Central Park.

The Reservoir is a vast body of water about 37 feet deep, with a strong current.

I have often hiked along its rim, marveling at the shimmering sunlight on its rippled waters and observing ducks through binoculars, while joggers and speed-walkers brushed past me: a scene of quiet recreation and calm.

Informed, the police came, marked off the area with yellow caution tape announcing POLICE LINE DO NOT CROSS, retrieved the body, and examined it.

Because it was badly decomposed, they were unable to get fingerprints, but said that the man was probably in his 20s or 30s and appeared to have been in the water at least one month.

His clothes had rotted away, but there was no sign of trauma on the body, suggesting that no crime was involved.
The Reservoir in June. Joggers, speed walkers, strollers, and occasionally a corpse.


Carsten Kessler
Just one day later, at about 7:20 a.m. on Wednesday, May 10, a man's body bobbed to the surface of the Pond, in the southeast corner of the park

at 59th Street and Fifth Avenue.

The police again came, and medical examiner officials took photographs of the body, which

was wearing only pants and shoes and had probably been in the lake's seven-foot-deep water two weeks at the most.

An ID was recovered, identifying him as Anthony McAfee, a homeless man.

This on the heels of the first recovered body was highly unusual, and for the park's joggers and tourists, unsettling, but again there was no sign of trauma on the body, except an eye nibbled by turtles or other wildlife.
The Pond. Another nest of tranquility, not far from traffic and congestion.


Razum2010
Unsettling too was the appearance that same day of a team of scuba divers who dove into the Reservoir to look for submerged bodies.

"Creepy," said one daily stroller.

"But I love the park.

I'm not giving it up."

As always, New Yorkers adjust.

But the police said that, of the bodies pulled from waters citywide, about half were recovered in the spring.

A forensic anthropologist explained that warm spring waters let bacteria grow in the gut or chest cavity of submerged bodies, producing gases that make them more buoyant, though if lobsters or crabs start scavenging, the gases can be released, and a body might never come to the surface. Hence the scuba divers, though in this case no body was found.
One month later

, at about 8 a.m. on Sunday, June 11, a passerby spotted someone floating in the Conservatory Pond near Fifth Avenue and East 74th Street and jumped in to effect a rescue, only to find that he was rescuing a corpse.

The would-be rescuer then phoned 911, but by the time the police and fire department arrived, the fully clothed body had been fished out of the water and was lying on the ground.

It was a male African American who appeared to be in his 20s or 30s.

Once again, an unusual and unsettling incident in the most tranquil of settings, a pond where children float radio-controlled model boats, or climb over a nearby statue of Alice and various creatures from Alice's Adventures in Wonderland.
The Conservatory Pond, with radio-controlled sailboats. At the time of this photogrpah, no corpse.


Ingfbruno
Finally – if one dare say "finally" – the body of a woman was discovered around 6:30 a.m. on Thursday, July 13, lying face down on a rock near the East Drive and East 62nd Street.

Fully clothed and apparently in her late 20s or early 30s, she too showed no signs of violence, but a pill bottle was lying next to the body.

At last report she, like two of the others, remained unidentified.
Four deaths in Central Park in a two-month period, three of them in water – unprecedented.

Or is it?

An article by Lauren Evans in the Village Voice of July 7, 2017, lists deaths in the park since 1884, when the body of a man was discovered in the Reservoir.

In 1889 a suicide was reported there of a fashionably dressed young man in patent leather dancing shoes who removed his topcoat and derby, climbed over the Reservoir railing, and walked into the waters to his death.

The reason? Lack of funds.
The Evans article also recorded numerous other suicides in the Reservoir, usually motivated by failure in business or love, though in one case by

failure as a writer, and in another, because of schizophrenia.

Reservoir deaths declined noticeably after a ten-foot chain-link fence topped with barbed wire was installed around its rim in 1926, but even after that, suicide was still an option for those able to scale the barrier.

And there were always alternatives: the Conservatory Pond already mentioned, and the Harlem Meer in the northeast corner of the park.

If people want to die by water in the park, they will always find a way.

Meanwhile joggers and dog-walkers and birdwatchers and picnickers continue to flock to its grassy fields and woods, and people rent boats to go boating on the Lake, unmindful of the deaths that have occurred in its tranquil expanses.
Daniel Schwen
Source note: This post was initially inspired by an article by Benjamin Mueller and Emily Palmer, "2 Bodies Found This Week in Central Park Waters," in the New York Times of May 11, 2017, supplemented thereafter by other newspaper articles, including the one by Lauren Evans in the Village Voice of July 7, 2017, cited above.
All books are available online as indicated, or from the author.
1
. No Place for Normal: New York / Stories from the Most Exciting City in the World
(Mill City Press, 2015).
Winner of
the Tenth Annual National Indie Excellence Award for Regional Non-Fiction; first place in the Travel category of the 2015-2016 Reader Views Literary Awards; and Honorable Mention in the Culture category of the Eric Hoffer Book Awards for 2016. All about anything and everything New York: alcoholics, abortionists, greenmarkets, Occupy Wall Street, the Gay Pride Parade, my mugging in Central Park, peyote visions, and an artist who made art of a blackened human toe. In her Reader Views review, Sheri Hoyte called it "a delightful treasure chest full of short stories about New York City."

If you love the city (or hate it), this may be the book for you. An award winner, it sold well at BookCon 2017.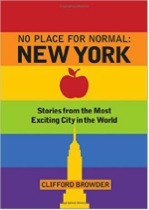 2. Bill Hope: His Story (Anaphora Literary Press, 2017), the second novel in the Metropolis series.
New York City, 1870s: From his cell in the gloomy prison known as the Tombs, young Bill Hope spills out in a torrent of words the story of his career as a pickpocket and shoplifter; his brutal treatment at Sing Sing and escape from another prison in a coffin; his forays into brownstones and polite society; and his sojourn among the "loonies" in a madhouse, from which he emerges to face betrayal and death threats, and possible involvement in a murder.
Driving him throughout is a fierce desire for better, a persistent and undying hope.

For readers who like historical fiction and a fast-moving story.
For two new LibraryThing reviews of Bill Hope:
His Story,
go
here
.
3. The Pleasuring of Men (Gival Press, 2011), the first novel in the Metropolis series, tells the story of a respectably raised young man who chooses to become a male prostitute in late 1860s New York and falls in love with his most difficult client.
What was the gay scene like in nineteenth-century New York? Gay romance, if you like, but no porn (I don't do porn). Women have read it and reviewed it. (The cover illustration doesn't hurt.)
For Goodreads reviews, go here. Likewise available from Amazon and Barnes & Noble.
Coming soon
: Martin Shkreli's trial: the jury's finding in the trial of the "most hated man in America."