For my other books, see BROWDERBOOKS below.
A collection of posts from this blog. Short biographical sketches of people, some remembered and some forgotten, who lived or died in New York. All kinds of wild stuff, plus some that isn't quite wild but fascinating. New York is a mecca for hustlers of every kind, some likable and some horrible, but they are never boring.
To be published July 26. You can order it
here
from Black Rose Writing, the publisher, and get a discounted price (plus postage), but it won't be shipped before that date. Also available from
Amazon
and
Barnes & Noble
, minus the discount but with the delay. A few signed copies are available now from the author (i.e., me) for $20.00 (plus postage, if needed), though I will soon run out
.
SMALL TALK
I've talked before of strange occupations found in New York City, so here's another: marine engineer diver. A recent Times article interviewed Joe Finora, age 30, who is indeed a marine engineer diver who dives a lot in New York harbor and elsewhere. So what exactly does he do underwater? He inspects cruise line terminals, floating docks, ferry terminals, and other structures. Down there he has encountered whales, dolphins, sharks, and even unexploded bombs, though not necessarily here in New York. He doesn't dive alone, though, but as part of a team of three: the engineer who dives; the tender, who sees to the diver's air supply and communications cable; and the radio communications operator who keeps in touch with the diver and takes notes on his findings. The three teammates rotate jobs all day. Adventurous? Yes. But on cold mornings, even if the diving suit is warm, the water can be choppy and the weather stormy, which makes diving less than fun. (For this info I am indebted to the article "The Things He Sees in New York Harbor," in the Business Section of the New York Times of Sunday, June 17, 2018.)
BROADWAY
Broadway – that 15-mile thoroughfare that cuts diagonally across the rigid grid of New York City streets (13 miles in Manhattan and 2 in the Bronx) -- is arguably the most famous street in the world.

It has 250 hits on Google, the New York Times informs me, versus a mere 6 million for the Champs-Elysées.

But Broadway is more than a street.

It's a legend, a state of mind.

The very word "Broadway" – rendering the Dutch Breede Weg-- suggests theater, traffic, congestion, the spirit and bustle and frenzy of a great metropolis.

It is inseparable from New York, and as such it has been immortalized in song: "Give my regards to Broadway / Remember me to Herald Square" (George M. Cohan), for instance, and "I'm just a Broadway baby" (Stephen Sondheim).
Matias Garabedian
Back in Dutch times, following an old Indian trail, it ran from the Battery, the fort whose cannon failed to keep off the English in 1664, to the wall that gives Wall Street its name.

That wall was meant to shelter the inhabitants from attacks by the native peoples they had come to trade with, and whom they had alienated by their often rough and brutal ways.
In the eighteenth century Broadway was already the street where everyone met everyone, the main artery of the expanding city.

It witnessed slave revolts, a British occupation during the Revolution, and George Washington's triumphal entry on what came to be celebrated as Evacuation Day, November 25, 1783, when the British finally left.

With them went 28,000

Loyalist refugees, and the slaves whom the British had freed in the course of the war.
Broadway and the Bowery, 1831. Now the site of Union Square.
Broadway, 1834. No traffic jams as yet. Trinity Church in the background.
In the 1830s, when the city was still small enough for everyone to know, or at least know of, everyone, and know where their money came from, Broadway was where the fashionable paraded.

Merchants still lived over their shops, and Broadway was still for much of its length residential, Few people kept carriages, but those who did promenaded on Broadway: Dandy Marx, a dashing young blade whose clothing defied the somber colors of the day; Dandy Cox, a mulatto whose sporty outfit may have been mocking the fashionable gentry of the time; and the mysterious Gentleman George.

George was a handsome young man, the source of his money a mystery.

Above all he was a cause of worry for the mamas, whose daughters were charmed by the sight of him.

Mamas with unmarried daughters welcomed gentlemen callers, but they wanted to know who the young men were and where their money came from.

George never married, and in time he disappeared from Broadway, lost into the city's growth and expansion, a mystery to the very end.
By the 1860s the restraint and discretion of the 1830s was gone, disrupted by the influx of Irish and German immigrants, the explosive growth of the city, and the near-instant wealth that came with the Civil War, when local merchants got government contracts, and speculation in gold raged on Wall Street.

Lower Fifth Avenue was now the axis of elegance where, to the discomfort of Old New Money, New New Money was putting up fancy brownstones, which meant that Broadway was now strictly commercial.

Lining it now
were barbershops, liquor stores, lottery offices, daguerreotype galleries, artificial teeth manufacturers, sewing machine and piano forte showrooms, plain and fancy jewelers, oyster cellars, clam chowder shops, bookstores, boots and shoes stores, billiard table stores, fancy ice cream parlors, and luxurious gambling dens.

Uniformed doormen waved customers into fancy dry-goods stores and palatial hotels, while on the sidewalk visitors from the provinces gaped at patent sarcophagi in rosewood, mahogany, and iron, satin-lined with silver mountings, and featuring glass-paneled lids to display the face of the deceased. New Money – and sometimes even Old – wanted to go out in style, its wealth conspicuously displayed.
Broadway, 1860.
But the sidewalks were nothing, compared to the street itself.

Jamming Broadway by day were
red and yellow and blue-painted stages; open and closed carriages with liveried footmen; drays, hacks, and wheelbarrows; milk carts with clattering cans; lager beer wagons; express trucks stacked high with boxes labeled ASTOR HOUSE or ST. NICHOLAS HOTEL; and occasionally a wagon hauled by six horses straining to convey the towering bulk of a safe as big as a house. Getting across by foot, in that era before stop signs and red lights, was a risk to life and limb, and the traffic noise was deafening, seasoned with shouts, curses, and whinnyings.

As for the unpaved street itself, graced with garbage and manure, it stank.

Which didn't deter the hogs snuffling about in the garbage for food, or the ragpickers scavenging what they could.
Change, often radical, was the rule in the never-finished city. By the mid-1870s buildings on and near Broadway were rising to eight, ten, and eleven stories high, provoking mixed reviews: a new dimension to space, said some; top-heavy horrors and "Towers of Babel," said others. Broadway had been the first New York City thoroughfare to get gaslight in the mid-1820s, and now it was the first to be lit with electricity. On December 20, 1880, the whole stretch from 14th to 26th Street was suddenly bathed in Mr. Edison's brilliant light; observers gaped and raved. The telephone followed, and then the automobile, though the first recorded traffic fatality occurred in 1899 not on Broadway but at West 74th Street and Central Park West.

And the city's first stoplight went up in 1916 at its busiest intersection, Fifth Avenue and 42nd Street, which shows that Broadway was no longer the city's busiest thoroughfare.
Broadway, 1886.
By the early twentieth century electricity gave the midtown section of Broadway, the section from 42nd to 53rd Street also known as the Theater District, the name "The Great White Way." The streetlights alone justified it, but the advent of neon signs in Times Square confirmed it. This is still the Theater District, though most of the theaters are on side streets nearby, and Times Square today, especially at night, is more astonishing than ever.
Broadway on the Upper West Side is now a wide avenue with a thin strip of park down the middle. Back in my student days I loved walking down from Columbia University to some restaurant or movie theater on Broadway, and traipsing it at night always lifted my spirits. This stretch of Broadway was not constricted by tall buildings as it was downtown; it was big, open, and free -- New York at its best.
No longer is Broadway the single jammed artery of the city, for traffic flows, and far too often jams up, on other streets as well.

But nowhere does traffic swirl with more intensity than at Columbus Circle.

There, at the intersection of Broadway and West 59th Street, traffic pours in from different directions and surges giddily around Columbus high atop his pedestal.

And nowhere is the magic of New York at night more impressive than at Lincoln Center, close by Broadway between West 60th and 66th Streets, when all the buildings and the fountain in the plaza are illuminated.

Jammed and noisy, Broadway can lead to marvels as well.
The Hamilton Grange today.


Jim.henderson
A recent article in the Times reminded readers that Broadway is more than the Great White Way and the Battery, using photos to show its wonders

uptown far from the stretches I know best:
·
The Hamilton Grange, at 414 West 141st Street, the 1802 seat of Alexander Hamilton's 32-acre country estate, now a small leafy park just east of Broadway.
·
A steep flight of stairs at 215th Street, leading up to Inwood Hill Park, 110 steps that I know at one glance I wouldn't want to climb.
·
A replica of the Arc de Triomphe, graffiti-scarred, rising improbably behind a row of stores between West 215th and 218th Streets on Broadway.
The Arc de Triomphe on Broadway?

Yes, indeed.

Erected in 1855, it was the gateway to a now-vanished 25-acre summer estate of an eccentric descendant of Sir Thomas Drake who had married an heiress.
And where does Broadway end?

According to my Hagstrom map of Manhattan, at West 225th Street, where the northern tip of Manhattan meets the Harlem River, beyond which lies the Bronx.

Some hardy souls boast of walking its entire 13-mile length, and this is where they stop.

But Broadway goes on another two miles into the Bronx, and some even see Broadway continuing out of the city into Yonkers and beyond, maybe, like the old Albany Post Road, all the way to Albany.

And maybe, being above all a state of mind, it never ends.

Maybe, like Ol' Man River, it just goes on and on.
Source note:
This post was inspired in part by an article by Sam Roberts entitled "Broadway Time Machine," in the Weekend Arts II section of the
New York Times
of June 15, 2018.
Coming soon: Kill Days, When One Feels the Need to Kill
All books are available online as indicated, or from the author.
1
. No Place for Normal: New York / Stories from the Most Exciting City in the World
(Mill City Press, 2015).
Winner of
the Tenth Annual National Indie Excellence Award for Regional Non-Fiction; first place in the Travel category of the 2015-2016 Reader Views Literary Awards; and Honorable Mention in the Culture category of the Eric Hoffer Book Awards for 2016. All about anything and everything New York: alcoholics, abortionists, greenmarkets, Occupy Wall Street, the Gay Pride Parade, my mugging in Central Park, peyote visions, and an artist who made art of a blackened human toe. In her Reader Views review, Sheri Hoyte called it "a delightful treasure chest full of short stories about New York City."

If you love the city (or hate it), this may be the book for you. An award winner, it sold well at BookCon 2017.
Review
"If you want wonderful inside tales about New York, this is the book for you. Cliff Browder has a way with his writing that makes the city I lived in for 40 plus years come alive in a new and delightful way. A refreshing view on NYC that will not disappoint." Five-star Amazon customer review by Bill L.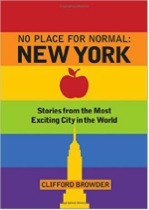 2. Bill Hope: His Story (Anaphora Literary Press, 2017), the second novel in the Metropolis series. New York City, 1870s: From his cell in the gloomy prison known as the Tombs, young Bill Hope spills out in a torrent of words the story of his career as a pickpocket and shoplifter; his brutal treatment at Sing Sing and escape from another prison in a coffin; his forays into brownstones and polite society; and his sojourn among the "loonies" in a madhouse, from which he emerges to face betrayal and death threats, and possible involvement in a murder. Driving him throughout is a fierce desire for better, a persistent and undying hope.

For readers who like historical fiction and a fast-moving story.
"A real yarn of a story about a lovable pickpocket who gets into trouble and has a great adventure. A must read." Five-star Amazon customer review by nicole w brown.
"This was a fun book. The main character seemed like a cross between Huck Finn and a Charles Dickens character. I would recommend this." Four-star LibraryThing review by stephvin.
3. Dark Knowledge (Anaphora Literary Press, 2018), the third novel in the Metropolis series. Adult and young adult. A fast-moving historical novel about New York City and the slave trade, with the sights and sounds and smells of the waterfront.
New York City, late 1860s. When young Chris Harmony learns that members of his family may have been involved in the illegal pre-Civil War slave trade, taking slaves from Africa to Cuba, he is appalled. Determined to learn the truth, he begins an investigation that takes him into a dingy waterfront saloon, musty old maritime records that yield startling secrets, and elegant brownstone parlors that may have been furnished by the trade. Since those once involved dread exposure, he meets denials and evasions, then threats, and a key witness is murdered. Chris has vivid fantasies of the suffering slaves on the ships and their savage revolts. How could seemingly respectable people be involved in so abhorrent a trade, and how did they avoid exposure? And what price must Chris pay to learn the painful truth and proclaim it?
Reviews
"A lively and entertaining tale. The writing styles, plot, pace and character development were excellent." Four-star LibraryThing early review by BridgitDavis.
"At first the plot ... seemed a bit contrived, but I was soon swept up in the tale." Four-star LibraryThing early review by snash.
"I am glad that I have read this book as it goes into great detail and the presentation is amazing. The Author obviously knows his stuff." Four-star LibraryThing early review by Moiser20.
"... I enjoyed reading Dark Knowledge and Clifford Browder definitely managed to recreate the vibe and feel of that era so that I could almost smell the salty sea air and feel myself transported to that period. The characters are very well drawn, and in addition to Chris and Sal, who are fantastic, all of the other family members, former ship captains, etc. also have their own flavor and personalities. Sal is shown to be a smart and capable woman which I appreciated. But most of all, this is Chris's story and Clifford Browder succeeds in highlighting the horrors of slavery through this book. This is great read!" Five-star Readers' Favorite review by Gisela Dixon.
4. The Pleasuring of Men (Gival Press, 2011), the first novel in the Metropolis series, tells the story of a respectably raised young man who chooses to become a male prostitute in late 1860s New York and falls in love with his most difficult client.

What was the gay scene like in nineteenth-century New York? Gay romance, if you like, but no porn (I don't do porn). Women have read it and reviewed it. (The cover illustration doesn't hurt.)

Reviews
"At times amusing, gritty, heartfelt and a little sexy -- this would make a great summer read." Four-star Amazon customer review by BobW.
"Really more of a fantasy of a 19th century gay life than any kind of historical representation of the same." Three-star Goodreads review by Rachel.
"The detail Browder brings to this glimpse into history is only equaled by his writing of credible and interesting characters. Highly recommended." Five-star Goodreads review by Nan Hawthorne.