For my other books, see BROWDERBOOKS below.
A collection of posts from this blog. Short biographical sketches of people, some remembered and some forgotten, who lived or died in New York. All kinds of wild stuff, plus some that isn't quite wild but fascinating. New York is a mecca for hustlers of every kind, some likable and some horrible, but they are never boring.
To be published July 26. You can order it
here
from Black Rose Writing, the publisher, and get a discounted price (plus postage), but it won't be shipped before that date. Also available from
Amazon
and
Barnes & Noble
, minus the discount but with the delay. Signed copies are available now from the author (i.e., me) for $20.00 (plus postage, if needed), though in limited numbers
.
SMALL TALK
A Browderboost: 237 West 11th Street, West Village
A Browderboost is simply a brief recognition of a local residence or enterprise that has done something to enhance the beauty of my neighborhood, the West Village. Walking along West 11th Street between West 4th and Waverly Place, I recently noticed two flower boxes at 237 West 11th crammed with black-splotched yellow pansies. Not only were they beautiful enough to make me linger there a moment, but in the two ground-floor windows to the right of the handsome entrance there were lighted lamps as well, adding to the building's attractiveness. Real estate listings online describe this as a six-floor coop building dating from 1904 or 1915, though to my eye it looks older (real estate dates are notoriously inaccurate, often dating a building from the most recent renovation), and the prices mentioned are depressingly high, though nothing seems to be available at the moment. All of which is, for my purposes, irrelevant, since a Browderboost is simply a congrats to a neighbor for making their property attractive to the eye. Bravo, 237 West 11th, and especially the ground-floor resident responsible for the lights in the windows.
* * * * * * * * *
WEST 11th and HUDSON
Just one block from me is the intersection of West 11th Street and Hudson Street. On this corner are four buildings: the Philip Marie restaurant, a branch of the HSBC bank, the Frankies 570 Spuntino restaurant, and the White Horse Tavern. Four enterprises, four stories. Let's have a look.
I have often lunched at Philip Marie's, and did a whole post on it: #319: "569 Hudson: Buddha, a Speakeasy, Greek Yogurt and Romance." Having bought the building in 1998, the present owner broke down a brick wall in the basement to get more space. Behind the wall he found a small room with a trap door to a sub-basement, where he found the remains of a 1920s warehouse that once housed barrels of illicit alcohol meant for the lusty gullets of Villagers during Prohibition. And when the new owner broke down another wall, he found the remains of an eighteenth-century farmhouse kitchen, with fireplaces in whose ashes he discovered oyster shells and clay pipes once smoked by the farmers. (For the full history, see post #319.) Today the basement one level down is the Wine Room, a private dining room for intimate dining for two, with romantic music, flowers, and wine.
The HSBC bank branch is, for me, a mystery. I have walked by it many times and can see the interior through the big street-front windows. But even though the entrance has a big sign OPEN, inside I see almost no one. Sometimes perhaps a teller, and sometimes perhaps one patron, just one. What gives? The local branch of my own beloved bank, J.P. Morgan Chase, is always thronged with patrons, plus a diligent staff of employees. But in HSBC, no one, or almost no one. Yet in the Times of December 11, 2017, I saw a full-page ad with white lettering on red: "Proud to be the World's Best Bank. HSBC." Something called the Euromoney Awards for Excellence 2017 had evidently bestowed this award.
Ah, but in the Times just one day later was an article reporting that the U.S. was dismissing criminal charges against HSBC, a London-based bank with a U.S. subsidiary, five years after the bank reached an agreement to avoid prosecution for lapses in its money-laundering controls. Aha, another naughty big bank being spanked. Which has nothing to do with its branch on West 11th at Hudson, which for me remains a mystery. I may not want HSBC, but it wants me, for I just got in the mail an invitation to open an account, in return for which I would get a "welcome deposit" of $750. Think of it -- 750 smackeroonies just for joining their club! For mazuma like that, shouldn't I go in there and gladden things up for the teller? Nope. Maybe for $7,500, but not for a mere $750. No dice.
Frankies 570 Spuntino, where I have often lunched, offers Italian food with what is described as a "light" touch. The two chefs behind it, Italian Americans who grew up in Queens, are named Frank, and the address is 570 Hudson Street, which explains the name. Except for "Spuntino," which, they inform me, is Italian for an informal meal or snack, or a casual Italian restaurant. I can vouch for the butternut squash soup, and the meatballs with pine nuts and raisins. Also, they have a delightful custom of bringing you fresh bread and a saucer of olive oil, while you wait for your main dish to arrive. But about the building itself, a handsome three-story structure with elegant simplicity, I have been able to learn nothing. But when Frankies moved in, they stripped away the walls, revealing century-old brickwork, which does suggest a story. But as of now the building's secrets remain secret.
Finally, the legendary White Horse Tavern, its windows crowded with any number of carved white horses. Legendary, because it was here that the Welsh poet Dylan Thomas staged his last binge in 1953, boasting of downing eighteen whiskeys (it was probably only nine) before staggering back to the Chelsea Hotel, where he soon collapsed and was rushed by ambulance to St. Vincent's Hospital, where he died.
But there is more to the White Horse legend than that. Built in 1880, it began as a bar serving the longshoremen working on the nearby Hudson River piers. If it became a speakeasy during Prohibition in the 1920s, maybe it got booze from the warehouse across the street. In the 1930s and 1940s leftist union men hung out there, singing "The Internationale," and the bar was labeled a Communist hangout. In the 1950s, when Senator Joe McCarthy sparked an anti-Communist crusade throughout the country, Irish working-class kids from the neighborhood would invade the tavern, swinging their fists, hurling chairs, and shouting "Communist!" and "Faggot" at the patrons. But soon
it became a gathering place for writers and jazz musicians. Among the habitués were Jack Kerouac, who was bounced from there more than once. Also imbibing there were movie actor Charles Laughton, the poet Delmore Schwartz, a less-than-sober Norman Mailer, Bob Dylan, urban activist Jane Jacobs, and the editors of the
Village Voice.
Not welcome, on the other hand, were gay people, as friends of mine can testify. And today? Tourists, New York University students, and locals, and to judge from what I've seen at the sidewalk tables in mild weather, even families. I doubt if they sing "The Internationale."
Coming soon: P.T. Barnum, the Prince of Humbug. And sooner or later (probably sooner), BookCon 2018, where storytelling and pop culture collide: notes of a survivor.
All books are available online as indicated, or from the author.
1
. No Place for Normal: New York / Stories from the Most Exciting City in the World
(Mill City Press, 2015).
Winner of
the Tenth Annual National Indie Excellence Award for Regional Non-Fiction; first place in the Travel category of the 2015-2016 Reader Views Literary Awards; and Honorable Mention in the Culture category of the Eric Hoffer Book Awards for 2016. All about anything and everything New York: alcoholics, abortionists, greenmarkets, Occupy Wall Street, the Gay Pride Parade, my mugging in Central Park, peyote visions, and an artist who made art of a blackened human toe. In her Reader Views review, Sheri Hoyte called it "a delightful treasure chest full of short stories about New York City."

If you love the city (or hate it), this may be the book for you. An award winner, it sold well at BookCon 2017.
Review
"If you want wonderful inside tales about New York, this is the book for you. Cliff Browder has a way with his writing that makes the city I lived in for 40 plus years come alive in a new and delightful way. A refreshing view on NYC that will not disappoint." Five-star Amazon customer review by Bill L.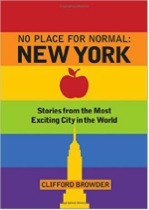 2. Bill Hope: His Story (Anaphora Literary Press, 2017), the second novel in the Metropolis series. New York City, 1870s: From his cell in the gloomy prison known as the Tombs, young Bill Hope spills out in a torrent of words the story of his career as a pickpocket and shoplifter; his brutal treatment at Sing Sing and escape from another prison in a coffin; his forays into brownstones and polite society; and his sojourn among the "loonies" in a madhouse, from which he emerges to face betrayal and death threats, and possible involvement in a murder. Driving him throughout is a fierce desire for better, a persistent and undying hope.

For readers who like historical fiction and a fast-moving story.
"A real yarn of a story about a lovable pickpocket who gets into trouble and has a great adventure. A must read." Five-star Amazon customer review by nicole w brown.
"This was a fun book. The main character seemed like a cross between Huck Finn and a Charles Dickens character. I would recommend this." Four-star LibraryThing review by stephvin.
3. Dark Knowledge (Anaphora Literary Press, 2018), the third novel in the Metropolis series. Adult and young adult. A fast-moving historical novel about New York City and the slave trade, with the sights and sounds and smells of the waterfront.
New York City, late 1860s. When young Chris Harmony learns that members of his family may have been involved in the illegal pre-Civil War slave trade, taking slaves from Africa to Cuba, he is appalled. Determined to learn the truth, he begins an investigation that takes him into a dingy waterfront saloon, musty old maritime records that yield startling secrets, and elegant brownstone parlors that may have been furnished by the trade. Since those once involved dread exposure, he meets denials and evasions, then threats, and a key witness is murdered. Chris has vivid fantasies of the suffering slaves on the ships and their savage revolts. How could seemingly respectable people be involved in so abhorrent a trade, and how did they avoid exposure? And what price must Chris pay to learn the painful truth and proclaim it?
Early reviews
"A lively and entertaining tale. The writing styles, plot, pace and character development were excellent." Four-star LibraryThing early review by BridgitDavis.
"At first the plot ... seemed a bit contrived, but I was soon swept up in the tale." Four-star LibraryThing early review by snash.
"I am glad that I have read this book as it goes into great detail and the presentation is amazing. The Author obviously knows his stuff." Four-star LibraryThing early review by Moiser20.
New release; available from
Amazon
and
Barnes & Noble
.
4. The Pleasuring of Men (Gival Press, 2011), the first novel in the Metropolis series, tells the story of a respectably raised young man who chooses to become a male prostitute in late 1860s New York and falls in love with his most difficult client.

What was the gay scene like in nineteenth-century New York? Gay romance, if you like, but no porn (I don't do porn). Women have read it and reviewed it. (The cover illustration doesn't hurt.)

Reviews
"At times amusing, gritty, heartfelt and a little sexy -- this would make a great summer read." Four-star Amazon customer review by BobW.
"Really more of a fantasy of a 19th century gay life than any kind of historical representation of the same." Three-star Goodreads review by Rachel.
"The detail Browder brings to this glimpse into history is only equaled by his writing of credible and interesting characters. Highly recommended." Five-star Goodreads review by Nan Hawthorne.