For my other books, see BROWDERBOOKS below.
A collection of posts from this blog. Short biographical sketches of people, some remembered and some forgotten, who lived or died in New York. All kinds of wild stuff, plus some that isn't quite wild but fascinating. New York is a mecca for hustlers of every kind, some likable and some horrible, but they are never boring.
To be published July 26. You can order it here from Black Rose Writing, the publisher, and get a discounted price (plus postage), but it won't be shipped before that date. Also available from Amazon and Barnes & Noble, minus the discount but with the delay. Signed copies are available now from the author (i.e., me) for $20.00 (plus postage, if needed), though in limited numbers.
SMALL TALK
New architecture today in New York -- especially but not exclusively Manhattan -- is tall tall tall. But a new twist is the appearance on the Far West Side of Manhattan of two twisting towers, and I do mean, quite literally, twisting. For me and my dated perceptions, the Twist is, or rather was, a short-lived international dance craze of the early 1960s where the dancers, facing each other but not touching, swiveled their hips to jazzy music and tried to twist themselves into the floor. But this is another kind of twist. Known as the XI (The Eleventh), this mixed-use development involves a full block between Tenth and Eleventh Avenues, and between West 17th and West 18th Streets, with two towers on the western portion of the site. The westernmost tower, rising 36 floors or about 400 feet, offers 149 condos (just what the city needs more of), while the eastern tower rises 26 floors or about 300 feet, with a Six Senses Hotel on the lower floors and 87 condos from the 11th floor up.
By today's high-rise standards in the city, with 432 Park Avenue topping out at 1398 feet and 84 stories, these towers might both seem a bit puny and squat. But as they rise they twist, and they change proportions as well. I haven't seen them in the flesh (steel, concrete, or whatever), but photos show them and, at first glance you may think you're high on drugs, as the two things seem frozen in a wild shimmy as they twist and turn and change shape. But no, they really are twisting and changing shape. The western tower has a base narrower than the top, but as it rises, it expands, till at the top it occupies the full western façade. Why the twist? So it can peek around the other tower and nearby buildings and offer views in more directions. The eastern tower twists in the opposite direction, first maximizing the views to the east and west, and then the views to the north and south. So no matter which view you want, you can pick a condo that has it.
And inside? "Natural" materials, to emphasize the natural elements embedded in the buildings: oak floors, larch wood kitchen cabinets, and eucalyptus wood vanities and Taj Mahal quartzite walls with a leather-textured finish in the bathrooms. For these heart-warming effects, an undisclosed number of trees and creatures have been sacrificed. The whole development, twists and all, is meant to create a resort environment in an urban setting, with water, park, and High Line handy. Why go to the Catskills or wherever, when you can have it all right here? Plus projected ground-level pavilions with restaurants and stores, and another building connected by an enclosed glass bridge. I'll admit that the twists put me off, but an enclosed glass bridge sounds charming.
Want to move in? Sales began on May 7. Half-floor penthouses go for $25 million, and one-bedroom digs for a mere $2.8 million and up.
Source note: This Small Talk is indebted to Tim McKeogh's article, "Two Twisting Towers Come to the Far West Side," in the Real Estate section of the New York Times of Sunday, April 22, 2018. I rarely read the Real Estate section, but the two twists caught my eye. Now on to some inspiring architecture that doesn't twist at all.
THE OCULUS & THE 9/11 MEMORIAL
When I "did" the 9/11 Museum at Ground Zero, I promised myself to come back on a milder, less windy day to "do" †he 9/11 Memorial, the Freedom Tower, and the World Trade Center Transportation Hub, the new PATH station that goes by the name of the Oculus.

So when a Thursday came with lots of sun forecast, I decided to seize the day.

No need to get a ticket this time; it's all out in the open and free.

And so, anticipating architectural marvels, I went.
Exiting the E train terminal at World Trade Center, I followed signs and entered the Oculus without seeing its controversial exterior.

Inside I found myself in the West Concourse, with a view of a vast amount of enclosed space that gave me the feeling of being inside the skeleton of a huge whale with his ribs soaring far above me.

(The ribs are in fact a skylight, as I learned later.)

Well below those ribs but above me were balconies, and above the balconies, a higher level still, with tourists looking down at me and other visitors on the building's ground level.

I wanted architectural marvels, and I got one.

I had never been inside a building like this.
Anthony Quintano
The concourse stretched distantly before me.

As I trekked onward – and all one does in the Oculus is trek – I passed pricey shops devoid of customers.

This was morning – between 10 and 11 a.m., so perhaps they get more customers later.

Otherwise, why be there, except for the prestige of having a pricey shop in this most avant-garde of venues?

But it was a strange atmosphere: space, a long corridor, emptiness, and silence.
Coming at last to the entrance to the PATH trains to New Jersey – the pretext for this grandiose structure and its upscale shops – I took an escalator up to the balcony, encountered more fancy shops devoid of customers, but staffed by fashionably dressed young women. One of the young women had dark hair hanging down before her face to the point of almost obscuring it: a trendy look, I assume.

Their offerings – clothing, bags, perfumes, and beauty aids – tempted me not a whit, though there were restaurants and snack bars as well where a few customers were eating.

Below me on the main floor I saw huge multicolored ads flashing on the high walls.
Seeing nowhere else to go, at the end of my long trek I took an escalator down and found my self trudging alongside the high walls with the flashing ads, one image yielding immediately to another.

There were huge happy faces, then a great wash of orange, then notable names blazoned at intervals: CHASE, GOOGLE, TRIBECA, plus injunctions like LEAVE NO CONTINENT UNTURNED and LISTEN.

What they were selling I couldn't tell.

But they engulfed me, almost swallowed me up.
Coming once again to the PATH entrance and feeling no urge to travel to New Jersey, or for that matter to trek another lengthy concourse, I took an escalator up to a higher level, paid a quick visit to a rest room where the hand-dryer roared mightily – everything in the Oculus is avant-garde and extreme -- and with the help of an elevator finally reached a ground-level exit.
Outside at last, I saw the Millennium Hilton looming to the north on Vesey

Street, and behind me, the spiky glory of the west face of the Oculus.

Some have likened it to a white dove spreading its wings for flight, but to my eye it looked like a huge white mushroom, hopefully not poisonous.

Rising nearby was the Freedom Tower, which I see every night from my bedroom window.

Now at last I could see it close up, soaring like a glass arrow spiking high in the sky, and topped by an antenna that at night flashes a blinking red light.

At the tower's base rose a huge red crane, a reminder, along with intermittent thumps and roars, that there is still much construction under way along the north edge of the site along Vesey Street, with busy forklifts and hard hats visible.

The whole site is far from completed.
Sarahkv
Straight ahead was my other goal: the 9/11 Memorial, and more specifically, the North Pool, a large sunken rectangular pool ringed by a low wall bearing the names of the victims of 9/11.

Here now were hordes of tourists, clicking away with their cameras, but otherwise maintaining a respectful silence.

A sign announced that the waterfall was turned off because of high wind, so the rippling water looked dark and silent.

Another sign said that a rose was deposited on every victim's name on their birthday, and I did indeed see one white rose.
Seen from above, with trees.


Paul Sableman
Going south or downtown from there, I traversed the spacious plaza, whose full effect was lacking, since its planted trees had yet to bear leaves.

At the South Pool, similar in shape to the North Pool, the waterfall was working: all four walls of the pool were streaked with falling water that then filled a sunken basin and ran into a still deeper basin in the center.

And here too I saw a white rose attached to a name, one of many names on the pool's encircling wall.

Finding a stone slab of a bench nearby, I snacked briefly to quench the pangs of hunger, wondering if in so doing I was desecrating the site.

Seeing others doing the same and incurring no admonishment, I decided I was not.

So ended my visit to the memorial.
What is my take-away?

The Oculus is controversial.

It has been called a four-billion-dollar boondoggle, an example of taxpayer-financed governmental waste and architectural excess.

And where I see a huge white mushroom and the architect intends a dove, others see a beached whale carcass or a pair of ragged claws scuttling across Manhattan.

Designed by Spanish architect Santiago Calatrava, it did cost a whopping big sum and took 12 years to do, and it certainly doesn't look like a traditional train station.

But so what?

The site is unique, steeped in history and tragedy, symbolic as well as utilitarian. Ground Zero demands something more than a conventional structure, something not tame but innovative, bigger-than-life, startling, even spiritual.

And that is what Mr. Calatrava gave us.
From a practical standpoint, there are other concerns.

To negotiate it as a visitor requires endurance, so take your vitamins and wear good shoes.

To get anywhere, you trek and trek and trek.

For PATH commuters, quite a trudge just to get to or from the turnstiles.

As for all those pricey shops, when I toured the place – a fraction of it – they were all but deserted.

Why would morning rush-hour c

ommuters linger to shop there, when they're hurrying to work?

And in the evening rush hour, tired from a long day's work, they aren't likely to shop.

A quick drink, maybe, before facing the obligations of home, but little more.

So who does that leave?

Tourists.

I saw lots of them lining up for the 9/11 Museum and lots more at the 9/11 Memorial, but very few in the Oculus.

Walking down the concourse, usually I was amazingly alone.

So I question whether it's going to make it as a shopping mall.

An epic monument yes, and a spacious (maybe too spacious) avant-garde train station, but perhaps nothing else.
By contrast, the 9/11 Memorial strikes me as being just right: a place to remember 9/11 and its victims with dignity and reverence.

Tourist hordes, yes, but reasonably calm and respectful.

Of course they're going to click like mad taking pictures, including the inevitable selfies, but outside on the plaza that's acceptable.

And the whole Memorial is kept meticulously clean.
And the Freedom Tower?

Seen close up, that too is exciting.

I have reservations about the supertall high rises going up all over Manhattan, but this one I permit and applaud.

But I'm biased: I see it first thing every morning from my bedroom window, and last thing at night, ablaze with light, when I retire.

It's New York, it's special, it's a part of my life, it's me. I wouldn't want to do without it.
Coming soon: Gimmicky Appeals: How Even Good Guys Rip Us Off (unless I switch to the Costume Institute's
gala, High Fashion on Steroids)
All books are available online as indicated, or from the author.
1
. No Place for Normal: New York / Stories from the Most Exciting City in the World
(Mill City Press, 2015).
Winner of
the Tenth Annual National Indie Excellence Award for Regional Non-Fiction; first place in the Travel category of the 2015-2016 Reader Views Literary Awards; and Honorable Mention in the Culture category of the Eric Hoffer Book Awards for 2016. All about anything and everything New York: alcoholics, abortionists, greenmarkets, Occupy Wall Street, the Gay Pride Parade, my mugging in Central Park, peyote visions, and an artist who made art of a blackened human toe. In her Reader Views review, Sheri Hoyte called it "a delightful treasure chest full of short stories about New York City."

If you love the city (or hate it), this may be the book for you. An award winner, it sold well at BookCon 2017.
Review
"If you want wonderful inside tales about New York, this is the book for you. Cliff Browder has a way with his writing that makes the city I lived in for 40 plus years come alive in a new and delightful way. A refreshing view on NYC that will not disappoint." Five-star Amazon customer review by Bill L.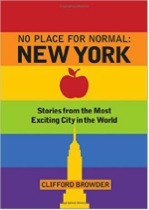 2. Bill Hope: His Story (Anaphora Literary Press, 2017), the second novel in the Metropolis series. New York City, 1870s: From his cell in the gloomy prison known as the Tombs, young Bill Hope spills out in a torrent of words the story of his career as a pickpocket and shoplifter; his brutal treatment at Sing Sing and escape from another prison in a coffin; his forays into brownstones and polite society; and his sojourn among the "loonies" in a madhouse, from which he emerges to face betrayal and death threats, and possible involvement in a murder. Driving him throughout is a fierce desire for better, a persistent and undying hope.

For readers who like historical fiction and a fast-moving story.
"A real yarn of a story about a lovable pickpocket who gets into trouble and has a great adventure. A must read." Five-star Amazon customer review by nicole w brown.
"This was a fun book. The main character seemed like a cross between Huck Finn and a Charles Dickens character. I would recommend this." Four-star LibraryThing review by stephvin.
3. Dark Knowledge (Anaphora Literary Press, 2018), the third novel in the Metropolis series. Adult and young adult. A fast-moving historical novel about New York City and the slave trade, with the sights and sounds and smells of the waterfront.
New York City, late 1860s. When young Chris Harmony learns that members of his family may have been involved in the illegal pre-Civil War slave trade, taking slaves from Africa to Cuba, he is appalled. Determined to learn the truth, he begins an investigation that takes him into a dingy waterfront saloon, musty old maritime records that yield startling secrets, and elegant brownstone parlors that may have been furnished by the trade. Since those once involved dread exposure, he meets denials and evasions, then threats, and a key witness is murdered. Chris has vivid fantasies of the suffering slaves on the ships and their savage revolts. How could seemingly respectable people be involved in so abhorrent a trade, and how did they avoid exposure? And what price must Chris pay to learn the painful truth and proclaim it?
Early reviews
"A lively and entertaining tale. The writing styles, plot, pace and character development were excellent." Four-star LibraryThing early review by BridgitDavis.
"At first the plot ... seemed a bit contrived, but I was soon swept up in the tale." Four-star LibraryThing early review by snash.
"I am glad that I have read this book as it goes into great detail and the presentation is amazing. The Author obviously knows his stuff." Four-star LibraryThing early review by Moiser20.
New release; available from
Amazon
and
Barnes & Noble
.
4. The Pleasuring of Men (Gival Press, 2011), the first novel in the Metropolis series, tells the story of a respectably raised young man who chooses to become a male prostitute in late 1860s New York and falls in love with his most difficult client.

What was the gay scene like in nineteenth-century New York? Gay romance, if you like, but no porn (I don't do porn). Women have read it and reviewed it. (The cover illustration doesn't hurt.)

Reviews
"At times amusing, gritty, heartfelt and a little sexy -- this would make a great summer read." Four-star Amazon customer review by BobW.
"Really more of a fantasy of a 19th century gay life than any kind of historical representation of the same." Three-star Goodreads review by Rachel.
"The detail Browder brings to this glimpse into history is only equaled by his writing of credible and interesting characters. Highly recommended." Five-star Goodreads review by Nan Hawthorne.