In the Offing:
The most powerful woman in the world, so attractive that the president of the United States, not wanting to be vamped, kept a card table between them when he met her.
SMALL TALK
Seen recently on Fifth Avenue:
A couple wearing hats with papier-mâché images of the stone heads on Easter Island;

A woman with a hat with a foam sailboat being dragged down by the red tentacles of a sea monster;

A chihuahua sporting red sunglasses and a ladybug raincoat;

A woman with flowing white hair topped by tall green bunny ears;

A man on a two-wheeled vehicle adorned with orange orchids, his black top hat sprouting black bunny ears, and at his feet a poodle spray-painted orange;

A woman overtopped by a huge bouquet of flowers six times as large as her head;

A man wearing as headgear a pink spider web made of wires and yarn, and dangling in front of him, black foam spiders with tiny flower bonnets.
A resurgence of Dada? A fashion show in Bellevue? No, just last Sunday's annual Easter Parade on Fifth Avenue, though the paraders in question, much photographed, probably didn't end up in church. Once a parade of high fashion, the event has evolved into a costume extravaganza, an outlandish carnival celebration of spring that screams, "Only in New York."
The Easter Parade, 2017.


-jkb-
Life in a Supertall High-Rise
What is it like to live in one of the supertall high-rises now surging up in Manhattan and Brooklyn?

It's hard to know, since the owners don't want to say who the residents are, and the residents don't speak up.

In fact, many of the residents – Saudi princes, Chinese billionaires, Russian oligarchs, and the like, or so we assume – aren't even here a good part of the year.

But to one of us – Times reporter Penelope Green – it was recently granted to do a sleepover in One57, the first of the supertalls to sprout up on West 57th Street in 2012.

She recounts the experience in her article "Clouds in My Coffee!" in the Thursday Styles section of the New York Times of February 22, 2018.
As seen from Seventh Avenue.


Beyond My Ken
This is no ordinary supertall (if such a thing exists).

Ms. Green

informs us that it has achieved a series if records:
·
The most expensive apartment sold in Manhattan (nearly $100.5 million)
·
The tallest building in the city (for a few months, until overtopped by another monster, 432 Park Avenue)
·
The first apartment bought by a toddler (a Chinese two-year-old whose mother wants her daughter to live well when the daughter attends New York University or Columbia)
·
The city's largest foreclosure
·
The highest price ever paid for an apartment in foreclosure.
I have never laid eyes on it and hopefully never will, but photos show a slab of vertical-striped exterior blue glass stabbing skyward and overtopping all the other buildings around it.

To my eye, it looks brazen and insolent.
As seen from Central Park.


Qbkingfilm
One57 is indeed a building already claimed by history (or herstory, given the third item above).

The original owner of the apartment in foreclosure was a Nigerian businessman implicated in a money-laundering scheme that somehow involved his 79th-floor penthouse.

(So high-rise residents aren't just Saudis, Chinese, or Russians; add in Nigerians for a start, and Qatar as well, since its prime minister bought a penthouse for $100 million.)

But One57 is not exactly popular, since Michael Kimmelman of the Times called it "chintzily embellished," and the neighbors loathe it because Hurricane Sandy made its construction crane partially collapse, forcing many of them to evacuate.

What made the building's soaring height possible was a merging of zoning lots and the purchase of air rights, a stratagem that angers preservationists, many of whom are clamoring for a revision of the city's outdated zoning laws.
Ms. Green ended up for one night in 61B, a three-bedroom apartment listed at $29 million.

Warned not to bring gerbils, ponies, guinea pigs, or bunnies, and not to engage in modeling, massage therapy, or seminude modeling, she brought two women friends instead.

Greeting them was the building's "lifestyle attaché," whose job it is to bring residents together for communal events like a champagne and wine tasting, a Halloween trick-or-treating, or a concert.

She also charters yachts for residents, finds them a private island to vacation on, gets them front-row seats for a fashion show, and arranges birthday parties for tiny tots.

When offered in-home shopping, a cocktail reception, a swim, and numerous other services, Ms. Green settled for dinner ($300) and a private meditation ($250).

So many are the services available, the attaché insisted, the residents don't ever have to leave. Clearly, the atmosphere of a cruise ship or a cloister.
The doorbell of 61B was a bird song.

The living room walls featured slabs of ivory onyx and stained and fumed eucalyptus panels, and the massive furniture included a twelve-foot sofa.

The black-glass dining room table was thirteen feet long, and the master bathroom was adorned with slabs of marble.

Most impressive of all, perhaps, were the floor-to-ceiling windows of the living room's north wall, giving an incredible view of the whole of Central Park, all 51 blocks of it from south to north, and a vast panorama of a city far below that seemed to be in miniature.
After a sumptuous dinner for the three of them, the friends left and Ms. Green locked the door, went to bed, and experienced the eerie silence of living on a 61st floor 600 feet above Central Park.

Then, at 7:30 the next morning, the doorbell warbled and a waiter from the ground-floor Park Hyatt Hotel brought her, as ordered, two coffees and the New York Times.

Then, while reveling in the enormous bathtub, she saw through a window a red crane towering over 111 West 57th

Street, where another high-rise is climbing that will top 432 Park Avenue by 28 feet.
111 West 57th Street, another supertall.


Justin A. Wilcox
Later the doorbell warbled again to announce a teacher from a meditation studio who gaped at the views and took a few photos, before the two of them settled onto some purple cushions in the living room.

An introduction to meditation followed, with an explanation of how the practice takes pressure off the brain's amygdala, so that you stop reacting as if you were being chased by a bear.

Bears are scarce on a high-rise's 61st floor, but I trust that Ms. Green benefited from the session.

She doesn't relate her leaving the apartment after her unique one-night stand, but she surely had a rare taste of the delights and horrors of living far above the urban hurly-burly that most of us face every day.

It must have been a strange sensation to return to that hurly-burly, leaving behind --

perhaps forever – the strange unreality of life in a midtown high-rise.
What is one to make of these spiking Babels of presumption, these glass-clad prisons of luxury where you can have everything but the juicy, gritty turbulence of life?

Should the city's skyline be determined by supertalls intended for non-residing residents, cosmopolitan richies who, if they traverse its streets at all, do so in stretch limousines with blinded windows?

These elusive occupants neither have nor desire contact with the city's surging multitudes.

Living in a world apart, they contribute little but their occasional presence to the city's life, yet benefit from its services, which provide them with power and water and light.

At the very least, they ought to pay for those.
Are we in a supertall real estate bubble, and if so, when will it burst?

I've often wondered, but know the folly of predicting when a bubble will burst.

Still, in the Sunday Real Estate section (which I rarely look at) of March 18, 2018, our sacred New York Times asks in bold letters, under a

panoramic view of Brooklyn and its mounting high-rises, "Where's the Ceiling in Brooklyn?"

Rental towers are sprouting in downtown Brooklyn like mushrooms after a three-day rain, duplicating their surging growth in Manhattan.

But if affordable apartments in new developments attract tens of thousands of applicants per project, the vacancy rate for the most expensive units is high and rising.

Is Brooklyn's moment of architectural growth and glory over, and does this foretell a similar topping and subsequent decline in Manhattan?

Time will tell.

I confess that the nocturnal sight of supertall towers with three-fourths of their windows dark, indicating no occupancy, would fill me with petty and perverse delight.

But petty and perverse it is, for such a downturn implies a general economic bust that would hit small businesses and the public as well, and to them I wish no ill.

So if bubble there is, may it not explode with a pop but slowly and gently deflate, like a punctured tire, causing as little harm as possible to the vast numbers of innocents – or almost innocents – not responsible for the supertalls' unseemly rise.
Coming soon: Flamboyant vs. "Normal" Gay: Triumphs, Risks and Horrors.
All books are available online as indicated, or from the author.
1
. No Place for Normal: New York / Stories from the Most Exciting City in the World
(Mill City Press, 2015).
Winner of
the Tenth Annual National Indie Excellence Award for Regional Non-Fiction; first place in the Travel category of the 2015-2016 Reader Views Literary Awards; and Honorable Mention in the Culture category of the Eric Hoffer Book Awards for 2016. All about anything and everything New York: alcoholics, abortionists, greenmarkets, Occupy Wall Street, the Gay Pride Parade, my mugging in Central Park, peyote visions, and an artist who made art of a blackened human toe. In her Reader Views review, Sheri Hoyte called it "a delightful treasure chest full of short stories about New York City."

If you love the city (or hate it), this may be the book for you. An award winner, it sold well at BookCon 2017.
Review
"If you want wonderful inside tales about New York, this is the book for you. Cliff Browder has a way with his writing that makes the city I lived in for 40 plus years come alive in a new and delightful way. A refreshing view on NYC that will not disappoint." Five-star Amazon customer review by Bill L.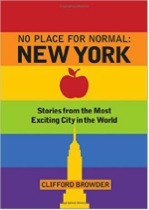 2. Bill Hope: His Story (Anaphora Literary Press, 2017), the second novel in the Metropolis series. New York City, 1870s: From his cell in the gloomy prison known as the Tombs, young Bill Hope spills out in a torrent of words the story of his career as a pickpocket and shoplifter; his brutal treatment at Sing Sing and escape from another prison in a coffin; his forays into brownstones and polite society; and his sojourn among the "loonies" in a madhouse, from which he emerges to face betrayal and death threats, and possible involvement in a murder. Driving him throughout is a fierce desire for better, a persistent and undying hope.

For readers who like historical fiction and a fast-moving story.
"A real yarn of a story about a lovable pickpocket who gets into trouble and has a great adventure. A must read." Five-star Amazon customer review by nicole w brown.
"This was a fun book. The main character seemed like a cross between Huck Finn and a Charles Dickens character. I would recommend this." Four-star LibraryThing review by stephvin.
3. Dark Knowledge (Anaphora Literary Press, 2018), the third novel in the Metropolis series. Adult and young adult. A fast-moving historical novel about New York City and the slave trade, with the sights and sounds and smells of the waterfront.
New York City, late 1860s. When young Chris Harmony learns that members of his family may have been involved in the illegal pre-Civil War slave trade, taking slaves from Africa to Cuba, he is appalled. Determined to learn the truth, he begins an investigation that takes him into a dingy waterfront saloon, musty old maritime records that yield startling secrets, and elegant brownstone parlors that may have been furnished by the trade. Since those once involved dread exposure, he meets denials and evasions, then threats, and a key witness is murdered. Chris has vivid fantasies of the suffering slaves on the ships and their savage revolts. How could seemingly respectable people be involved in so abhorrent a trade, and how did they avoid exposure? And what price must Chris pay to learn the painful truth and proclaim it?
Early reviews
"A lively and entertaining tale. The writing styles, plot, pace and character development were excellent." Four-star LibraryThing early review by BridgitDavis.
"At first the plot ... seemed a bit contrived, but I was soon swept up in the tale." Four-star LibraryThing early review by snash.
"I am glad that I have read this book as it goes into great detail and the presentation is amazing. The Author obviously knows his stuff." Four-star LibraryThing early review by Moiser20.
New release; available from
Amazon
and
Barnes & Noble
.
4. The Pleasuring of Men (Gival Press, 2011), the first novel in the Metropolis series, tells the story of a respectably raised young man who chooses to become a male prostitute in late 1860s New York and falls in love with his most difficult client.

What was the gay scene like in nineteenth-century New York? Gay romance, if you like, but no porn (I don't do porn). Women have read it and reviewed it. (The cover illustration doesn't hurt.)

Reviews
"At times amusing, gritty, heartfelt and a little sexy -- this would make a great summer read." Four-star Amazon customer review by BobW.
"Really more of a fantasy of a 19th century gay life than any kind of historical representation of the same." Three-star Goodreads review by Rachel.
"The detail Browder brings to this glimpse into history is only equaled by his writing of credible and interesting characters. Highly recommended." Five-star Goodreads review by Nan Hawthorne.