JOYS AND HORRORS OF THE WEST VILLAGE
AND OTHER NEW YORK STORIES
Reading at Jefferson Market Library, 425 Avenue of the Americas (near West 10th Street), on Sunday, October 8,
2-4 p.m. I will read excerpts from my novels and New York stories, sign books, and take questions. Books will be available for purchase. I'll be glad to see a friendly face or two there.
Dark Knowledge: Release date January 5, 2018, but copies now available from the author. Adult and young adult. A fast-moving historical novel about New York City and the slave trade, with the sights and sounds and smells of the waterfront. More excerpts to come.
The back cover summary:
New York City, late 1860s. When young Chris Harmony learns that members of his family may have been involved in the illegal pre-Civil War slave trade, taking slaves from Africa to Cuba, he is appalled. Determined to learn the truth, he begins an investigation that takes him into a dingy waterfront saloon, musty old maritime records that yield startling secrets, and elegant brownstone parlors that may have been furnished by the trade. Since those once involved dread exposure, he meets denials and evasions, then threats, and a key witness is murdered. Chris has vivid fantasies of the suffering slaves on the ships and their savage revolts. How could seemingly respectable people be involved in so abhorrent a trade, and how did they avoid exposure? And what price must Chris pay to learn the painful truth and proclaim it?
_________________________________________________
Early reviews
"A lively and entertaining tale. The writing styles, plot, pace and character development were excellent." Four-star LibraryThing early review by BridgitDavis.
"At first the plot ... seemed a bit contrived, but I was soon swept up in the tale." Four-star LibraryThing early review by snash.
______________________________________________________________________
My last post on the remarkable Martin Shkreli was #306 of July 2, 2017, which covered jury selection for his trial in the Federal District Court in Brooklyn on securities fraud and wire-fraud charges, and ended with the empaneling of a jury, and the opening statements of the prosecutor and defense attorney.

(Prior to that I discussed this financial whiz kid and accused fraudster, now all of 34 years old, in posts #214 of January 10, 2016, and #223 of March 27, 2016 – more text, indeed, than I have devoted to our illustrious president, whom I see as being in some ways Mr. Shkreli writ large.

Or, better put, Mr. Shkreli can be seen as the Donald writ small.)

The trial ended on Friday, August 4, so let's now have a look at it.
The trial began on June 26, when more than 120 potential jurors were dismissed, some calling the defendant, "a snake," "the most hated man in America," or "the face of corporate greed."

A jury was finally empaneled, and on June 28 the lawyers made their opening statements, the prosecution accusing him of fraud and of telling "lies on top of lies on top of lies," while the defense described him as a dysfunctional personality "brilliant beyond words," and stressed that disliking him personally was not a basis on which to

convict.
Testifying before a House committee in 2016.
In the weeks that followed, the prosecution put on the stand a series of Shkreli's former colleagues in his hedge fund MSMB Capital and his pharmaceutical company Retrophin, who told how he had charmed them into investing in his enterprises, then misrepresented the companies' financial condition, and finally flat out lied to them.

Under cross-examination by Shkreli's lead attorney, Benjamin Brafman, it became clear that wealthy investors in Retrophin – Shkreli's presumed victims – had in fact realized a handsome profit when Retrophin's stock, down to $3.35 in December 2012, rose like he phoenix from its ashes and soared to $20.

Shkreli, his attorneys insisted, was an erratic misfit who, by implication, could not have knowingly committed fraud.

A curious case, with the fat-cat victims sitting on a tidy profit, and the defense portraying their client as an oddball even to the point where the judge admonished them about it.

Throughout the trial, sparks flew, and more than once the judge had to tell the lawyers to stop sniping at each other.

Meanwhile Shkreli sat there in his usual dark jacket, open shirt collar, and khakis, but now often wearing glasses that gave his boyish features a slightly nerdy look, even while registering his familiar smirk.
As the trial continued, Shkreli, while barred from Twitter under one account, evidently interacted with journalists and the public under another.

And on Friday, June 30, he chatted with some journalists, calling his prosecutors "junior varsity," denying that one testifying hedge fund investor was a victim, and asserting that his critics "blame me for capitalism."

Only when his lawyer, Benjamin Brafman, intervened, did Shkreli stop opining.

In papers filed on July 3 the prosecutors argued that Shkreli's public statements risked tainting the jury, and asked Judge Kiyo A. Matsumoto to restrict him from further blabbing, which she did.
Other highlights of the trial:
·
Steven Richardson, the former chairman of Retrophin, at first a friend and mentor of Shkreli's, told how Retrophin declined financially under Shkreli's management, how Shkreli lied to him, and their friendship came to an end.
·
Tim Pierotti, a high-level MSMB employee, testified that in December 2012 Shkreli, desperately in need of money, screamed at him to sell his Retrophin shares to Shkreli, which Pierotti refused to do, prompting Shkreli to send a letter to Pierotti's wife claiming that her husband had stolen $1.6 million from him, and saying that he hoped to see her and her four children homeless

--- a letter that was entered into evidence.
·
Shkreli was described by his lawyers as being so obsessed with pharmaceutical research that he didn't brush his teeth and slept in his office at night in a sleeping bag.
Shkreli at first wanted to testify in his own defense, but then, no doubt on advice of counsel, decided not to.

The defense called no witnesses and in its summation on July 27 argued that their client had never intended to defraud anyone, and that his investors had in the end realized enormous profits; jurors should think carefully, Brafman warned, before snuffing out this brilliant mind with a felony charge.

"You don't have him on the beach or a yacht," said Brafman.

"He was in a sleeping bag in his office so he could build a company."

The prosecution's final four-hour summation emphasized once again how Shkreli had repeatedly lied to investors and presented him as a calculating con man who knew exactly what he was doing.

Meanwhile the subject of all this brouhaha had his nose deep in a book.
The judge then read her lengthy instructions to the jury, and on July 31 the jury began deliberating.

They were closeted for five days, while the world waited, eager to hear the fate of "Pharma Bro," whom the BBC, mindful of his pharmaceutical misdeeds, called "the most hated man in America" (a label questioned in some circles, where an even more eminent personage might be the preferred choice).
Finally, on Friday, August 4, the jury announced the verdict: guilty on three of the eight counts of fraud, which might mean up to 20 years in prison on the first two, and up to five years on the third.

Shaken at first, Shkreli was soon again his upbeat, arrogant self, smiling defiantly and telling reporters outside the courtroom, "This was a witch hunt of epic proportions and maybe they found one or two broomsticks."

Back in his Manhattan apartment, he resumed live-streaming while sipping ale, insisting that his sentence would be "close to nil"; after serving a little time in "Club Fed" playing basketball, tennis, and Xbox, he would soon resurface as a free man.
When interviewed, the jurors said that they thought that there was "a little something off" with Shkreli, and that he was certainly his own worst enemy, but they agreed that he knew right from wrong, knew what he was doing.

Not convinced that he had intended to defraud Retrophin or his investors, they acquitted him on the most serious count, but found him guilty on other counts after an orderly deliberation unmarred by the violent arguments and dissensions that often plague juries.
So much, it would seem, for the bad boy of pharmaceutical finance.

His sentencing is scheduled for the fall, and in the meantime he is free on bail, live-streaming and tweeting and being his deliciously obtrusive self.

As for Club Fed, before he sees its confines, I suspect that his attorneys will find ample grounds for appeal.
But if you think that, prior to sentencing, this is the end of the story, you don't know Martin Shkreli. On Thursday, September 7, federal prosecutors filed a motion with Judge Matsumoto to revoke his bail because he poses "a risk of danger to the community." His offense? On Tuesday, September 5, he published a post on Facebook urging people to grab a hair from Hillary Clinton, who is currently on a book tour; he promised to pay $5,000 per hair so obtained. The Secret Service, whose duty it is to protect Mrs. Clinton, a former First Lady, took the post seriously, fearing that some people would take Shkreli up on his offer, hence the request to the judge. Shkreli soon added a line to his post saying his offer was satire and then, having promised his lawyer and the Secret Service that he would do so, deleted the post altogether. On Thursday, September 7, he insisted on Facebook that "it was just a prank, bro," then later posted, "Come at me with your hardest because I haven't seen anything impressive yet." Come at him they have, and surely will again. Will the irrepressible Martin Shkreli serve time in jail, either before or after his sentencing? The judge will rule on the prosecution's motion on September 13. Stay tuned.
Addendum 9/14/17: At the hearing on September 13 Mr. Shkreli's lawyer granted that his client's posts showed "immaturity, satire, a warped sense of humor," but argued that "stupid doesn't make you violent." But Judge Matsumoto ruled that the posts in question could be perceived as a true threat, and noted that a solicitation to assault in exchange for money is not protected by the First Amendment. Indeed, some idiot might take the joke seriously and act accordingly, to the detriment of Hillary Clinton's hairdo. The judge then revoked his bail, and two deputy U.S. marshals escorted the perpetrator to a holding cell adjoining the courtroom, pending his transfer to a federal jail in Brooklyn. No more tweets from Mr. Shkreli, but I doubt if this is the end of the story. He is, after all, irrepressible.
All books are available online as indicated, or from the author.
1
. No Place for Normal: New York / Stories from the Most Exciting City in the World
(Mill City Press, 2015).
Winner of
the Tenth Annual National Indie Excellence Award for Regional Non-Fiction; first place in the Travel category of the 2015-2016 Reader Views Literary Awards; and Honorable Mention in the Culture category of the Eric Hoffer Book Awards for 2016. All about anything and everything New York: alcoholics, abortionists, greenmarkets, Occupy Wall Street, the Gay Pride Parade, my mugging in Central Park, peyote visions, and an artist who made art of a blackened human toe. In her Reader Views review, Sheri Hoyte called it "a delightful treasure chest full of short stories about New York City."
If you love the city (or hate it), this may be the book for you. An award winner, it sold well at BookCon 2017.
Review
"If you want wonderful inside tales about New York, this is the book for you. Cliff Browder has a way with his writing that makes the city I lived in for 40 plus years come alive in a new and delightful way. A refreshing view on NYC that will not disappoint." Five-star Amazon customer review by Bill L.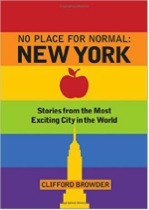 2. Bill Hope: His Story (Anaphora Literary Press, 2017), the second novel in the Metropolis series.
New York City, 1870s: From his cell in the gloomy prison known as the Tombs, young Bill Hope spills out in a torrent of words the story of his career as a pickpocket and shoplifter; his brutal treatment at Sing Sing and escape from another prison in a coffin; his forays into brownstones and polite society; and his sojourn among the "loonies" in a madhouse, from which he emerges to face betrayal and death threats, and possible involvement in a murder.
Driving him throughout is a fierce desire for better, a persistent and undying hope.

For readers who like historical fiction and a fast-moving story.
Reviews
"A real yarn of a story about a lovable pickpocket who gets into trouble and has a great adventure. A must read." Five-star Amazon customer review by nicole w brown.
"This was a fun book. The main character seemed like a cross between Huck Finn and a Charles Dickens character. I would recommend this." Four-star LibraryThing review by stephvin.
3. The Pleasuring of Men (Gival Press, 2011), the first novel in the Metropolis series, tells the story of a respectably raised young man who chooses to become a male prostitute in late 1860s New York and falls in love with his most difficult client.
What was the gay scene like in nineteenth-century New York? Gay romance, if you like, but no porn (I don't do porn). Women have read it and reviewed it. (The cover illustration doesn't hurt.)
Reviews
"At times amusing, gritty, heartfelt and a little sexy -- this would make a great summer read." Four-star Amazon customer review by BobW.
"Really more of a fantasy of a 19th century gay life than any kind of historical representation of the same." Three-star Goodreads review by Rachel.
"The detail Browder brings to this glimpse into history is only equaled by his writing of credible and interesting characters. Highly recommended." Five-star Goodreads review by Nan Hawthorne.
Available from Amazon and Barnes & Noble.
Coming soon
:

That old New York institution, the saloon.