Yes, cupcakes, jacaws, Pyrenees brebis, and much, much more. This came to mind recently when, on WBAI (which is currently in the throes of another of its interminable fund drives), I heard nutritionist Gary Null interrupt a spiel on health and nutrition to affirm that, in his opinion, New York City has never been a more interesting place to live in or visit than right now, because of the amazing diversity of fascinating little shops to be found here. So I began cataloguing all the little shops, past and present, that I have known, and I was amazed at their number and diversity. Hence this post.
Cupcakes? Yes, of course, right downstairs in my building, where on the ground floor the Magnolia Bakery of "Sex and the City" fame still flourishes, offering gooey goodies that multitudes flock to consume, some of them sitting on our doorstep as their greedy jaws chomp in unison – a hilarious sight to see. Having mentioned the Magnolia before, I won't linger, but I want to report that my partner Bob and I finally, after all these years, have tasted of its viands. Janice, a kayaking nun of our acquaintance, came recently to see us and brought us two cupcakes, one vanilla and one chocolate. Bob chose the chocolate, so I consumed the vanilla and, even though I haven't much of a sweet tooth, had to confess it was delicious. And when I asked Bob how he found the chocolate, he answered in one word: "Divine." So the Magnolia hasn't lost its touch. No wonder Janice is taking a bunch of cupcakes back to the Sisters of Mercy in New Jersey who, when not fending off the Vatican and performing good works, are entitled to a bit of indulgence. And what a plug for Magnolia: Even nuns adore our cupcakes! And as a further sign of the Magnolia's raging success, I'll add that they even sell T-shirts, jars, cookbooks, aprons, a cake knife, and eco-friendly bags.
joe goldberg
A macaw. Not the quietest of neighbors.



Ruth Rogers
Having been in the building for decades, Bob and I know of the Magnolia's
predecessors in that highly prized location on the corner of Bleecker and West 11
th
Street. Before the cupcakes, it was birds: macaws, parakeets, cockateels, and parrots. Run by a Wall Street insurance broker, Bird Jungle occupied the site for years and attracted a host of visitors fascinated by the birds' gorgeous plumage and, in some cases, their ability to talk. One blue-and-gold macaw enthralled visitors with its litany of ten words in Polish, acquired from its previous owner, a Polish businessman who had to part with it when he returned to Poland. The birds chattered cheerfully during the day, but a friend who lived above the store complained that, when they were fed at 6 a.m. every morning, their chorus of squawks and shrieks and jabbering jolted him awake and cost him sleep. For Bob and me, high up on the top floor, their matutinal chitterings were muted to a soft symphony of sounds that bothered us not a whit.
And before the birds? A series of shops, most of whom I've forgotten. But not one: a clothing store, as I recall, that wasn't there long. One afternoon I came home to find a cluster of police cars parked nearby. Such things happen often in the city; I shrugged and went on up to the apartment. But the next day I learned, albeit via hearsay, what had happened: the shopkeeper had hanged himself in the back of the store. Why? He had just moved there from a nearby location that had been destroyed by a fire; having no fire insurance, he had evidently succumbed to depression. And I do emphasize "evidently," having no way of verifying. In a vast city like New York, news items that would be featured in a small town press are never reported in the papers, unless there is a neighborhood weekly on the scene. Not a cheerful memory, but one hopefully effaced by the jabbering birds, followed by the feast of cupcakes delicious and divine.
Nest door to the Magnolia is another ground-floor shop that also belongs to my building. There the turnover has been great: one shop after another, presumably because you either make it there and make it big, or the high rent drives you out. And since Marc Jacob moved in across West 11th Street, inaugurating the new phase of Bleecker Street and the invasion of pricey designer clothing stores, those high rents have skyrocketed, driving out two restaurants of our acquaintance and other humble renters as well, no doubt. So what courageous and adventurous enterprise dares to occupy 399 Bleecker Street now, in close proximity to the enduring Magnolia? The answer is Bond No. 9.
And what is Bond No. 9? Until the Sunday before last, I hadn't the slightest idea. Coming back from lunch with our perennial Sabbath visitor, John, I happened to walk by no. 399 and observed, nicely arranged in its window, an array of small bottles identical in shape, but each one strikingly distinct. "Making scents of New York" proclaimed the logo, so I concluded – correctly, that these were perfumes. Perfumes are for me terra incognita, a vast hinterland of knowledge that I have never ventured to explore. Why, then, did I go in, knowing full well that I had no intention of buying? Probably some obscure intimation that this might be the beginning of a post on New York shops, the fact that the shop – so unlike the crowded bakery next door – was for the moment devoid of customers, and an awareness that the bottles conveyed unmistakably an impression of New York chic.
Bond No. 9
I at once identified myself as an upstairs neighbor and was greeted cordially by two sleek and chic young people, a young man with a scarf around his neck and a young woman whose dash of bold red lipstick suggested the slash of a stiletto across her face. They were most cordial and welcoming and introduced themselves by their first name. A short conversation followed, during which I mentioned my blog and the possibility of a post on shops that would certainly include Bond No. 9, in which case I would surely stick my nose in again. When I asked for a brochure or something that would identify the shop, they gave me a small circular tag proclaiming the name of the store and its motto (Making scents of New York), with the address of a series of stores on the back.
By now I was hooked enough to seek out the Bond No. 9 website, where I learned a passel of facts. "Bond No. 9," the name of their fragrance collection, is also the address of their headquarters boutique at 9 Bond Street, Manhattan. They take pride in announcing that their perfume collection has been launched as an homage to the city of New York, and that many scents are meant to convey the essence of a New York neighborhood – certainly a novel and arresting innovation. On the website, as in the window of their Bleecker Street store, are a large number of perfumes in svelte bottles identical in shape but each with a different color: New York Sandalwood, New York Patchouli, Riverside Drive, West Side, Manhattan, and so on. So I decided to investigate So New York, a phrase I often use ("That is so New York!"), and of course Bleecker Street, which their staff whom I talked with describe as their most popular scent, while giving me a free sample on my second visit. Here's how these two perfumes are described:
So New York
A whiff of New York's consuming passion above-all-else for chocolate desserts and frothy lattes. For sensualists of sweets, a grown-up perfume liqueur doused with bittersweet espresso and warm-milk accords, plus a hint of spice.

Bleecker Street
Art, fashion, seduction, and dessert in liquid form. A warm and sensual aphrodisiac that glides from day into evening.
But for Bleecker Street, that's just the beginning. A Bond No. 9 press release explains that they were quick to create a perfume suiting Bleecker Street, once that thoroughfare became a designer hotspot. Their scent consists of vanilla (a salute to the Magnolia cupcakes next door, but also an ingredient famed for its aphrodisiac powers), cassis, caramel, cinnamon, thyme, aromatic woods, musk (for warmth and sensuality), and patchouli (another fabled aphrodisiac). To which they add: "Spritz at your own risk, or give it to someone who knows the score."
Enticing as the perfume is, this resident of Bleecker Street isn't sure that the street itself is sensual and glides from day into evening. Nor are these scents for everyone's budget; a 100 ml flask of Bleecker Street goes for $280.00, and a mere 50 ml flask for $205.00. But my partner Bob, much more knowledgeable about perfumes than I am, assures me that such prices are not out of line for a really fine product. So take your pick, denizens of Brooklyn, Manhattan, or wherever; there is a scent for you. And for those who don't live in or near New York, the Bond No. 9 collection is also available in Vancouver, Montreal, Dubai, and elsewhere abroad.
Having lived on West 11th Street for decades, of course I remember Bleecker Street shops of the past, as for instance:


The Victorian jewelry shop in front of whose window I could linger for ten or fifteen minutes at a time, eyeing the lavish display of necklaces or rings or brooches, all in rare profusion. The proprietor behind the counter inside was often heard to exclaim, "You're just the kind of customer we like. You don't buy, you just want to look!"
The shop with fine old prints that never seemed to attract customers, presumably because of the high prices. Then once I heard, I don't know from whom, how a moneyed gent had breezed in one day, eager to find a unique Christmas gift for each of his relatives, and bought some twelve or fifteen prints, thus paying the shop's rent and other expenses for the next three months.
The used bookstore once located where Bond No. 9 now is, with shelves and stacks of old books, and a shopkeeper who sat quietly well into the night, reading. If someone came in to browse, that was fine by him, and if no one came in, that was all right, too. If a browser bought, that was also fine; if a browser didn't buy, that wasn't a problem either. For him, the store was more hobby than business. But I did go in and browse once, and almost immediately found a book I desperately needed but wasn't looking for: an English translation of Lucretius' De rerum natura (On the Nature of Things), a philosophical opus I was trying – and I do say trying – to read in Latin. Ah, those were the days!


But this city's fascinating little shops are by no means confined to Bleecker Street. Going to vote last Tuesday, returning along Hudson Street I found the following:
First, Spa Belles, offering manicures, waxing, facials, and more, plus the assurance that "les ongles peuvent tout avoir" (fingernails can have everything), whatever that may mean.
Next, Belly Dance, selling maternity outfits on manikins of the appropriate shape.
And finally, right next door to Belly Dance, The End of History, offering "20th century glass, ceramics, lighting, and furniture," with a window display of lamps, ceramic vases, and a huge glass globe of the world, the prices of which, though of course not stated, would probably be the end of your budget. But there's no denying the quality of the decorative objects on display. Their blog mentions vintage hand-blown glass and mid-century modern furniture, and provides illustrations of an Indian chair inlaid with mother of pearl, a Danish lidded jar of the 1930s with classical nudes, a mid-century bust of the Buddha from Italy, a pair of black ceramic bottles with rattan detail also from Italy, a pair of French Art Deco gilt bronze lion bookends, and countless other items.
A chair from India, Regency style, inlaid
with mother of pearl, mid-20th century.
The End of History
A ceramic lidded jar with classical nudes
in Persian glaze, from the Danish studio
of Michael Andersen, 1930s.
The End of History
Black ceramic bottles with rattan detail, made in
Italy by the importer and distributor Raymor, 1950s.
The End of History
For unusual greeting cards, you can't do better than the House of Cards & Curiosities at 23 Eighth Avenue, which my friend John introduced me to. Besides cards, the window offers several antlered deer heads, figurines of dancing skeletons, and a facsimile of a human skeleton, suggesting that this is a very special kind of card shop. Inside you find a tiny, cluttered shop with an amazing variety of cards, some seasonal and some not, but always exceptional, devoid of clichés, at the antipodes from Hallmark cards. Yet however taken with the cards you may be, you should also glance at the shelves overhead, where you will encounter an alleged dinosaur tooth, a phrenology head, and a framed butterfly, real or fake, with wings of dazzling blue. For a friend in an upstate nursing home I picked out a card with a Japanese print of a peacock, a dazzling work of art that I knew she wouldn't casually discard but would more likely post somewhere for all to see. But they also have Mexican Day of the Dead figures – ladies with grinning skulls and elaborate hats – and skeletal folk art from all over Latin America and Asia. And on a lighter note there are gift bags and boxes featuring Winnie the Pooh and Mickey Mouse, plus ribbons, frames, stationery, Whoopie Cushions and Cursed Cookies (whatever those may be), and even handmade papers from Tibet. And if this last isn't exotic enough, how about some fossil ivory carvings from Bali? But if, like me, you just want some beautiful and unusual greeting cards and don't mind the cost, you'll find plenty to choose from. And at the counter where you pay, you'll find Schadenfreude Mints, "as delicious as other people's misery."
Let's now venture a little farther east on Bleecker Street, crossing Seventh Avenue and leaving the high-fashion, high-rent stretch of designer clothing stores behind. And so we come (or used to come) to Aphrodisia Herb Shoppe at 264 Bleecker Street, whose awning proclaimed it "an experience in herbs, spices, and essential oils." A cat, or sometimes two cats, sprawled lazily in the window, while lining the shelves inside were large glass jars with every kind of dried herb or spice you could think of, many of them in more than one form. Sassafras, for instance, was available as bark, leaf, or tea. Once when I phoned to ask if they had vanilla, the proprietress, Joann Pelletiere, asked what kind of vanilla, since she had it in at least four forms; I explained that I wanted it in liquid form for baking, which turned out to be extract of vanilla. I used to go there periodically and select the herbs and spices I needed, putting each in a little paper bag that she would weigh at the counter and then total the cost of my purchases. In the course of my shopping I garnered whiffs of sage, rosemary, and thyme (the so-called Thanksgiving herbs), then a dash of black pepper, a rich hint of cloves. Ms. Pelletiere was a knowledgeable woman, and I once heard her say to another customer, "Well, they used to call us witches and treated us accordingly." So she felt bonded with the Wise Ones, the women healers and midwives of centuries back, whose knowledge of healing could either enshrine them or imperil them, depending on the mood of the society they lived in.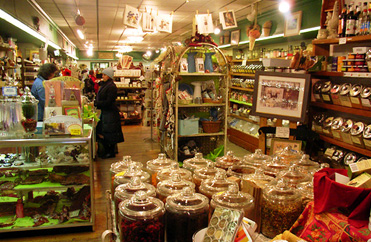 Hearing those words, I at once thought of my friend Lilith (no, I'm not making that name up), who when her children were grown and gone embraced the profession of healing. She told me how she had gone all the way to distant Oaxaca, Mexico, to learn from a renowned Zapotec healer. Since the woman spoke no Spanish, much less English, and Lilith spoke no Spanish, at first they needed two translators; what the woman said was translated from Zapotec into Spanish, and then from Spanish into English. But after two days, Lilith said, there was such rapport between her and the healer that they dispensed with both translators. This digression takes us far from Aphrodisia, but I couldn't resist: the tradition of women healers is alive and well today.
I regret to add that Aphrodisia, at 264 Bleecker since 1969, shut its doors earlier this year because of a drastic increase in rent. Ms. Pelletiere left a note saying that she hoped to relocate at another address, but so far that apparently hasn't happened. So farewell, at least for now, to a memorable New York shop that was legendary in its time.
Just down the street from Aphrodisia's location is another New York legend, Murray's Cheese Shop at 254 Bleecker, which is still very much a going concern. I have never visited Murray's, but a friend of mine from North Carolina recently did and showed me the exotic cheeses he had bought there, a small chunk of each, neatly wrapped. I don't recall the names of the cheeses, but they were cheeses I had never heard of, didn't know existed. The website offers such temptations as Vermont creamery mascarpone, bleu du bocage, cabra romero, rogue creamery smokey blue, young goat gouda, and Irish cheddar, some of them cave-aged, with color photos to whet your interest. Their cheeses come from the U.S., France, Italy, Spain, the United Kingdom, Ireland, Switzerland, the Netherlands, Germany, Austria, and Greece. And to spread the word about them, they offer classes and sponsor monthly clubs. Who could resist learning more about, and consuming, items like these (illustrations courtesy of Murray's):
Robiola foglie di fico.
Pyrenees brebis.
Goat log trio.
I have vowed never to set foot on these hallowed premises, since as a vegan I can easily do without meat, but cheese is a potent temptation. But there are risks as well. Years ago a friend told me how he and some others visited a famous cheese shop – quite possibly Murray's -- and sampled any number of cheeses; coming back on the subway, their breath so reeked of cheeses that other passengers were quick to move away from them.
A store that I have just visited for the first time is Three Lives bookstore at 154 West 10th Street, which, like all the others mentioned in this post, is within easy walking distance of my apartment. Dating from 1968, Three Lives calls itself "a haven for people who read," "an anachronism," and "the shop around the corner." Despite competition from the big chains and the Internet, Three Lives, unlike so many little bookstores, has survived, a place where the staff love to read and talk about books, and one that the Greenwich Village Historical Society has hailed as "a pocket of civility." When the current owner, Toby Cox, was asked once if there was anything new going on at Three Lives, he wrinkled up his nose and replied, "No. I guess the new thing I'm trying to do is to do nothing at all."
On the basis of my recent visit, I concur in all the above. It is a charming little store with books displayed everywhere. At first you think there is no order, but then you realize that there are sections: New York, cooking, LGBT, mysteries, travel guides. Only with great effort did I resist buying, being well aware that our apartment is overloaded with books, some of which we are determined to sell. In what must be the how-to section I saw How to Sit and How to Eat by Thich Nhat Hanh, a Zen Buddhist monk now living in France, who seems to be a master of everything. But close by were How to Be Alone and How to Deal with Adversity, right in the old American tradition of How to Win Friends and Influence People.
The book -- or rather books, since there are six of them -- that should have tempted me, but didn't, is Karl Ove Knausgaard's My Struggle, an autobiographical series of six novels about his private pleasures and dark thoughts, of which he seems to have a lot, as the series is 3,600 pages long. Since the first volume's publication in 2009, My Struggle has sold close to 500,000 copies in Norway, or one copy for every nine Norwegian adults, and has been been translated into 22 languages. A literary sensation, obviously. My partner Bob's Norwegian doctor recommended it, disclaiming any chauvinistic bias, while likening it to Proust's multivolume autobiographical epic. So why have I held back? First, the price: volumes 1 and 2, available at Three Lives, cost $16.00 each, which, if the work should grab me, would commit me to an outlay of $96.00 in all, once the other volumes appear in English. Also, 3,600 pages sound like the endeavor of a lifetime. (Which Proust's work could also be considered to be.) And the title, so reminiscent of Hitler's Mein Kampf, and even more so in Norwegian: Min Kamp. Also, the author's photograph: a hard-faced, hirsute character with a long tangle of hair who looks like he was born to brood and snarl. No wonder some of his family tried to prevent publication, protesting the book's insinuations and lies, which probably helped boost sales in Norway. And his name: Knausgaard sounds harsh and aggressive to the ear. But thanks to Three Lives this author, hitherto unknown to me, has certainly made an impression.
The catchiest title that I saw: There Once Lived a Mother Who Loved Her Children, until They Moved Back In. The lament of an American mom in the wake of the Great Recession? Not at all. Three novellas by Russian author Ludmilla Petrushevskaya, available in English translation. No question, Ms. Petrushevskaya has a knack for catchy titles; other translated works by her include There Once Lived a Girl Who Seduced Her Sister's Husband, and He Hanged Himself: Love Stories, and There Once Lived a Woman Who Tried to Kill Her Neighbor's Baby: Scary Fairy Tales. Her post-Soviet Moscow must be just as weirdly stimulating as my New York, though perhaps bleaker. These are dark tales, yet her photograph shows her to be the opposite of Knausgaard in appearance: a grandmotherly type with the nicest smile who surely wouldn't harm a fly, much less kill her neighbor's baby. And her name, once you master the pronunciation, is almost musical -- quite the opposite of Knausgaard. And she sings. Literally: she gives concerts.
Titles that sorely tempted me: Greenwich Village Stories (since I live there) and Garlic (since I use it every day), though with great effort I resisted. But I'll be back for sure, having rediscovered the joy of browsing in a real bookstore, a small one with dedicated and friendly employees, where you discover books and authors you didn't know existed.
Book lovers of the world, forget about Barnes & Noble and Amazon and head for Three Lives; you will be cordially and comfortably received.
Coming soon: More shops, some of them naughty or illicit: West 4th Street Shops: Bongs, Gongs, and Thongs, plus a Killing.