It's here at last! Release date January 5, 2018, but copies are now available from the author. Adult and young adult. A fast-moving historical novel about New York City and the slave trade, with the sights and sounds and smells of the waterfront. Excerpts will follow soon.
Having trouble reading the fine print of the blurb? Of course you are. So here it is in bigger print:
New York City, late 1860s. When young Chris Harmony learns that members of his family may have been involved in the illegal pre-Civil War slave trade, taking slaves from Africa to Cuba, he is appalled. Determined to learn the truth, he begins an investigation that takes him into a dingy waterfront saloon, musty old maritime records that yield startling secrets, and elegant brownstone parlors that may have been furnished by the trade. Since those once involved dread exposure, he meets denials and evasions, then threats, and a key witness is murdered. Chris has vivid fantasies of the suffering slaves on the ships and their savage revolts. How could seemingly respectable people be involved in so abhorrent a trade, and how did they avoid exposure? And what price must Chris pay to learn the painful truth and proclaim it?
And now, on to why I love New York.
There are lots of reasons to hate New York.

For instance:
·
It's in your face, blunt.
·
The rents are stratospheric.
·
The infrastructure is crumbling: broken water mains cause floods, and broken gas mains explode and destroy whole buildings.
And so on, and so on.

In short, it's not gentle, restful, subtle, snug, discreet.

Guilty on all counts.

(I don't add "rude," having disposed of that myth in post #175.)

But I still love it; here's why.
I love New York, first, for its intensity.

You sense it in those multitudes of New Yorkers striding purposefully to work, those streams of them converging in subway stations like Union Square and Times Square, where several subway lines meet.

You might think that those streams would collide, with confusion and injury to all, but no, somehow they manage to pass one another without damage.

A visitor might well be intimidated by the spectacle, but these converging masses are simply what New York is all about: hordes of highly motivated New Yorkers on their way to work or to some meaningfully activity.

Upon first visiting the city, a friend of mine exclaimed, "The pace of New York!"

She knew Boston and had just visited Washington, D.C., but New York was something else again.
New Yorkers are doers; they want to do, to accomplish, to achieve.

And it's always been that way.

Already in the 1830s visitors were reporting that the typical New York merchant walked as if he had a good dinner ahead of him and a passel of creditors behind him.

From its very founding by the Dutch, the city was a place where people came to do things, to trade with the native peoples, to acquire the furs that were so in demand in Europe – above all, beaver for the men's top hats then in fashion.

It was a place to trade, to scheme, to acquire, to make money … and it still is.
Schuyler Shepherd
My latest encounter with the city's intensity came recently when I attended a college alumni gathering in Midtown. At about 6 p.m. on a Thursday I got off the subway at Times Square, but that was not my destination, though it seemed to be everyone else's. The crowds crossing the street were thick, and the Times Square lights flickered and flashed and blazed. I went on to my event on 43rd Street near Fifth Avenue, but coming back some two hours later I found hordes of people still surging along 42nd Street between Sixth Avenue and Times Square. Passing some Christians quietly offering their Bibles and messages of faith to the unresponsive Great Unwashed, I flashed them a smile and reaped some smiles in return. There were sidewalk vendors and beggars, and a man wearing a strange face mask who drew a large crowd as he busily concocted something, I couldn't figure out what. Nearby, a man lay asleep on the sidewalk, seemingly oblivious of the passing crowds, and farther on I saw a huge mass of discarded cardboard bundled for recycling, including one placard proclaiming SALE. Before retreating into the subway, I took a quick glance at Times Square and the huge light show perennially on display, with beams of light soaring skyward and a big screen saying CHASE CHASE CHASE, the name of my own dear bank. If New York is intense, the Times Square area is a hub of that intensity.
I love New York, second, for its diversity.

If you go out on errands, you may hear Spanish, Chinese, French, German, Italian, Russian or some other Slavic language, Korean, Japanese, and who knows what else?

You may see a woman in a sari, a bearded man in a turban, a bunch of giggling young girls wearing head scarves, African-American women with their hair done up in a bun on top, a woman in a burka with only her eyes visible, dark-suited Orthodox Jews with long, curly sidelocks, and women of various ethnicities wearing granny skirts or miniskirts or pants suits or whatever other style happens to be in vogue.

And when my health insurance outfit sends out a statement, it includes a notice offering free language assistance services in fifteen languages other than English.

No wonder, since it is believed that some 800 languages are now spoken in the city, including 138 alone, as reported in the 2000 census, in the most diverse borough, Queens.

Among those in Queens, for instance, are Tamil, Sherpa, Tlapaneco, Ibanag, Maranao, Tontemboan, Tzotzil, and Basa Ugi.

Basa Ugi, anyone?
chensiyuan
Alex Proimos
Crunkitoonz
There have never been more languages spoken in the city than now, but the city was a mix of peoples right from the start.

Back in Dutch New York – or, properly speaking, Nieuw Amsterdam – there were Dutch and English residents, Norwegians, Germans, Italians, Danes, Jews, Africans (both slave and free), Walloons, Bohemians, and Munsees, Montauks, Mohawks, and other native peoples.

And besides honest fur traders there were pirates, prostitutes, smugglers, thieves, and every conceivable kind of hustler out to make a quick buck, or rather a quick guilder.

New York has always been a mecca for hustlers, and surely always will be.
But a mecca for those fleeing oppression as well.

Among the inhabitants of Nieuw Amsterdam were refugees from New England, fleeing the dour and repressive Protestantism of those colonies, where even dancing around a Maypole and drinking beer was termed the "beastly practices of ye mad Bacchanalians" and repressed.

In the eighteenth century there was a synagogue for Sephardic Jews, who had been expelled from Spain by their Catholic Majesties Ferdinand and Isabella, and a church for Huguenots who had fled France after His Solar Majesty Louis XIV, the Most Christian King of France, revoked the Edict of Nantes in 1685, thus depriving Protestants of protection from persecution.

And the city's population today includes Catholics (at the top of the heap), evangelical and mainstream Protestants, Jews, Jehovah's Witnesses, Mormons, Orthodox, Muslims, Buddhists, Hindus, Sikhs, other tiny groups, a vast deal of Unaffiliateds, and a handful of Don't Knows.
And in the Dream Street Park on East 124th Street between Second and Third Avenues in East Harlem, a
grassy little park used by locals as a dog run, there is a wrought-iron gate displaying a large reddish heart with curlicues that some identify as a symbol used to summon the spirit Ezili, the voodoo goddess of love. How the symbol got there is a mystery, but Ezili requires rum, animal sacrifices, and blood to conjure her power, which suggests strange doings in the neighborhood. Yes, diversity. Where but in New York?
Third, I love New York for its creativity.

Walk down the street – any street – and you will see graffiti, some of them clumsy and coarse, but others with a distinct artistic flair.

Back in the 1970s the city was afflicted with subway cars sprayed over with graffiti, some of them true works of art.

The New York City Transit Authority vowed to eliminate the graffiti, and so it did, in the 1980s, through increased surveillance and security, but in so doing, in purifying the cars of these polychrome outpourings of ego-driven urban ghetto youth, it made the city more orderly, more drab.
Graffiti, 1973.
Graffiti, 2015.


Beyond My Ken
But the city's creativity produces more than graffiti.

The Gay Pride Movement got started here, as did Occupy Wall Street.

The Union Square Greenmarket is the granddaddy of them all throughout the country, and the city itself now hosts 23 greenmarkets in Manhattan, 5 in the Bronx, 7 in Queens, 13 in Brooklyn, and 2 in Staten Island, for a total of 50.

Central Park, a vast expanse of green in the very heart of congested Manhattan, was nineteenth-century New York's great creation, albeit at the price of driving out squatters and eliminating a whole little village of African Americans (creation always comes at a price).
Architecturally, New York has produced both monstrosities and wonders.

The monstrosities include those big glass boxes of high-rises that especially afflict the East Side of Manhattan, clunky outbursts of modernism, uninspired, that I could do without.

Perversely, I might add two

personal dislikes.

The National Maritime Building on Seventh Avenue, far too close to where I live, is an oddball shiplike structure that makes me seasick, though now mercifully converted into an emergency room and medical care center that at least serve the public.

And the newly perpetrated New School University Center at Fifth Avenue and 14th Street is a 16-story multipurpose brass-and-glass horror that afflicts my eye every time I pass it on a bus, though its interior no doubt serves worthy educational purposes.

And if these be monstrosities, and I insist that they are, they are nonetheless evidence of the city's fierce creative urge.
Countering these eccentricities are wonders like the tragically demolished massive grandeur of the Penn Station of yore, and the miraculously preserved Grand Central Station of today, its little-looked-at south-facing façade on 42nd Street a gem of Beaux-Arts inspiration, with a giant clock surrounded by Minerva, Mercury, and a heroic near-naked Hercules, sculptures representing the Glory of Commerce while presiding over the commuting hordes below that are contentedly unaware of their presence.

To these wonders I would add the Art Deco magnificence of Rockefeller Center, and the haunting nighttime beauty of Lincoln Center, with all its great halls illuminated, and its fountain lit up and gushing gently in the middle of the plaza.
The Sky Building on West 42nd Street, 2017. Not a big clunky box.


Godsfriendchuck
And to show that I'm not totally old fogyish and resistant to change, I'll add the glory of certain sky-stabbing Midtown high-rises, tall and lance-like thin, and certainly pricey, now casting svelte shadows onto Central Park.

This latest phase of high-rise construction at least departs fiercely from the boxy glass chunks of yore.

Especially striking is the high rise at 53 West 53rd Street, now known as the MoMa Expansion Tower (a junky name) and formerly and more imaginatively as the Tower Verre (verre = "glass" in French).

This new neighbor of the Museum of Modern Art sends its soaring faceted exterior upward to taper in a set of glass pinnacles.

Designed by the renowned French architect Jean Nouvel, it has been called innovative, exciting, even a "scream for freedom" from the confinements of the modern architectural grid.

Which goes to show that the creativity of New York can be an international undertaking, and that includes financing as well.
Another example of unsettling creativity can be found on West 11th Street not far from my building, where a glance skyward reveals the Palazzo Chupi.

This is a

monstrous superstructure of Italian-style loggias in Pepto-Bismol pink, its five luxury residences plunked down on four unpretentious lower floors that once housed a stable and a factory.

Yes, it's a horror, but at least an interesting one, and not a humdrum repetition of those boxlike high-rises afflicting the Upper East Side.

The brainchild of Brooklyn-born painter and filmmaker Julian Schnabel, it's as big as his ego.

Blazoned high above the street, its name baffled many and invited diverse interpretations, until it was revealed that "Chupi" is Schnabel's nickname for his Spanish Basque wife.

At first the palazzo horrified me, but its blatant pink has softened with the years, and I've come to see it as a deliciously flagrant example of New York creativity run wild.

It's too tall, too egregiously Mediterranean for the West Village, whose historical district ends just short of it, but if you don't look up, you won't even know it's there.
Palazzo Chupi


Beyond My Ken
I could go on about the city's creativity – fashion, the arts, the writers -- but I think I've made my point.

So now I'll link these aspects of New York in an equation:
INTENSITY + DIVERSITY = CREATIVITY = NEW YORK
Because it all works together.

Intensity combines with diversity to produce the creativity that is New York.

And that's why I love the city.
All books are available online as indicated, or from the author.
1
. No Place for Normal: New York / Stories from the Most Exciting City in the World
(Mill City Press, 2015).
Winner of
the Tenth Annual National Indie Excellence Award for Regional Non-Fiction; first place in the Travel category of the 2015-2016 Reader Views Literary Awards; and Honorable Mention in the Culture category of the Eric Hoffer Book Awards for 2016. All about anything and everything New York: alcoholics, abortionists, greenmarkets, Occupy Wall Street, the Gay Pride Parade, my mugging in Central Park, peyote visions, and an artist who made art of a blackened human toe. In her Reader Views review, Sheri Hoyte called it "a delightful treasure chest full of short stories about New York City."

If you love the city (or hate it), this may be the book for you. An award winner, it sold well at BookCon 2017.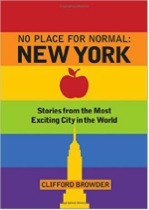 2. Bill Hope: His Story (Anaphora Literary Press, 2017), the second novel in the Metropolis series.
New York City, 1870s: From his cell in the gloomy prison known as the Tombs, young Bill Hope spills out in a torrent of words the story of his career as a pickpocket and shoplifter; his brutal treatment at Sing Sing and escape from another prison in a coffin; his forays into brownstones and polite society; and his sojourn among the "loonies" in a madhouse, from which he emerges to face betrayal and death threats, and possible involvement in a murder.
Driving him throughout is a fierce desire for better, a persistent and undying hope.

For readers who like historical fiction and a fast-moving story.
For two new LibraryThing reviews of Bill Hope:
His Story,
go
here
.
3. The Pleasuring of Men (Gival Press, 2011), the first novel in the Metropolis series, tells the story of a respectably raised young man who chooses to become a male prostitute in late 1860s New York and falls in love with his most difficult client.
What was the gay scene like in nineteenth-century New York? Gay romance, if you like, but no porn (I don't do porn). Women have read it and reviewed it. (The cover illustration doesn't hurt.)
For Goodreads reviews, go here. Likewise available from Amazon and Barnes & Noble.
Coming soon
: Wild, Crazy Dancing. Me and the lindy hop, the Conga line, the Charleston, and other crazinesses, plus King David, the drunken Maenads, Shiva, and the whirling dervishes.