Did you know that New York City, that supposed citadel of liberalism and progressive ideas, was the center of the illegal pre-Civil War slave trade, taking slaves from Africa to Cuba? Many in the city didn't realize this, but those on the waterfront knew. More about this soon.
And now, on to the Waldorf and its latest phase.
It was just by chance that I noticed the tiny squib of an ad in the lower right corner of the last page of the
New York Times
Sunday Business section of June 25, 2017:
1000 ROOMS – 1000 ROOMS – 1000 ROOMS
(10) Kitchs Fully Loaded w/All Refrigs & Cooking Equip, (1000's) Pieces
Smallwares, (10) Walkin Boxes, (100's) Racks, Too Much To List, Rooms
Incl. Suites, Singles, Doubles, Etc.
DO NOT MISS THIS SALE!
BY APPOINTMENT ONLY – CALL AUCTIONEER
And this reproduction of it enlarges the print and makes it more conspicuous than it was.
I was shocked. Were the furnishings of the rooms of the fabulous, legendary, illustrious Waldorf Astoria Hotel of Park Avenue being auctioned off? And the sale announced here where only veteran auction seekers would think to look for it, squeezed in between a Large Like New PIZZA RESTAURANT and a Fully Equipped FISH MARKET?
The Waldorf, with St. Bartholomew's Episcopal church in the foreground.


Reading Tom
Alas, it was only too true. A Times article of February 25, 2017, was captioned End of an Era Looms as Waldorf Astoria Prepares to Close for Renovations. And under this banner caption, in less bold type: "A Storied Hotel, / Now a Bit Shabby." The Waldorf, shabby? Another shocker. Time wreaks its havoc on us all, but it had never occurred to me that the Waldorf might yield to its ravages.
The Park Avenue entrance in 2008.


Jordi Sabaté
In 2014 the hotel's owner, Hilton Worldwide Holdings, sold it for the stratospheric price of $1.95 billion (yes: billion) to the Anbang Insurance Group, a Chinese company with ties to Beijing's ruling elite. Which in itself is enough to revive desperate warnings of the land of the free threatened by the insidious Yellow Peril. Admittedly, patrons staying there in recent years have noticed worn carpeting, scratched and dented room furniture, and less than stellar food, so it's not surprising that the new owners are undertaking major renovations. But the hotel is being shut down for two or three years for what amounts to a radical transformation, since it will reopen as a smaller hotel with more apartments. The Waldorf Towers, accessed through a separate entrance, has been a suites-only address with longtime residents ever since the Waldorf opened in 1931, but now there will be more apartments in the form of condominiums, though how many, and at what price, has not been announced. But this is clearly the end of an era, and news of it brought guests from distant states places to enjoy, regardless of the cost, a last chance to savor the fabled luxury of the legendary hostelry.
And what an era it was! Even I have trod its elegant halls, traversing an arcade that went from Lexington Avenue to Park simply to enjoy its elegance. Ending up in the fabled Park Avenue lobby, with its Wheel-of-Life marble mosaic in the floor, and its clock tower topped by a miniature gilded Statue of Liberty, I would linger briefly to hear harp music drifting magically down from a harpist on an alcove or balcony above.
But that experience gives only a hint of the Waldorf's mystique. This is a hotel that
·
Opened in 1931, in the Depression, as the biggest, tallest, and most expensive hotel ever built
·
Had 2200 rooms, 47 stories, and construction costs of over $40 million
·
Hosted every president from Herbert Hoover on, as well as Muhammad Ali, the Dalai Lama, and other notables
·
Hosted the annual Al Smith Dinner, a gala occasion to benefit Catholic charities
·
Hosted elegant balls for scores of debutantes radiant in virginal white, and their tux-clad escorts, in the Grand Ballroom
·
Created eggs Benedict, veal Oscar, red velvet cupcakes, Thousand Island dressing, and the Waldorf salad, tasting which, when my mother served it to me as a mix of sliced apples, walnuts, celery, and raisins, gave me my first dim awareness of the hotel
The Waldorf salad, which I still ingest.


KaMan
·
Welcomed as residents in the luxurious Waldorf Towers ex-president Herbert Hoover (a 30-year resident), Cole Porter, Prince Rainier and Princess Grace of Monaco, Frank Sinatra, Elizabeth Taylor, party-giver Elsa Maxwell, and General Douglas MacArthur, whose young son Arthur issued from these storied premises to attend my second-year French class at Columbia College (the closest I ever got to the General) in 1957
·
Hosted in room 39D of the Towers, under the name Charles Ross, the notorious mobster Lucky Luciano, who sported custom-made suits, silk shirts, and cashmere topcoats until, in 1936, a friendly Waldorf clerk warned him that detectives were coming up to arrest him, at which point he decamped for Hot Springs, Arkansas, amid whose healing thermal waters he was finally apprehended
Mr. Luciano, a onetime Waldorf guest.
·
Hosted the celebrity-studded April in Paris Ball where, in April 1957, the sudden appearance of party-giver Elsa Maxwell and her newfound friend Marilyn Monroe, the most sought-after blonde on the planet, provoked a rush to their table of photographers, to the chagrin of the now deserted Duchess of Windsor, honorary chair of the affair, with whom Elsa had long been feuding.
Elsa and her new friend Marilyn at the April in Paris Ball, 1957.
When the Waldorf's closing was announced, the fate of its famous interior landmarks was undecided. In the summer of 2016, when the New York Landmarks Conservancy learned that the new owners planned to gut the building, its representatives met with Anbang executives and persuaded them to support landmark designation for such Art Deco spaces as the Park Avenue Lobby, the Main Lobby, the Peacock Alley restaurant, the four-story Grand Ballroom, the Basildon Room, the Jade Room, the John Jacob Astor Salon, the third-floor Silver Corridor, and the Starlight Roof. Aside from the Park Avenue Lobby, I have never set foot in any of these treasured spaces, but the names themselves conjure up visions of Art Deco grandeur crying out for preservation, and all but the Starlight Roof will be preserved. That being the case, I guess we can do without a few refrigerators, smallwares, and walk-in boxes.
As for the condominiums to be created by the renovation, one may well wonder whom they will attract. Moneyed foreigners, is the guess. So where such stellar Americans as Frank Sinatra, Elsa Maxwell, and Lucky Luciano once trod, or rested their dear head, we can expect Chinese billionaires, Arab princelings, and Indian plutocrats, tasty additions to the smorgasborg that is New York.
All books are available online as indicated, or from the author.
No Place for Normal: New York / Stories from the Most Exciting City in the World
(Mill City Press, 2015).
Winner of
the Tenth Annual National Indie Excellence Award for Regional Non-Fiction; first place in the Travel category of the 2015-2016 Reader Views Literary Awards; and Honorable Mention in the Culture category of the Eric Hoffer Book Awards for 2016. All about anything and everything New York: alcoholics, abortionists, greenmarkets, Occupy Wall Street, the Gay Pride Parade, my mugging in Central Park, peyote visions, and an artist who made art of a blackened human toe. In her Reader Views review, Sheri Hoyte called it "a delightful treasure chest full of short stories about New York City."
If you love the city (or hate it), this may be the book for you. An award winner, it sold well at BookCon 2017.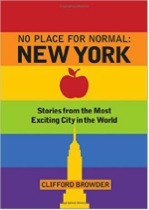 Bill Hope: His Story (Anaphora Literary Press, 2017), the second novel in the Metropolis series.
New York City, 1870s: From his cell in the gloomy prison known as the Tombs, young Bill Hope spills out in a torrent of words the story of his career as a pickpocket and shoplifter; his brutal treatment at Sing Sing and escape from another prison in a coffin; his forays into brownstones and polite society; and his sojourn among the "loonies" in a madhouse, from which he emerges to face betrayal and death threats, and possible involvement in a murder.
Driving him throughout is a fierce desire for better, a persistent and undying hope.
For readers who like historical fiction and a fast-moving story.
For six LibraryThing prepublication reviews of Bill Hope:
His Story,
go
here
and scroll down.
The Pleasuring of Men (Gival Press, 2011), the first novel in the Metropolis series, tells the story of a respectably raised young man who chooses to become a male prostitute in late 1860s New York and falls in love with his most difficult client.
What was the gay scene like in nineteenth-century New York? Gay romance, if you like, but no porn (I don't do porn). Women have read it and reviewed it. (The cover illustration doesn't hurt.)
For Goodreads reviews, go here. Likewise available from Amazon and Barnes & Noble.
Coming soon: Apothecaries. Chalk for heartburn, rose petals for headaches, cinchona bark for fevers -- and some of it even worked! And belladonna, the beautiful lady who poisons.