BIG NEWS: I have a new book in the pipeline, to be announced in time. Meanwhile, for a sample of enhanced and shameless huckstering of my other books, see the BROWDERBOOKS section below. (I may do a post sometime on authors as whores, hawking their wares to the public.)
Visitors to this blog with long memories may recall post #214 of January 10, 2016, plus a follow-up in post #223 of March 27, 2016, on Martin Shkreli, a financial whiz kid who had just been arrested by the F.B.I. and arraigned in the Federal District Court in Brooklyn on securities fraud and wire fraud charges, for which he could get 20 years in prison.

Mr. Shkreli was certainly something of a phenomenon, for he had spawned in quick succession a host of enterprises:
1.
Elea Capital Management, a small hedge fund (2006)
2.
MSMB Capital Management, another hedge fund (2009), followed by yet another, MSMB Healthcare (2012)
3.
Retrophin, a biopharmaceutical company (2011)
4.
Turing Pharmaceuticals, another drug company (2015)
5.
KaloBios, yet another drug company (2015)
An impressive roster, one might think, until one became aware of these facts:
1.
Under his management Elea lost tons of money in disastrous speculations.
2.
As head of MSMB Capital Management he allegedly lied to investors, which led to the federal charges against him.
3.
He evidently plundered Retrophin to pay off the MSMB investors, and then raised prices on certain drugs to astronomical levels, until ousted by the company's board of directors.
4.
As CEO of Turing he raised the price of the 62-year-old drug Daraprim by 5,000 percent, thus incurring the wrath of many.
5.
As head of KaloBios he announced plans to hike the price of one of its drugs as well, until the company fired him and filed for bankruptcy.
What makes Mr. Shkreli interesting?

At the time of his arrest he was all of 32 years old: a boyishly handsome young man with dark hair and an engaging – some might say infuriating – smile.

Labeled a "morally bankrupt sociopath" for boosting the prices of drugs to celestial (or diabolical) heights, he continued to flash his smile, not just untroubled by the hostile brouhaha, but absolutely glorying in it.
Mr. Shkreli testifying before the House Oversight Committee in February 2016.
Brooklyn-born and the child of immigrants, he might seem to embody the immigrant's dream come true: already, in his tender years, he is worth millions, though just how many isn't too clear.

Also, a millennial to the core, when not engaged in financial hanky panky he spends hours tweeting on Twitter, and indulging in hour-long live streams on You Tube, proclaiming himself "the world's most eligible bachelor," a stupendous catch for some lucky girl … or girls.

Photos confirm that he is young and good-looking, one of those guys whose one-day accumulation of beard makes them look even sexier.

And his notoriety, he insists, adds to his appeal to women.
Mr. Shkreli intrigues me by virtue of his ability to survive disastrous failures and bounce back with a smile; his ability to find investors for yet another dubious venture; his obsessive vanity and endless self-indulgence; his true Brooklyn chutzpah.

Truly, he is one of a kind.

Like him or hate him, but it's hard not to follow the latest twists and turns in his improbable career – attention that he welcomes and revels in.

For more about this engaging rascal, I refer readers to my earlier post, in which I likened him to The Donald, then only a candidate and not our Twitterer in Chief.

But now he reminds me of Roy Cohn, the attack-dog lawyer of post #137, who was also immune to criticism and even reveled in his notoriety, knowing that it would bring him clients.

The two of them, being in so many ways my opposite, fascinate me.
In 2016, called before the House Oversight Committee at a hearing on drug prices, he invoked the Fifth Amendment to avoid testifying, then smirked through
the hearing. Returning home, he tweeted: "Hard to accept that these imbeciles represent the people in our government."
Tact and reticence are not his thing.
So what's with Mr. Shkreli now?

He had dropped out of my purview for months, but now the self-styled bad boy of finance, age 34, has reappeared.

The Times of June 23 features him in an article by Stephanie Clifford on the first page of the Business Day section, with a selection of his tweets:
·
You're a loser who doesn't understand economics or business.

Keep my name out of your mouth.
·
plz @god let me have sex with jewel
Lucky jewel, whoever she may be. Also, that tweet is the first indication I have received to date that Mr. Shkreli deeply needs anyone in his life but himself. Girls yes, but only if and when he can find time for them, and he boasts that the line is long. As for

tweeting, it now appears that he has been banned from Twitter for harassing a journalist.
And t

he occasion of the Times article?

His appearance in court on June 19 for a hearing, prior to his forthcoming federal trial.

A photo shows him striding purposefully courtward, a lock of dark hair hanging down fetchingly on his forehead, with a team of lawyers in close array.

In court he was uncharacteristically subdued, following which he went home and – very characteristically – live-streamed himself on his computer, patting his cat, drinking Coca-Colas, and chatting live in another window while playing online chess.

All this and more, with hardly a hint of his pending trial.
The trial is expected to last six weeks.

"I'm so innocent," he insists in a live stream, "that the jury, judge and the prosecution are gonna give me an apology."

His lawyer has asked for a reduction of his $5 million bail, stating that the defendant has no bank accounts, and no valuable assets other than his share in Turing, worth $30 to $50 million, which he is restricted from selling.

But the prosecutor countered that Mr. Shkreli paid $40,000 to someone for solving a geometry proof, and offered $100,000 for information leading to the murderer of the Democratic National Committee staff member Seth Rich, as well as other gestures of largesse.

The judge has yet to rule on the matter.

Meanwhile it's worth remembering that the Wunderkind is on trial for financial fraud, not for hoisting pharmaceutical prices skyward or being atrociously self-centered and enamored of risk and notoriety, offenses that may offend, but that are not indictable.

I await his trial with the keenest interest.
And how does he fare with the younger set?

If you glance at the online comments on a live stream of his about investing, you get quite a variety of answers, including some lively exchanges among the viewers:
·
You should write a book about your life, investing, or both.

I would totally buy it.
·
He might increase the price by 5000%.

You'll still buy it?
·
People hate on this guy but he's smart as fuck he really started from the bottom.
·
Do some research dumb ass.
·
True American success story.

Also hilarious troll.
·
Martin Shkreli is an adult in a world of children.
·
Im 14 but its never too early to learn about making money right?
Plus some other comments not fit to be repeated here (online, it's no holds barred).

Controversial though he is, Mr. Shkreli has made his mark, hence this post, my third on him and his shenanigans.
But it is not the younger set who will serve on his jury, and his notoriety does not endear him to those who may.

When jury selection began at the Federal District Court in Brooklyn on Monday, June 26, 120 potential jurors were dismissed for various reasons, some of them having called him "a snake," "the most hated man in America," or "the face of corporate greed."

One said that his parents used the drug Daraprim, whose price Shkreli had raised from $13.50 to $750 a pill, and another said his kids were on some of the drugs involved.

Fortunately, the necessary jurors were finally impaneled, so the trial could begin.
On Wednesday, June 28, the lawyers made their opening statements to the jury, and the contrast between the two statements could not have been more striking. Predictably, the prosecutor described Mr. Shkreli as a "con man" who falsified investor statements, backdated documents, misled investors about his record as a fund manager, and misstated how much money was in his funds: "lies on top of lies on top of lies." As he spoke, Mr. Shkreli rolled his eyes and made faces.
The defense attorney then described his client as "strange," shuffling around his office in bunny slippers with a stethoscope around his neck because he felt comfortable that way. Strange, but "brilliant beyond words," innocent of the charges, and bullied by Retrophin board members who questioned his sexuality. That board, he asserted, is "a bunch of thugs." As for the investors in Mr. Shkreli's funds, they are sophisticates with money to burn, high rollers, and "crybabies." Hearing this, Mr. Shkreli beamed.
(To be continued, as the trial proceeds.)
All books are available online as indicated, or from the author.
No Place for Normal: New York / Stories from the Most Exciting City in the World
(Mill City Press, 2015).
Winner of
the Tenth Annual National Indie Excellence Award for Regional Non-Fiction; first place in the Travel category of the 2015-2016 Reader Views Literary Awards; and Honorable Mention in the Culture category of the Eric Hoffer Book Awards for 2016. All about anything and everything New York: alcoholics, abortionists, greenmarkets, Occupy Wall Street, the Gay Pride Parade, my mugging in Central Park, peyote visions, and an artist who made art of a blackened human toe. In her Reader Views review, Sheri Hoyte called it "a delightful treasure chest full of short stories about New York City."
If you love the city (or hate it), this may be the book for you. An award winner, it sold well at BookCon 2017.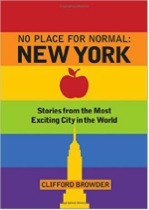 Bill Hope: His Story (Anaphora Literary Press, 2017), the second novel in the Metropolis series.
New York City, 1870s: From his cell in the gloomy prison known as the Tombs, young Bill Hope spills out in a torrent of words the story of his career as a pickpocket and shoplifter; his brutal treatment at Sing Sing and escape from another prison in a coffin; his forays into brownstones and polite society; and his sojourn among the "loonies" in a madhouse, from which he emerges to face betrayal and death threats, and possible involvement in a murder.
Driving him throughout is a fierce desire for better, a persistent and undying hope.
For readers who like historical fiction and a fast-moving story.
For six LibraryThing prepublication reviews of Bill Hope:
His Story,
go
here
and scroll down.
The Pleasuring of Men (Gival Press, 2011), the first novel in the Metropolis series, tells the story of a respectably raised young man who chooses to become a male prostitute in late 1860s New York and falls in love with his most difficult client.
What was the gay scene like in nineteenth-century New York? Gay romance, if you like, but no porn (I don't do porn). Women have read it and reviewed it. (The cover illustration doesn't hurt.)
For Goodreads reviews, go here. Likewise available from Amazon and Barnes & Noble.
Coming soon: In honor of the Fourth of July: Lady Liberty and How She Came to Be. After that, maybe the legendary Waldorf Astoria and what's happening to it now.