Long ago, in a 2012 vignette about horrors that I had seen from my apartment window, I recounted briefly, as a kind of prelude, the 1964 murder in Queens of a young woman named Kitty Genovese.

Her tragic story has come again to mind, fifty-two years later, for reasons explained below.

But first, here is my account of the murder, excerpted from vignette #13 (also found on pp. 138-40 in chapter 18 of my book No Place for Normal: New York):
Kitty Genovese was a young woman who, returning late one winter night from work, was attacked while approaching her apartment building in Kew Gardens, Queens. The assailant stabbed her twice, she screamed for help, he fled. She then managed to stagger into a back hallway of her building, where she collapsed. The attacker, eager (as he confessed later) "to kill a woman," returned, searched for her, found her in the hallway, stabbed her many more times, raped her, robbed her, and fled. Summoned by a neighbor, the police now finally arrived; she died in an ambulance en route to a hospital. Some days later, a New York Times article reported that 38 neighbors had witnessed the attack, heard her screams, done nothing. The story spread throughout the media as an example of the callousness and apathy of New Yorkers, their refusal to "get involved." The occupants of her building were so vilified that some of them moved out. The Times's account has been repeated ever since in psychology textbooks and other print media, on TV, and even in song.
But is it true? As regards the indifferent witnesses, the answer is no; surprisingly, the Times article was based more on hearsay than fact. The police interviewed about a dozen witnesses, but not 38; where that number came from no one seems to know. It was a cold winter night; many neighbors had their windows shut, didn't hear the screams; those who did, saw the attacker leaving or a young woman, possibly drunk, staggering toward the building. No one witnessed the second attack, which occurred in a back hallway. Those who heard a disturbance dismissed it as a lovers' quarrel or drunken brawl. Some neighbors even insisted that they did indeed call the police, but with no result. And contrary to legend, no one drew a chair up to their window so as to watch in comfort the horrors being perpetrated below. Shocking as the murder was, the story about the witnesses -- still lodged today in most people's minds -- was far more myth than fact. The assailant was arrested subsequently on other charges, confessed to this and two other murders, was declared "medically insane," and is now serving an indeterminate term in prison, having been repeatedly denied parole. The Times has never issued a retraction, but many sources now challenge the accuracy of its original article. To which I'll add this personal note: out-of-towners don't always realize the daily noise level of the city and how New Yorkers have to tune it out. If I hear a shout in the street, that in itself means nothing. If I hear what seems to be a cry for help, I have to investigate, since I may have been mistaken, or it may be a bunch of kids just fooling around. On the other hand, a repeated cry for help has to be taken seriously and in my experience usually is.
Some good did come of the Genovese tragedy. The Police Department reformed inefficiencies in its telephone reporting system; some communities organized Neighborhood Watch programs to help people in distress; and psychologists and sociologists investigated the so-called bystander effect or Genovese syndrome. To which I'll add the contents of an e-mail reply that I received when I asked several friends if the name Kitty Genovese meant anything to them. All the present or former residents of the city remembered her and the story of the neighbors' alleged indifference. And one replied: "Kitty Genovese is the reason I stopped the car at two in the morning in a bad neighborhood to help a woman who was screaming for help in the middle of the street while being wrestled to the ground by a very large and angry man. He could have been armed, but I could never have forgiven myself if I hadn't intervened. He backed off when I stopped, and I took her to the police station." For which, I think, a medal should be given….
Kitty Genovese's story has come to mind again because her assailant, Winston Moseley, died in New York State's maximum security Clinton Correctional Facility, in Dannemora, N.Y., far upstate near the Canadian border, on March 28, 2016, at the age of 81.

To my knowledge, the New York Times never formally retracted the original article on the murder, replete with errors though it was, but in its obituary of Moseley on April 5 it did so by implication, citing the article as "flawed" and "erroneous."

In addition to acquitting the neighbors of callous indifference to the crime, it even added a telling detail that belies the earlier account: at considerable risk to herself, a seventy-year-old woman ventured out and cradled the dying victim in her arms until the police finally arrived.
The original story of 38 witnesses ignoring the victim's cries for help did indeed, as the obit states, take on a life of its own, shocking the national conscience and provoking a flood of academic studies of what was termed the "Kitty Genovese syndrome."

And Kitty Genovese, who was gay and living with a partner, has become a part of the folklore of Queens.

The current residents of Kew Gardens, the site of the attack, are well aware of the story, and the older ones who were there in 1964 still nurse a resentment at the damage done to the neighborhood's reputation.
And Moseley?

Soft-spoken and intelligent, with no criminal record at the time of the assault, he hardly fit the image of a serial killer and psychopath, still less so as a married man and father of two.

But his wife's working a night shift as a nurse left him free to prowl at night in search of victims, while his mother looked after the kids.

Captured five days later while committing a burglary, he confessed to having killed three women in all, raped eight, and committed 30 or 40 burglaries.

At his trial he pleaded not guilty by reason of insanity, but was convicted of first-degree murder and sentenced to death.

In 1967 the Court of Appeals sentenced him to life imprisonment on the grounds that the trial court had erred in disallowing evidence of his mental condition.

In 1968 he escaped and during a five-day escapade took five hostages and raped a woman, before being recaptured.

In 1977 he earned a degree in sociology, and in an article published by the Times expressed regret for the murder and claimed to be a changed man.

Later appeals for parole were denied, and at the time of his death he was one of the state's longest-serving inmates.

But for me, the untold story isn't Moseley and his motivation, but his family: how did they react, when they learned of his arrest?

An untold story that remains untold, and rightly so: their privacy should be respected.
Note on the New York primary: With the primary here coming up next Tuesday, April 19, three of the contenders -- Hillary, Bernie, and the Donald -- are trying to convince voters that they are true New Yorkers. (Cruz from Texas isn't even trying, though he's actually said good things about the state recently, belying numerous other comments.) So the Times had a true New Yorker, 27-year-old Matt Flegenheimer, a campaign reporter, to assess these claims. Here is some of what he found. (For the complete report, see the Times of April 16.)
Accent: Trump has some of it, but Bernie (no pun intended) trumps them all. In this regard Illinois-born Hillary (my home state, as it happens) is no New Yorker, which probably helps her elsewhere.
Residency: Trump wins, even if he lives in the sumptuous Trump Tower on snazzy Fifth Avenue. Bernie deserted the city for Vermont long ago, and Hillary's mansion in affluent Chappaqua in Westchester County, with its five bedrooms and formidable security, isn't exactly a modest brownstone in Brooklyn or the West Village.
Travel: Bernie thought the subway still uses tokens, and the Donald gads about in a private jet and limousines. Hillary tried to ride the subway, albeit with difficulty making the Metrocard work, so she wins.
Finally, my own guidance for voting next Tuesday and in November: I won't vote for anyone who
Won't release his/her tax returns. (Obama just did.)

Owns more than two homes.

Has more than two wives.

Has assets stashed away abroad in some place I can't even find on a map.

Gets less than $200,000 for giving a talk to Goldman Sachs.

Eats wienies.

Screams.
That last one is tough. Will I even vote? Probably, having compared the decibels.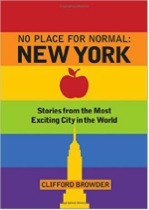 The book: My selection of posts from this blog has won first place in the Travel category of the 2015-2016 Reader Views Literary Awards, which can be accessed here.
Sheri Hoyte, in the accompanying review, calls the book "a delightful treasure chest full of short stories about New York City…. I highly recommend it to all fans of entertaining short stories and lovers of New York City. It would also make an interesting travel guide for people who just want to learn more about the city that never sleeps." (The full review is also included in post #223 of March 27,
2016.) As always, the book
is available from
Amazon
and
Barnes & Noble
.
Coming soon: Something, I don't know what. I have several ideas cooking.