I've preferred to avoid politics in this blog, but as the 2016 electoral brouhaha approaches climactic proportions, I can't resist putting in my two cents from a West Village perspective.

First, the cast:
Hopeful Hill (and Hubby Bill), who is striding steadily toward victory while dragging behind her a mountain of baggage.

Beloved Bernie, who has captured the hearts of multitudes of eager millennials.
You Know Who, the darling of the media.

An unloved senator from Texas, a territory that, in spite of appearances, is still apparently in the Union.

A gentleman from Ohio who is too soft-voiced and civil and decent to attract the attention of the media.
Here now is my West Village take, as of now, plus a warning that it could change as events continue to unfold.
The Hill just doesn't get it.

Asked about her giving a talk to Goldman Sachs for an exorbitant fee, she explained, "Well, everyone does it."

And that is why so many, both left and right, are fed up with the Establishment: everyone does it – "it" being all the routine practices, the mechanisms of the status quo -- and thinks nothing of it.

Nor is she willing to release the text of the speech, which makes us wonder what she wants to hide.

She's far and away the most qualified of the candidates, having both domestic and foreign experience, but nobody trusts her: too schemy, too sneaky, too cautious, and not an ounce of passion, of blind, raw commitment to something she believes in, other than herself.

But tough, I'll grant her that; she's weathered a lot of abuse.
Beloved Bernie wins my heart, if not my head.

I'm for most of what he advocates, but if elected, he could probably achieve very little of it.

He's too much a beautiful dreamer, not gutsy enough, not down to sodden earth.

But inspiring.

If the Tumblr millennials of my acquaintance are sunk in their own woes, Bernie's millennials are fired-up and zealous activists fighting for something and someone they believe in – the kind of support I don't find in the Hillary camp.
So how do things stand in the decidedly liberal West Village?

George Capsis, the executive editor and publisher of the West Village News, our monthly local, heartily embraces Bernie, even to the point of showing his noble features cheek by jowl with Bernie's in the current issue of April 2016.

Bernie, who long ago deserted his native Brooklyn for distant, chilly Vermont, professes a passionate attachment to New York, where he has rarely set his gentle foot of late, being involved in battles elsewhere, and hails the Village as a hotbed of progressive thought and action.

All this, no doubt, with an eye on the New York State primary of April 19, winning which would give further momentum to his uphill climb toward the nomination.
Meanwhile Hillary, once a senator from New York, insists that she too is a dedicated New Yorker, even though, Illinois-born, she was whisked away by Hubby to Arkansas, where she long reigned as his (too often neglected) consort, and thereafter trotted the globe as our Sec of State.

It seems that all the viable candidates – a certain Senator Cruz excepted – profess deep roots in the fertile soil of our delegate-rich state, at least until the 19th, following which they will transplant those roots elsewhere to whatever states have yet to hold primaries.

And when the Village Independent Democrats, a reformist organization with a storied past, took a vote recently, it came out 19 for Hillary and 9 for Bernie – which shows how things now stand.
And the Repubs?

The Donald rages on, but even though he has genuine roots in New York City, he is little loved here.

But he knows well that New York is not the world, and his antics are the delight of angry multitudes who feel neglected by the Repub Establishment and uplifted by the Donald's propensity for stepping on Establishment toes.

(For a broader glance at my take on him, see post #208, "Twelve Things to Know about the Donald.")

In revenge and desperation, that Establishment is holding its nose and embracing Senator Cruz, the most unloved man in the nation, determined to crucify humankind – or at least a good proportion of
it – on a cross of Cruz.
Meanwhile the gentleman from Ohio plods on, hoping that decency will have its day.
To my knowledge, Americans have elected crooks and fools to high office, but never a clown, which bodes ill for the Donald.

But let's not leap to conclusions in this year of bizarre surprises, when it seems that anything can happen.

Still, the Times of last Sunday, April 3, had a lead article with the caption
The article insists that, if Trump becomes the candidate, he faces steep odds against Hillary in November, recent polls indicating that he trails in every state, including Florida and Ohio, despite the voting public's deep distrust of their former First Lady.
W

hatever the outcome, it's been a year to remember.

This is my take from the West Village, where my partner Bob and I nest high above the Magnolia Bakery, whose delicious scents of fresh baking titillate our sniffers.

How does the electoral brouhaha look from the East Side or the West, or from Brooklyn, or from Massachusetts or Maine or Atlanta or Knoxville or Washington or the fair state of Indiana?

Or for that matter from abroad, where this blog has viewers, and where our political mishmash must surely dismay multitudes?

Let me know.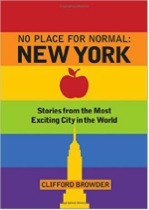 In a review for Reader Views, Sheri Hoyte called it "a delightful treasure chest full of short stories about New York City…. I highly recommend it to all fans of entertaining short stories and lovers of New York City. It would also make an interesting travel guide for people who just want to learn more about the city that never sleeps!" (For the full review, see the previous post #223, March 27, 2016. It is also available at http://readerviews.com/reviewbrowdernoplacefornormalnewyork.)
Coming soon:

As already announced: Rivers and Me.