New York is in perpetual flux and always has been. This post is about buildings that change, buildings that undergo amazing metamorphoses. We'll start back in the nineteenth century.
The slender man, wearing an elegant gray overcoat, top hat, and polished boots, stood at the top of the hotel stairs, revolver in hand, eyeing the top-hatted fat man in a cloak halfway up the stairs.
"I've got you now," said the man at the top of the stairs; he fired one shot, then another.
The fat man, a perfect target at point-blank range, staggered, grasped a handrail, managed not to fall.

"For God's sake," he shouted, "will anybody save me?"
The slender man fled into the hotel, where he was soon apprehended.

Alarmed by the sound of the shots, hotel employees came running, helped the wounded man up the stairs and into a vacant room.

Word of the shooting spread like fire through the city, doctors flocked, newspapers stopped their presses and prepared a story.

The fat man lasted the night, then died.
A bellhop witnessed the shooting. From
Frank Leslie's Illustrated Newspaper.
Such was the fatal shooting, on January 6, 1872, of Colonel James Fisk, Jr., robber baron, impresario, and comman
der of the Ninth Regiment of the New York National Guard, who, after President Grant, was the most reported-on man in the nation.
The shooting was all about the charms of Miss Helen Josephine Mansfield, Fisk's former mistress and the present inamorata of the assailant, Edward S. Stokes, a handsome but impecunious man-about-town whose attempts to get money out of Fisk had proved fruitless.
Fisk was given an elaborate military funeral and shipped off to his home town of Brattleboro, Vermont; Miss Mansfield disappeared; and Stokes survived two trials for murder, was convicted at a third of manslaughter, served four gentle years at Sing Sing, and was released.
The point of this story is not to tell once again the dramatic end of Colonel Fisk, which I recounted in another post long ago, but to situate the crime in the Grand Central Hotel and show how, with time, that hotel's fortunes changed.

In 1870 it had opened on Broadway between West Third and Bond Streets, an eight-story, 400-room hostelry in Second Empire style, with the mansard roofs then fashionable.

One of the largest in the world at the time, it had three elegant dining rooms and sumptuous Gilded Age furnishings.

Fisk had called there because he was visiting the family of a deceased friend who were living there in comfort, thanks to his largesse.
The Broadway Central Hotel in 1893.
In the years that followed, the hotel witnessed elegant society weddings, other fashionable events, and an occasional murder or suicide, but nothing so dramatic and headline-grabbing as the affair of January 6, 1872.

But times and neighborhoods change, owner followed owner, financial difficulties arose, and by the late 1960s the hotel, now known as the Broadway Central Hotel, had become one of the city's largest welfare hotels, with its share of crime, drug use, and prostitution.

Gone was the glamour of the Gilded Age, but in an attempt to spark it up, six theaters called the Mercer Arts Center moved in, and it was renamed the University Hotel.

But residents reported cracks and sagging walls.
Early on August 3, 1973, those living there heard "bongs," "tings," and "groans," and everywhere saw plaster falling in the building.

By late afternoon most of the 300 residents had been evacuated.

Then, at 5:10 p.m., a huge section of the building collapsed in a cloud of smoke, bringing a vast pile of tangled wreckage and rubble down on the street.

As firemen later sorted through the rubble, four bodies were found.

The rest of the hotel was torn down and removed, including the ill-fated Mercer Arts Center theaters.

Housing for New York University Law School students stands on the site today.
Not every old building goes out with a bang, but startling metamorphoses occur.

Long ago, in some printed source I can no longer locate, I saw a mid-nineteenth-century photograph of a church turned into a stable.

I have never forgotten the shock at seeing what had obviously once been a house of God abruptly converted into a house of horses, with teams constantly going in and out those once sacred portals.

And I'm sure that the aroma of piety had similarly yielded to the smell of manure.

So let's have a look at some other buildings that have changed over time.
In nineteenth-century New York those changes occurred massively, and convulsively, on May 1 of each year, when both residential and commercial leases expired citywide.

On that day cartmen could charge triple their usual prices and were reserved weeks in advance.

The streets became a jumble of carts and wagons, with cartmen shrieking oaths as they transported people's furnishings, often as not trading fisticuffs with other cartmen doing the same.

A sign announcing SOAP & CANDLE FACTORY might come down, to be replaced by BOOTS & SHOES, while a family's precious pianoforte, the showpiece of the parlor, was carried on a cart with special springs, bound for a more sumptuous brownstone fronted by a steep stoop often fatal to bulky but delicate objects in transit.

A jewelry store might become a lager beer saloon; an oyster cellar, a salesroom displaying fancy coffins; and a young ladies seminary, a house of ill repute.

On May 1 anything could happen and often did.
Moving day, May 1, 1856. Be sure to notice the details; they say a lot.
One of the most surprising metamorphoses, over time, has been the transformation of carriage houses into highly coveted and high-priced housing.

One sees them all over the West Village, where I live, their wide entrances meant to accommodate carriages but now changed into elegant residential doorways.

Once these little structures housed carriages and teams of horses, with the coachman and his family lodged snugly on a floor above, while the employer's family occupied a spacious Greek Revival or brownstone mansion on a nearby but more fashionable street.

Occasionally, as at 271 West 10th Street, one sees a metal hayloft hoist projecting from a floor above, originally installed to lift heavy bales of hay up to a second story, or in this case, to a third story, since the 1911 building once lodged a construction firm's horses on the first and second floors, and a hay loft on the third.

And how did the horses get up to the second floor?

By a ramp, of course.

And what price does this modest little three-floor structure fetch today?

$17.2 million.
Bayview Correction Facility
Another building with a history is the Bayview Correction Facility, a notorious women's prison at West 20th Street and Eleventh Avenue.

In 1931 the eight-story red-brick Art Deco structure had opened in the rough West Chelsea neighborhood as the Seamen's House, a Y.M.C.A. accommodating some 250 merchant seamen whose ships docked at nearby piers.

As New York declined as a port, it ceased to serve that function and in 1967 was sold to the city, which turned it into a drug-treatment center.

But the 1973 Rockefeller drug laws imposed long prison sentences instead of rehab on offenders, so in 1974 the building

became a prison, and in 1978 a women-only facility that was soon plagued with reports of staff sexual misconduct, unsanitary conditions, and poor medical care.

In other words, it rivaled the Women's House of Detention, another scandal-ridden facility that loomed like a dreary Bastille in the heart of Greenwich Village, whose genteel residents (myself included) were scandalized by the often obscene exchanges of inmates with their friends on the street below.

And just as that Bastille was in time demolished to the satisfaction of almost all, so the Bayview, which closed as a prison in 2012 following flooding caused by Hurricane Sandy, has now found itself besieged on all sides by gentrification and likewise a candidate for demolition.
Surrounding the ex-prison today are art galleries, an entertainment complex just across the street, and a shiny new condominium.

But the Bayview, for all its sordid past, had been designed by the same designers responsible for that marvel of Art Deco, the Empire State Building, and therefore, though not landmarked, seemed worth saving.

The neighbors feared yet another luxury housing development, but a happy compromise has been found: it will be gutted and converted into offices to be rented out primarily to nonprofits providing services for women.

And to spice it up, there will be landscaped terraces and an art gallery, and a refurbished swimming pool lined with mosaics of fish, and a chapel with stained glass windows showing seafaring scenes.

(Those windows won't be Chartres, but let's not quibble.)

In addition, a six-story annex added in 1950 will be demolished and replaced with a glass-walled atrium.

So how trendy can you get?

All in all, the neighbors are delighted … and relieved.
Knox Martin's "Venus."
Covering the entire south wall of the building, by the way, is an abstract mural entitled "Venus" by artist Knox Martin, which dates from 1970, prior to the Rockefeller drug laws and long predating gentrification, back in a time when art for the masses was "in."

It's a huge affair, an abstraction with big patches of red, blue, green, and pink, but what it has to do with Venus, philistine that I am, I can't imagine.

Let's just say it ain't Botticelli.

Commercial interests have hankered for the space, then visible from miles away, but the fastidious Correctional Services didn't want Venus covered over with ads for jeans or beer.

And today?

The mural is almost entirely obscured by architect Jean Nouvel's "vision machine," a super modern 23-story residential tower at 100 Eleventh Avenue completed in 2010.

So

vision trumps Venus; so it goes.
Few buildings have undergone more dramatic and often depressing metamorphoses than old movie theaters built in another age.

The Metro Theater on Upper Broadway between 99th and 100th Streets opened as the Midtown (a misnomer) in 1933, in the pit of the Depression and long before television, back when movies were one of the few recreations accessible to people on a budget.

An Art Deco gem with a terra-cotta façade, it featured, above the marquee, a medallion, illuminated at night, with two female figures back-to-back, holding the masks of tragedy and comedy.

Needless to say, such a fancy façade, not to mention the elaborate interior, announced a theater showing first-run films, a movie theater at the top of its kind.

Adaptable, in the 1950s and 1960s it showed foreign films and other non-mainstream fare – just the sort of films that I was then seeking out in small art theaters in Greenwich Village, having lost interest in the concoctions of Hollywood.

By the 1970s, with television co-opting the film-watching audience, the theater had stooped to showing second-run films and finally, like so many desperate movie houses struggling to survive, pure porn.

(As if porn could be "pure.")

Reviving as an art house in the 1980s, with a name change from Midtown to Metro, it showed first-run films again in the 1990s, before decline resumed, forcing it to close in 2004.
Abandoned since then, it became a shuttered eyesore in a neighborhood again on the rise.
Having a façade landmarked in 1989, the Metro posed a problem: what to do with an aging movie house, its interior long since gutted, that had become an eyesore, a structure too small to accommodate the multiplex theater of today. To further complicate the matter, the theater's lack of windows, and its jutting landmarked marquee casting shadows on the entryway, made it undesirable as retail space.
The Metro was now a once glamorous lady desperate to age gracefully, but to whom the years had not been kind.
Since the theater's closing, numerous deals have been announced.

It was going to become an Urban Outfitters clothing store, the home of a nonprofit arts education group, a member of the Alamo Drafthouse Cinema chain, serving beer.

But year after year the marquee posted the phone numbers of real estate dealers hoping to find a tenant, and no tenant appeared.

Many neighbors hoped it could house a cultural institution of some sort, but this was not to be.

Finally, after a year of negotiations, a deal was announced last October: the Metro will become a Planet Fitness gym.

Not even a trendy high-cost gym, but a gym costing only $10 a month.

"At least it isn't a Duane Reade," the local city councilman remarked.

What the figures above the marquee, with their masks of comedy and tragedy, think of this dénouement, I dare not venture to ask.

But at least the old Metro is saved.
American Bible Society Headquarters
For 49 years the American Bible Society has been headquartered at 1865 Broadway, at the corner of Broadway and West 61st Street, in Manhattan.

Today, it's surprising enough to learn that a nondenominational society founded here in 1816 to print Bibles and ensure their widest possible distribution has been located in congested, secular New York, in a 12-story building towering above the hectic, converging traffic of nearby Columbus Circle, crossing which on foot, even in a marked crossway and with the light, makes me nervous.

But there it is, or rather, there it has been since 1966, when it moved from its previous home on chic Park Avenue, another surprising address.

But today the Society seems hardly at home in this neighborhood of cloud-scratching super luxury high-rises and the tenants they attract.
The Bible Society building in 2008.
The building itself is 1966 functional late Modernist, nothing godly or sanctified about it, but of course it was an office, not a place of worship.

One observer has suggested that the twelve deep recesses of its façade, one at each story, might hint of the twelve tribes of Israel or the Twelve Apostles, but let's not push it; it was a secular building with a saintly purpose.

Back in its heyday, and the heyday of Protestant missionary work worldwide, the Society by 1893 had printed 56,926,771 Bibles and helped in the translation, printing, or distribution of Scriptures in 95 languages and dialects the world over.

Needless to say, times have changed; it stopped printing Bibles in 1922, and moved from one site to another before settling down in Columbus Circle.

And if that structure fails to inspire, it's worth noting that it was decidedly innovative, being the first in the city to be built with load-bearing exterior walls made of pre-cast concrete panels, unlike the usual soulless high-rises of the time, with heavy interior steel frames and diaphanous glass skins.

(Don't let "diaphanous" mislead you; most of them are dull indeed to look at.)
And today?

The Bible Society, citing the building's need of repairs and the high cost of doing business in New York, is moving to Philadelphia; in fact, it has moved already.

And the building itself, not landmarked, will it be refurbished and preserved?

No way; sold to a developer for $300 million, it has a date with the wrecking ball.

I doubt if tears will be shed, but replacing it will be a sleek 40-story glass-and-masonry tower with ground-floor retail space along Broadway and luxury apartments above, including, I'm sure, a super luxury penthouse: a concoction that may or may not inspire rhapsodies of praise.

As always in this city, flux.
One casualty of the change is the Museum of Biblical Art, also housed in the building, which, just after attracting record crowds to an exhibition featuring the Renaissance sculptor Donatello, has also had to close.

Likewise affected was a bronze sculpture by Lincoln Fox installed in front of 1865 Broadway in 2007; entitled "Invitation to Pray," it showed, seated on a bench, a life-size Jeremiah Lanphier, who founded the Fulton Street prayer meeting in 1857, a year of financial convulsion that drove some to despair and others to religion.

Leaving plenty of room for others on the bench, the statue attracted passersby, though less for prayers than "selfies."

Their online comments include praise of his shiny bronze clothes, "he looks like he wants company," and "ick."

But Jeremiah has not been demolished, nor will he be moving to The City of Brotherly Love.

He now sits in the lobby of King's College, a Christian liberal arts college located far downtown at 56 Broadway, another island of piety in secular New York.
Not exactly Michelangelo, but why quibble? It's been saved.
BROWDERTHOTS
These are profundities so deep that I hesitate to share them with others. But I'll risk two today:
their armpits sing.
If these are too much for you, I promise to suppress them in the future.
The book: Many thanks to those of you who have bought it. Still available from
Amazon
and
Barnes & Noble
and elsewhere.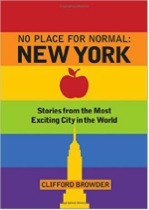 Coming soon:

Dying alone, the dread of many New Yorkers, and what happens if you do. A tale of hazmat suits, hoarding, X-rays, pranks, and cremains.