West 4th Street between Sixth and Seventh Avenue, which I have often walked when toting wines home from the Lower East Side, has a rich, weird assortment of shops. Starting from Sixth Avenue and heading west toward Seventh on the uptown side of the street, here is what I've found. Omitted street numbers indicate residential buildings, which are interspersed with the shops.
First, Tic Tac Toe at 161 West 4th, with a sign outside showing one young woman paddling another with a hair brush. Needless to say, this suggests a frothy mix of the naughty and sensual, and the suggestion is not so far off, since the store has been described online as a clothing store selling "adult lingerie" or, more bluntly, as a "sex shop." Well, okay. Though I've never ventured inside (I'm not, in any way, into "adult lingerie"), I'm sure that frilly and abbreviated apparel await one within. But there's more than that, since a sign on the sidewalk with the same spanking scene lists these offerings:
·
BRIDAL/BACHELOR PARTY STUFF
·
ROMANTIC GAMES AND MASSAGE OILS
·
LINGERIE AND DANCE WEAR
Online reviews vary from raves to pans, the raves praising it for blow-up dolls, gag gifts, vibrating dolphins, and even "pasties" (whatever they are), while the pans decry the staff as slouchy, gossipy, immature, and rich in profanity; take your pick. But the sign and window display provide a nice spicy start for our stroll toward Seventh Avenue. (Further research reveals that "pasties" are adhesive patches to cover the nipples.)
Burlesque at 163 West 4th is seemingly a competitor of Tic Tac Toe, with more scantily clad sexy manikins in the window, plus the added enticement, "All costumes on sale." Yet when I check them out online, the reviews mention jewelry, gifts, hats, and bags. A mystery.
The Four-Faced Liar at 165 West 4th is another mystery, since there is an array of liquor bottles in the window, but it is most definitely closed. Going online, however, I find it described as a welcoming and unpretentious Irish pub, so maybe my afternoon walk was ill-timed; it may open later. But I'm looking for shops, not bars.
Next door is the Pink Pussy Cat, at 167 West 4th, whose windows, featuring minimally clad manikins, proclaim it yet another competitor to Tic Tac Toe. Here, without entering, we can have an inside look at a sex shop, thanks to the published account of a young woman who, recently arrived from Yugoslavia in 1989, was living in Queens on a rented mattress at $50 a week. Needing a job, she got one at Pink Pussy Cat without even knowing what the boutique's name implied or what "sexual paraphernalia" meant. Paid $8 an hour plus commissions, she soon found herself selling sex toys like strawberry-flavored underwear, and a few others like mouthless masks and nipple clamps that were a bit scary. The customers included happy couples, the men querying about the items while their wives or girlfriends pretended to be bashful, or callow youths from New Jersey who blushed crimson at the sight of black crotchless lace teddies. But the hours were long – from 6 p.m. to 2 a.m. -- and when she objected to working seven days straight through the holiday season, she was fired.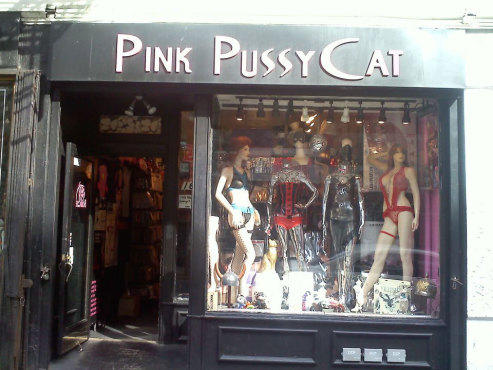 Piquantly juxtaposed with the Pink Pussy Cat is Music Inn at 169 West 4th, a store with bins of old music books and records for sale out in front, plus chairs in desperate need of a paint job but inviting visitors to sit, and windows displaying guitars, chimes, and even a laundry board, plus a sign reading EXPERT INSTRUMENT REPAIR. In addition, its website offers a wide range of instruments including electric zarods – whatever that may be – as well as Music Inn T-shirts and comics.
Shisha International at 171 West 4
th
is what's known as a smoke shop, with the most amazing window display on the block, featuring a rich mix of accouterments comprising what I take to be glass water pipes (bongs) and hookahs, vaporizers, a smoke odor exterminator, and cigarette lighters, with a few grinning skulls interspersed that may or may not be sending a message.
If I linger here, it's because the display fascinates and baffles me; a nonsmoker, I have no idea what all these objects are, least of all the water pipes (?), skinny totem poles of glass bulbs often two feet high, and one that towers up to an astonishing five feet.
For an added touch of atmosphere, a wooden cigar store Indian stands by the entrance, and another taller one greets you just inside the door.
Online reviews hail Shisha as a mecca for smokers and describe the staff as knowledgeable and friendly.
And one review tells how a friend of his bought a high-end glass hand pipe for $130, took it home, and then discovered, as he and his buddies passed it around, that it was in fact an anatomically correct penis pipe!
But they smoked it anyway and had a fine evening.
Hector Garcia
Also located at 171 West 4th is Juice Generation, which advertises smoothies, juices, cold pressed açai bowls (again, I plead ignorance), and "shots and boosts." Among the items listed on a menu brochure available outside are Supa Dupa Greens, Tropical Lust ("watermelon, pineapple, apple & ginger"), Red Dragon Fruit, Mucho Mango, Multi-V Squeeze, Protein KnockOut, Ginger Fix, and Vital Shot. As for the "açai bowls" just mentioned, a quick bit of online research reveals that the açai palm grows in the swamps and floodplains of Trinidad and northern South America, and that the fruit, a small, round, black-purple berry, is eaten or made into a beverage. In fact, the berries are now hailed by some as a superfood with anti-aging and weight-loss properties, which may explain why they have made there way into West 4th Street, though Juice Generation makes no such claims. What is does offer includes Almond Butter Bliss, an açai bowl whose ingredients include açai, banana, almond milk, almond butter, coconut, and hemp granola, and Amazing Green, an açai bowl with spinach and kale. The store's message of the joys of juicing is a welcome contrast to the smoke shops and sex shops all around it, and further proof that this one short stretch of West 4th Street endeavors to satisfy all our cravings, licit and illicit alike.
A grove of Açai palms in Brazil.

You can even do it to yourself, if
you're careful.
Bjorn Bulthius
Village Four Nails & Spa at 175 West 4th features manicures ranging from $8 to $45 (French Color Gel Manicure, $45), artificial nails that top out at $100 for "UV Gel Permanent French," pedicures ranging up to $60 for a "Honey Silky Milk Spa Pedicure," waxing of various body parts ("Upper Legs with Bikini, $45"), and special treatments that include eyelash tinting ($25), ear candling ($30) (??), 10-minute reflexology for $13, and eyelash extensions ($40 and up). (Ear candling, I have now learned, is an alternative medicine procedure meant to improve health and well-being by lighting one end of a hollow candle and inserting the other end in the ear canal. Which is all right, I suppose, as long as the practitioner doesn't reverse the candle by mistake.)
But that's not all that Village Four offers. How about a 60-minute Hydrolifting Facial for $90, or a 70-minute Deep Prone Clearing Treatment for $110? All of which, to this ignorant male, sounds pretty overwhelming. And I learn online that Village Four aestheticians (yes, that's what they call them) often begin an appointment with a complimentary glass of champagne (Moët & Chandon, let's hope). And after all this, reinforced by a smoothie at Juice Generation, one is certainly ready for Tic Tac Toe or the Pink Pussy Cat.
At 177 West 4th we come to another smoke shop, Smoking Culture ("For all your smoking needs"), with more glass pipes and houkahs and other handblown glass contraptions in the window. Recently it became known for much more than the products it sells. Tipped off by an irate girlfriend and the shopowner, on July 28 of this year two federal marshals and a New York City police detective entered the store to arrest Charles Mozdir, an employee wanted on child molestation charges in California. Confronted, Mozdir whipped out a handgun and opened fire, wounding all three law officers amid a rain of shattered glass, before their return fire killed him. Outside, West 4th Street emptied quickly as pedestrians fled the scene, and the street was roped off for hours as the police investigation continued. Protected by their bullet-proof vests, the officers survived, as did Smoking Culture itself. But in Mozdir's pockets the police found twenty more rounds.
Next door is Village Cuts, a barbershop at 179 West 4th Street (haircut $21), promising whatever look the customer desires. "Walk-ins welcome," a sign indicates.
At 181 West 4th there are two establishments, one upstairs and one down. Upstairs is Ramen-ya, which I took for a Japanese massage parlor or something similar. But no, going online I learn that it is a tiny hole-in-the-wall Japanese restaurant and noodle house with excellent reviews. I shan't linger, since I'm not surveying restaurants or bars.
Downstairs at 181 is Okuyama Bodywork, offering massages for deep-tissue, neck, and lower back pain, as well as stress relief and sports injuries, and reflexology. "Therapies range from basic energy to potent yet careful and exquisite stretches that incorporate a variety of respected techniques," it explains online. Privacy and strict etiquette are promised; this isn't one of those places. Reviews, including one by a reviewer who says "I don't normally right reviews," are excellent, emphasizing the personal attention you receive, the sustained effort by the masseuse to get to the root of your problem. So here's another leap toward health.
Passing two residential entrances, at 187 West 4th we come to the Patisserie Claude, a small pastry shop with Parisian-style pastries and coffee. There are only four little tables in front, plus a counter displaying their wares, but when I pass by there's usually at least one or two seated patrons nibbling goodies. It looks tempting, and far more relaxing and casual than the crowded Magnolia Bakery (see post #153), but it's usually close to noon when I pass it, and I can't afford to spoil my appetite for lunch. Online reviews are unqualified raves, extolling the "chocolate Moose cake," croissants, éclairs, tarts, and quiche. Claude is evidently the baker in charge, but what his "Moose cake" tastes like, I can't imagine. But then, I'm a vegan, so what does it matter?
Gâteau à base de mousse au chocolat, which translates as
"chocolate mousse cake." And not an antler in sight.
Lionel Allorge
Passing a cleaner and tailor at 189 West 4th, we come to Considerosity at 191, featuring the "Art of Thoughtful Gifting," with what seem to be large fans (not the electric kind) in the window. By now we're nearing the end of the walk, so I haven't lingered here. But online I learn that the store is crammed with handmade jewelry, artisanal home accessories, candles, cologne, bottles, handbags, mugs, bowls, you name it, and at reasonable prices. Gifts for everyone, it appears. A nice note to almost end on.
The end of the walk comes at 193 West 4th with Petite Optique, which claims to be "the most exclusive European eyewear boutique in New York." They boast a collection of frames that is truly unique. Click on "Collections" on their website and you will be offered a host of designer names from all over the world – BOZ, Cutler & Gross, Factory 900, ic Berlin, Lindberg, Mykita, RAPP, Theo, and many more. Never heard of them? That's the point: these are exclusive designers from all over the world, not available elsewhere in the city. And if you click on any one of the names, you will be shown a photo of an attractive model wearing the frames in question. You may not look like the model, but the frames are certainly distinctive. A nice upgrade note to end our walk on, as we come to the Sheridan Square Viewing Garden and Seventh Avenue.
Now that we've seen a lot of New York shops, what can we say distinguishes them, regardless of what they offer? Something rare, unique, not to be found just anywhere. It may be houkahs, zarods, açai bowls, a Hydrolifting Facial, a "chocolate Moose cake," adult lingerie, or glasses frames by BOZ, but the chances of your finding the item elsewhere in the city are slim. (One exception: adult lingerie seems to abound, though only in a certain kind of shop.) And in the past? Were there shops with unique offerings back then, too? Let's go back to the 1860s and take a quick glance.
Tiffany's was flourishing then too, but only beginning to be a big operation with international renown. Located at 550-552 Broadway, with a carved wooden Atlas above the door shouldering a huge clock, the store offered a cluttered window display of Victorian objets d'art: bronze figurines, silver teapots, vases of every size and shape, necklaces draped over bowls and jewel boxes, Chinese carvings, goblets, jeweled clocks, paperweights, and fans – just the kind of stuff that the residents of brownstones used to clutter up the mantels and whatnots of their parlors.
The founder of the store, Charles Lewis Tiffany, had never intended it to be a mecca for the wealthy; rather, he courted a mass market for his wares. Always on the lookout for unusual items, he snapped up diamonds dumped on the market by fleeing aristocrats in the wake of the 1848 revolution in Paris, and later, even Marie-Antoinette's girdle of diamonds, which he broke up into pieces to sell, so as to avoid embarrassing questions about just how the girdle had been acquired. In 1856, having bought a perfect pink pearl from a New Jersey farmer who had found it in his dinner mussels, Tiffany sold it to the Empress Eugénie of France. As news of the sale spread, it prompted a rush throughout the country to rake the brooks in hopes of another such find. But in his shop, mass market or not, he forbade the customary haggling; each item was tagged with its price, and that was final.
Tiffany's at Union Square, circa 1887.
Tiffany's today can hardly be called a quaint little shop, yet its store at
727 Fifth Avenue still features the wooden Atlas above its Fifth Avenue entrance.
I have never set foot in it, but long ago my partner Bob went there to buy a gift for his mother, and for $25 – a tidy sum, in those days – acquired a sterling silver letter opener that adorns his desk today.
Its design is the soul of simplicity, and only with a magnifying glass can you make out the tiny inscription:
Discretion, not flamboyance, is the rule today.
Matthew Brady, circa 1875.
One other shop of the 1860s merits attention: Matthew Brady's National Portrait
Gallery at 785 Broadway, near 10
th
Street, the fourth and last of his New York studios.
There were many daguerreotype studios in the city by then, but Brady's was the finest.
To his spacious establishment, its walls and tables displaying square and circular frames ranging from the small to the huge and monumental, visitors flocked, the rich and famous and the not-so-rich-and-famous, Americans and foreigners alike, to indulge in that novelty of the age, having one's features immortalized in a daguerreotype, the pioneer photograph of the age.
Portrait painters must have suffered a steep loss in commissions, as people embraced the new technology and sat for their portrait, yet all was not lost, for Brady collaborated with artists who copied his photographs onto canvas to make painted portraits.
Another product of the age that Brady offered was the carte de visite, a small calling card bearing one's photograph; such cards
became all the rage and were produced by the million on both sides of the Atlantic.
The Brady studio on Broadway, circa 1850.
But Brady also had a keen sense of history in the making, and as a result managed to photograph many prominent men of the day, including every president or ex-president from John Quincy Adams to William McKinley, with the exception of William Henry Harrison, who died after only a month in office. When the Civil War broke out, Brady, known up till then chiefly for his portraits, sent out teams of photographers to document the war. Photographers of that day couldn't catch soldiers in action, but they could photograph quiet poses of soldiers and their leaders, forts and camps and, most memorably, battlefields littered with the bodies of the dead, scenes that brought home the realities of war to the public, who up till then had known only the heroic representations of artists. Having spent over $100,000 on plates, Brady hoped the government would buy his war photographs once the war ended, but it refused to do so, forcing Brady to close his New York studio and declare bankruptcy. He finally managed to sell a large collection of negatives to the War Department and got $25,000 from Congress, but he remained heavily in debt. In 1896 he died penniless in the charity ward of a New York hospital. But thanks to him our Civil War is the first war in history to be documented in detail by photography.
So ends my glance at New York shops then and now. It's been an adventure and I've learned a lot. Do you have any favorite New York shops not mentioned here? If so, let me know. I may do another post on shops in the future.
Coming soon: Five Steps to Sure Success for All Bunco Artists, Con Men, and Hoaxers. A look at the forgotten genius Henry T. Helmbold, king of the patent medicine men, and some "big-brained" railroad promoters who "meant business."