As followers of this blog know, my partner Bob and I recently lost to the afterlife our friend John Anderson, who had long been visiting us on Sundays and so became woven into the fabric of our lives. Every time I go out on errands I see something in the neighborhood that reminds me of John:
Li-Lac, the chocolate shop ("since 1923"), where he sometimes bought us chocolate truffles
A pet portrait shop where he frequently bought thank-you cards featuring cats, which he used to thank a cat-loving hostess who had had him over for a holiday dinner
A Mexican restaurant where we sometimes lunched, and he delighted in margaritas, the rim of the chilled glass coated with salt, and a delicious flan that we shared for dessert
The first crocuses, then the first daffodils, that we spotted in neighboring front yards and gardens, inspiring us to welcome the new season
A redbud tree in a nearby park that I always pointed out to him when, still leafless in early spring, it displayed its bright red buds.
And so on and so on. Nudged with such reminders, I couldn't forget John if I tried. He was a real New Yorker, as proven by the following:
He was an avid reader of the New York Times, which, being on a budget, he read at the library or had me save copies for him, which I was glad to do.
He knew the New York art scene, including personal contact with artists and sometimes with their widows, an interest dating back to his first days in the city, as recounted in chapter 27 of my book (see below).
He knew the classical music scene and had discussions, sometimes even heated arguments, with Bob over opera.
He knew theater, even when budget considerations kept him from attending performances.
He was fervently interested in cultural matters and had no interest in sports.
He was an inflamed liberal in political matters, rather intolerant of anyone of another persuasion.
Hemmed in by a crowd of people watching the annual Gay Pride Parade, he escaped the mob by joining the parade, smiling benignly and waving to spectators as if they were applauding him, which some of them may well have been doing.
Though he still visited family in Minnesota, his roots were here in the city, where he (like Bob and me) survived through decades of rising rents by clinging to his rent-stabilized apartment, even though it meant trudging up three flights of stairs.
Yes, a real New Yorker. Now, with daffodils and forsythia in bloom, and tulips opening, and magnolias offering their sensual pink flowers, and the callery pear trees (I'm the only one who can name them) exploding into bursts of white blossoms -- all sights that he loved -- I wish he could have enjoyed just one more spring.
This is a recent photo of John and me, with John on the left, looking chubby and cordial as he always did. I look like a cross between Gainsborough's Blue Boy and the cat that swallowed the canary, but no matter. The photo was taken by our friend Barbara at the Empire, our favorite local Chinese restaurant, where we often gobbled scallion pancakes; it has since closed because the rent went from $5,000 a month to $25,000, but that's another story, all too familiar in the city. Happily, the premises remain vacant, no tenant having been found willing to pay that amount for a location on noisy, unchic Seventh Avenue.
Here, finally, is an obit that I did at the request of
Irish American Magazine,
where John worked periodically as a freelance editor, his only job since retiring:
John Anderson had the gift of friendship. He took easily to people of all ages, had interesting things to say, could listen as well, and had a great sense of humor. As a result he had many friends – artists, writers, editors, teachers, actors, choreographers – and stayed in touch with them for years, and often with their widow or surviving partner after they departed this earth. More than once I introduced him to friends of mine and saw how he instantly charmed them, bonded with them, and so initiated yet another friendship destined to endure.
A Minnesotan of Finnish descent raised in the Lutheran faith, he shrugged off his religion but was proud of his Finnish ancestry and took pride in the accomplishments of other Finnish Americans. Yet for all that, he was a true New Yorker who wouldn't live anywhere else. An excellent editor, he edited a manuscript of mine with the greatest care. He invented a board game named "King Hamlet" and marketed it personally; it is still available online. A lifelong opera and film enthusiast, he loved to proclaim his five favorite opera singers of all time, his ten favorite film stars, his twelve favorite films, and disputed earnestly with those who differed, waving his arms vigorously as he did so. If you disagreed even marginally with his pronounced liberal opinions in politics, he could get testy, but offering him another drink or soliciting his views on an old movie seen recently on television always smoothed his ruffled feathers. He never bore grudges, never sulked, was always cheerful and upbeat, with the warmest of smiles. I knew him for over fifty years and will miss him dearly.
* * * * * * *
I'm still involved with Tumblr, where my 173 followers now include izlabseesu, superfreakbaba, quietdissidentlyricist, besottedwanderlust, tarnishedsoul, chucklingpecan, and romeosexclusivebitch. B
ut the book, that quaint old pre-Tumblr offering, is still available from
Amazon and
Barnes & Noble.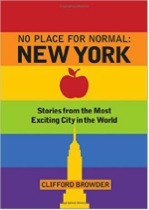 In a review for Reader Views, Sheri Hoyte called it "a delightful treasure chest full of short stories about New York City…. I highly recommend it to all fans of entertaining short stories and lovers of New York City. It would also make an interesting travel guide for people who just want to learn more about the city that never sleeps!" (For the full review, see the previous post #223, March 27, 2016. It is also available at
http://readerviews.com/reviewbrowdernoplacefornormalnewyork
.)
Coming soon: Rivers and Me. My love of them, especially the Hudson.
© 2016 Clifford Browder